Leofoto LH-55 Ballhead Review
Hello my friends here I am to tell you about a new product, Leofoto analyzed my review of the tripod that had been sent by them the LS-336C, and understood that it was a fair review and well designed, so they sent me a new ballhead for that tripod  for testing, a LH-55 for that tripod tripod that had already caught my attention.
As I told beofre on my LH40PCL Review a  solid ballhead is something that every good photographer should have in their kit. Us I told you before I started to have difficult problems in my photo trips with strong winds and that helped me to understand the importance of a good ballhead. Just like buying a tripod, if you buy the right ballhead it will last a lifetime because unlike today's cameras and lenses, technology of modern ballheads is relatively simple and changes very little. Instead it all comes down to manufacturing quality and machining accuracy to produce a perfect, solid platform for your camera.
Everything about getting a ballhead seems to push you up to a higher price bracket. It started with the cheapest option (and not very cheap at that); the Manfrotto 3ways milimetric head. During my last trip to Iceland, I had very difficulty to stabilise the photos, i had very strong winds tempest. 
Leofoto gave me  the opportunity to acquire the LH-55 the so-called "Ferrari" of the Leofoto Ballhead, but as I only have LS tripods at the moment, this head is too disproportional for this range of tripods, so the door was opened to receive the LH-47LR, that I probaly talk you in Future, thats another dream I have right now.
T
he LH-55 Low-Profile Ball Head from Leofoto features an Arca-type quick release system for securing a DSLR, mirrorless, or video camera up to 25Kg.  With a height of 9.9Cm and a large ball diameter of 5.6Cm, the low-profile design of this ball head minimizes camera movement when changing orientation.
The head offers 360° panning with an independent locking knob and a numbered scale on the panning base for precise, repeatable setups. Dual notches on the body allow 90° tilt in two directions for easy portrait shooting. Made of anodized aluminum for durability, and with a weight of a mere 912Gr this compact head is made for travel.
Knob-driven clamp and quick release receiver
Arca-type quick release plates
Dual vertical angle notches
360° panning with locking knob
Durable anodized aluminum construction
- Leofoto LH-55 Low-Profile Ball Head with Quick Release RH-3 Clamp

(Black);
- 3/8"-16 to 1/4"-20 Busing Adapter;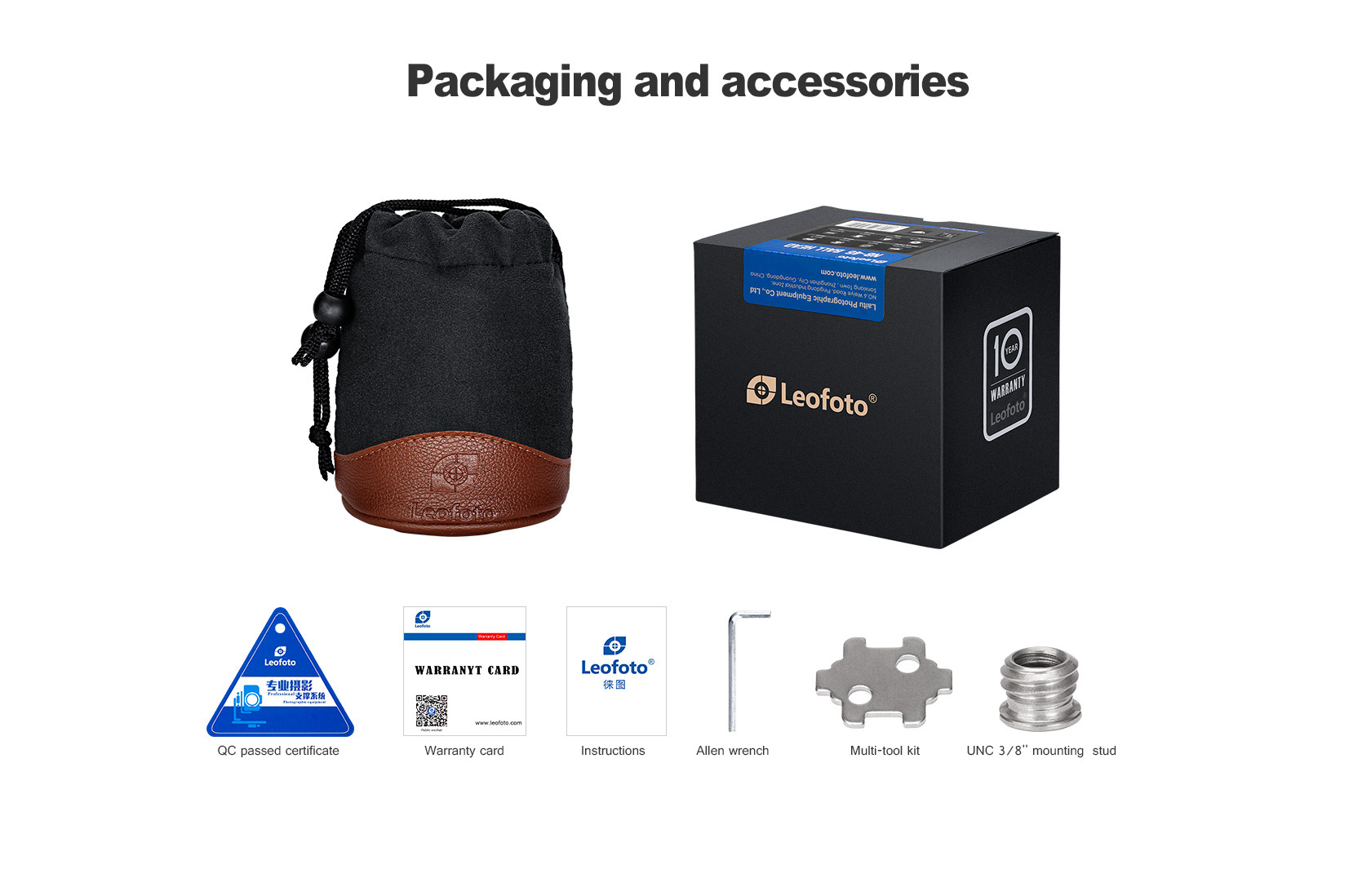 This is a robust ballhead model was wide at the minimum primary diameter and those numbers do not seem as differentiating as they appear in real life (hopefully the comparison image makes that difference clear for you). As I call this "the Ferrari Ballhead of Leofoto", this is a "war tank" is prepared for all types of conditions and efforts.
Recommended for any telephoto lenses, including super telephoto lenses:
600mm F/4, 800mm F/5.6, 200-400mm F/4, 500mm F/4, 400mm F/2.8, 300mm F/2.8, 100-400mm F/5.6, 50-500mm F/6.3, etc.
For the delicate operation of the head it is highly important to carefully balance out the mounted equipment!
This ballhead chassis is very-strongly and precisely CNC-machined from aircraft aluminum.
The ball lock knob is the part that  you will spend plenty of time with it in your hand. These knobs are generally rounded or in a lever configuration. In this ball head is not round but a machineted in a lever knob. While round knobs are generally easier to roll with fingers, they cannot be made large enough on a compact head. The extra length is needed to comfortably provide the torque necessary to lock a ball tightly and this head gets the lever.
BALL TENSION CONTROL KNOB
When we talk in mid larger size ballheads models the Ball tension control knobs are a common. A tapered, rounded design makes the knob easy to roll in the fingers.
As alluded to, I typically find that the ball tension should be comfortably-tight for the least amount of ball movement on lockdown. The movement is most-readily seen in longer focal length lenses and these larger lenses are typically more usable under stronger tension than smaller ones. So, that issue mostly works itself out naturally.
DUAL DROP NOTCHES AND LOW HEIGHT PROFILE BALLHEAH    
Ergonomic large main locking knob gives easy handling. Low height proffile gives better reliability. Preisely machined ball makes the movementsilky smooth. Dualdrop - nothes allow you easy change from andscape mode to portrait mode or other angle shots. Laser-engraved scale on the panning base for easy and precise control during panorama shooting.
The front-positioned drop notch is most common and shooting upward means that the ball lock knob is going to feel like it is on the wrong side of the head for most photographers. If not using an L-plate or lens-plate-equipped lens, visualize the camera and main knob positions when the camera is in vertical orientation to assess the design of a ball head. 
Now a days almost good tripod ball heads are equipped with a panning base, and the LH-40PCL remains the  tradition, but with improvements, they assembed a clamp panning at the top of the ball, allowing the head to be rotated regardless of the position of ball adjustment keeping the tripod leveled without a level base.
Both the base and the upper clamp include the orientation of the ball lock button for comfortable use, for panorama capture and to simply move the object's frame from side to side. 
The Leofoto LH-40 Ball Head's panning base measures 72 mm. Another common feature on the panning base is an index. Indexed bases are most frequently used for precision panorama captures and this head has this feature with marks laser-engraved at 2.5 degree intervals.
What I think is missing in this part is stop knob to give audible and tactile clicks every 15˚.
Not all ballheads behave in the same way on mild days and on days with negative temperatures, sometimes the operation of the ball head is negatively impacted by very low temperatures.
Leofoto did exhaustive tests to make the material behave in the same way with the various meteorological conditions, they submitted the material to negative temperatures to make sure it would work the same way.
GEAR CAPACITY RECOMMENDATIONS
Generally, ball head manufacturers provide load capacity specs for their heads and expect you to figure out what gear will play nicely together with their respective heads. While that can work, I'm generally not comfortable using weights approaching max load capacity with vibrations and load manageability being primary issues.
Can be easily assembled 600mm F/4, 800mm F/5.6, 200-400mm F/4, 500mm F/4, 400mm F/2.8, 300mm F/2.8, 100-400mm F/5.6, 50-500mm F/6.3,
Leofoto can be  purchased for its value and great performance and also for the great looks, i think for the quality they offer in this ballhead, is not expensive, you can buy this ballhead in Spain in Leofoto.es  for 279€ .
 Those who understand and appreciate the value of quality buy Leofoto products without hesitation.
This is a very robust headball, as I usally say a Ferrari of the ballheads, for me in LS Series seems a little bit bulk, but I Have a lot of friends tha

t have the

Mountain series, and the range series and looks very great.


based on my photographic experience and with the photographic travel experience this is a tripe for exhaustive use, for everyday life, it is a light, small tripe that can easily travel in a handbag. In my opinion if you are going to shoot for places like Iceland, Norway, Canada, it may not be an advisable tripod, since they are countries with very adverse weather conditions, then I advise the purchase of Leofoto mountain tripods.
The Ballhead, is a very complete head, also very robust, withstands a lot of weight without any type of problem, easily withstands the weather of the most complicated countries.
Both the tripod and the ballhead have been tested and work perfectly in minus temperatures.
I can say more, I really like this set, and I can tell you that it will be my photography company for a long time.
-Made of carbon fiber, which becomes a resistant and durable tripod
-There's an incredible amount of controls that allow the user to dial in the perfect camera position
-The controls are smooth and glides around with ease! 
-The Top Clamp with Panning Base, easy to make panoramas.
WHAT I FEEL COULD BE IMPROVED
- Could come equipped with a hand grip on one of the legs
- The spiked feets could have a rubber cover, to avoid taking off
- Could have a stop knob to give audible and tactile clicks every 15˚