Kica Muscle Relaxing Massage Gun 
Review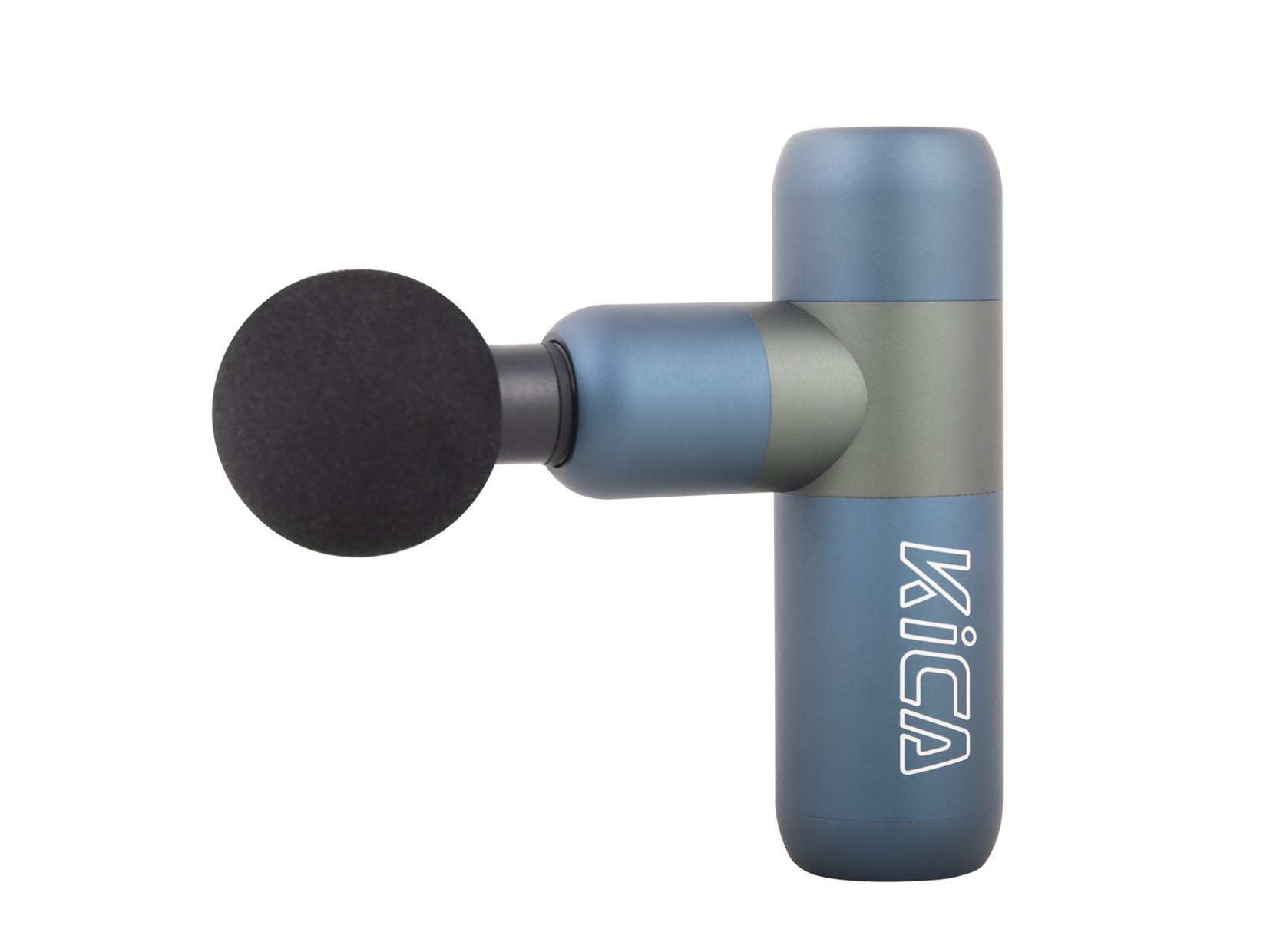 First of all I have to thanks to Feiyutech for all the support they've given me, and for trust me again on this collaboration, I'm very proud to by Feiyutech ambasador. I have the AK2000C, Gimbal G6 and G6 Max gimbals. 
This time they sent me something different, they launch the second version of they massage/relaxing gun, and they asked if I wanted to make a review of it.
My first thought was I'm screwed, how am I going to do a review of that, but then I stopped and thought I have a second hobby that is sport, both run 10km/15Km/21Km, and bike, both,  road 70Km, and mountain 30Km/50Km. I think I can give my true testimony, and so I accepted the challenge.
Percussive Massage Weapons and massage therapy with their technology, and with the proper tip may look and sound brutal, but massage weapons are designed to hit deep into your tired muscles, speed recovery, and get you back to training at your best. 
Ira help you get a quick recovery and make your muscles perform better.  In the age of soft, gentle self-care, this is the physiological version of tough love.

You can use massage arms before your workout, to prepare your muscles for a session, or post-workout to ward off any potential DOMS. You'll recover faster, increase your circulation and lymphatic drainage, increase your flexibility, and extend your range of motion - ultimately improving your performance across the board.
It is designed to be lightweight and deliver percussive massage therapy. Percussive therapy accelerates the repair of muscle fibres by providing rapid bursts of pressure in concentrated short duration pulses deep into the muscle tissues.
This increases blood flow to the critical areas allowing for pain relief and improving function and range of motion plus a gentle stretch which helps improve flexibility performance
 Feiyu Technology Incorporated Co., Ltd, established in 2007, is a professional company engaged in production, development, and sales of civil drones, handheld gimbals, action cameras. Headquartered in Guilin, with more than 500 employees, Feiyutech also has a professional R&D center, marketing center and manufacturing center in Shenzhen and Zhongshan. Their products are sold to over 130 countries around the world and they've built a great brand image among customers. 
Feiyutech takes "Superior quality" as the foundation and "Creative forever" as the goal, it has become the first gimbal brand to enter the Apple Store, and to be presented at Huawei's new product launch. What's more? They also cooperated with Tencent Wesee in 2018 to initiate a new era of short music video ,and all of our products have passed CE, FCC.ROHS.UL and many other certifications.
Feiyutech is a big platform where gathered top talents from the industry and a group of young people with dreams that unwilling to be mediocre. The collision of tradition and trend, the interlacing of precipitation and innovation, encourage Feiyu team to continue to cultivate in this filed and always maintain enthusiasm towards creativity.
Travelers shouldn't sit on the top of the first mountain they've climbed. On the road of innovation in the future, Feiyutech will continuously strike to bring the best user experience to customers all over the world.

Feiyutech, as usual, presented us this massage gun in a beautiful and smooth box, inside it,  we can find a protective polystyrene box.
After opening we can find this inside the package: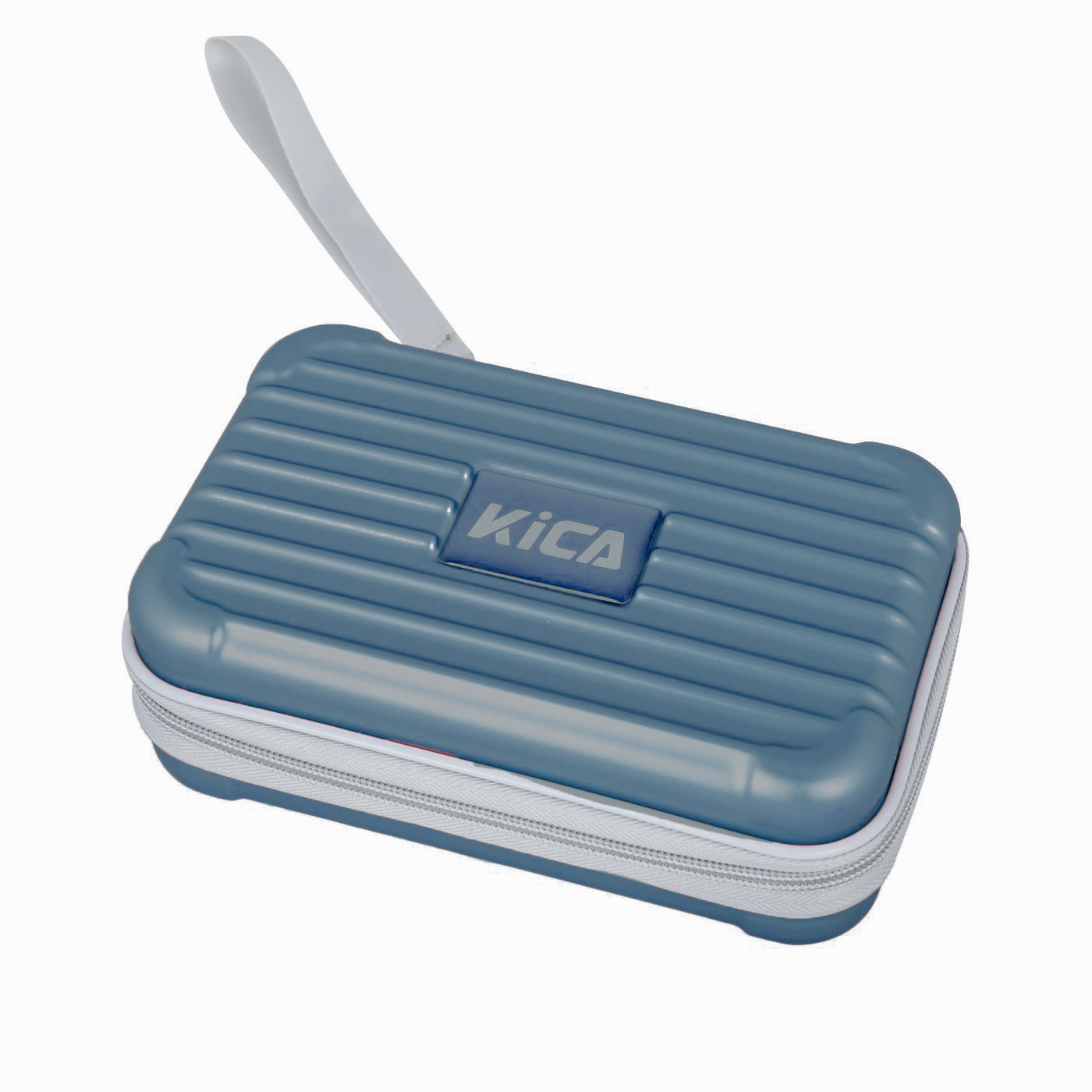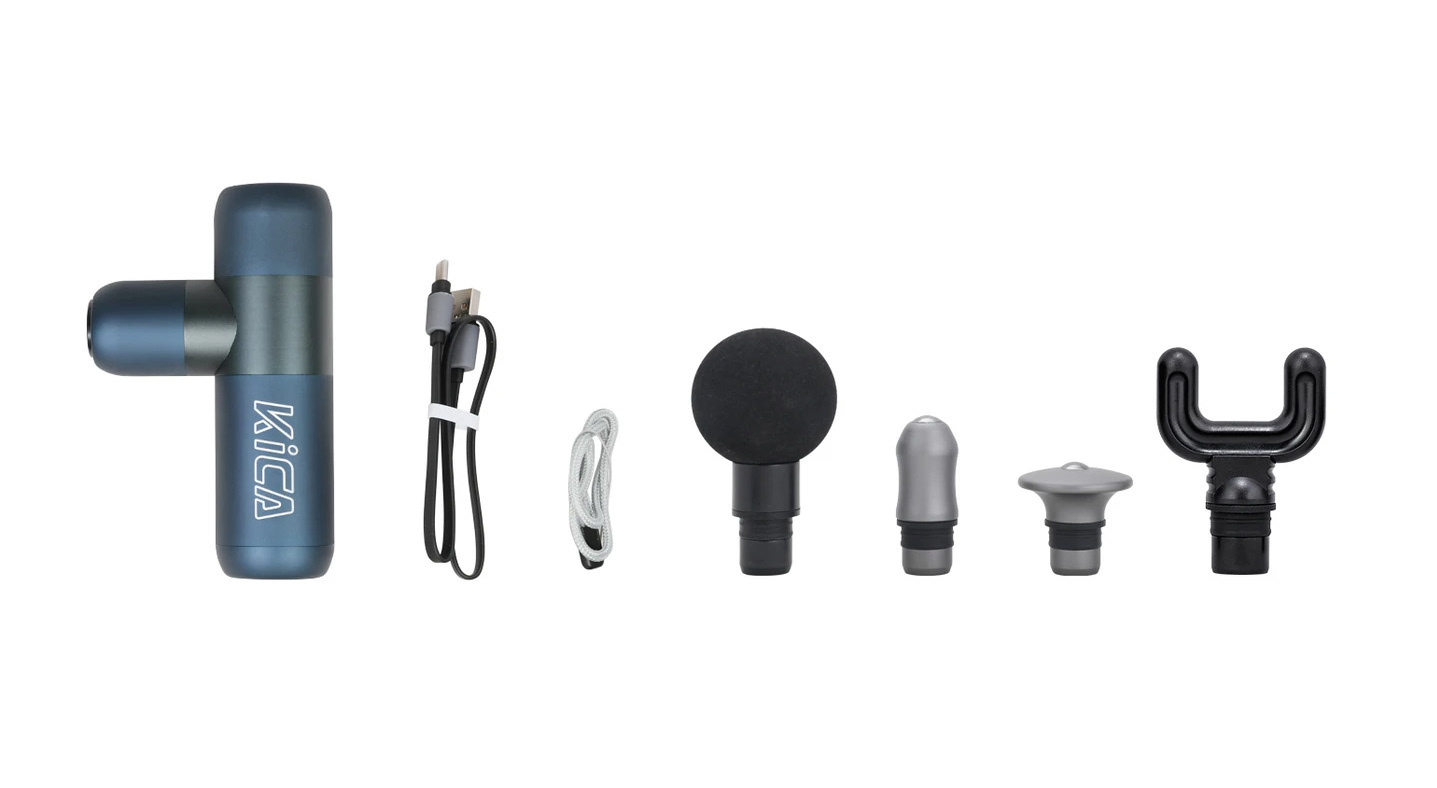 Whether you're recovering from a marathon or just a Teams/Zoom meeting, a percussive massage device-a handheld massager that's shaped a bit like a hair dryer-can help soothe tired muscles and promote healing after an injury. Used before a workout, it can stimulate blood flow to major muscle groups which - theoretically - should mean less DOMS and more personal merits.
If you are just going to use the device to relieve crunched necks and the occasional pulled muscle, any model will do. If you are an athlete or are using the device to treat anyone who is, look for a device with multiple attachments (the different molded heads you connect to the device) and speeds. We found three speeds to be the minimum we needed. Five speeds, the fifth we tested, was a bonus. 
​​​​​​​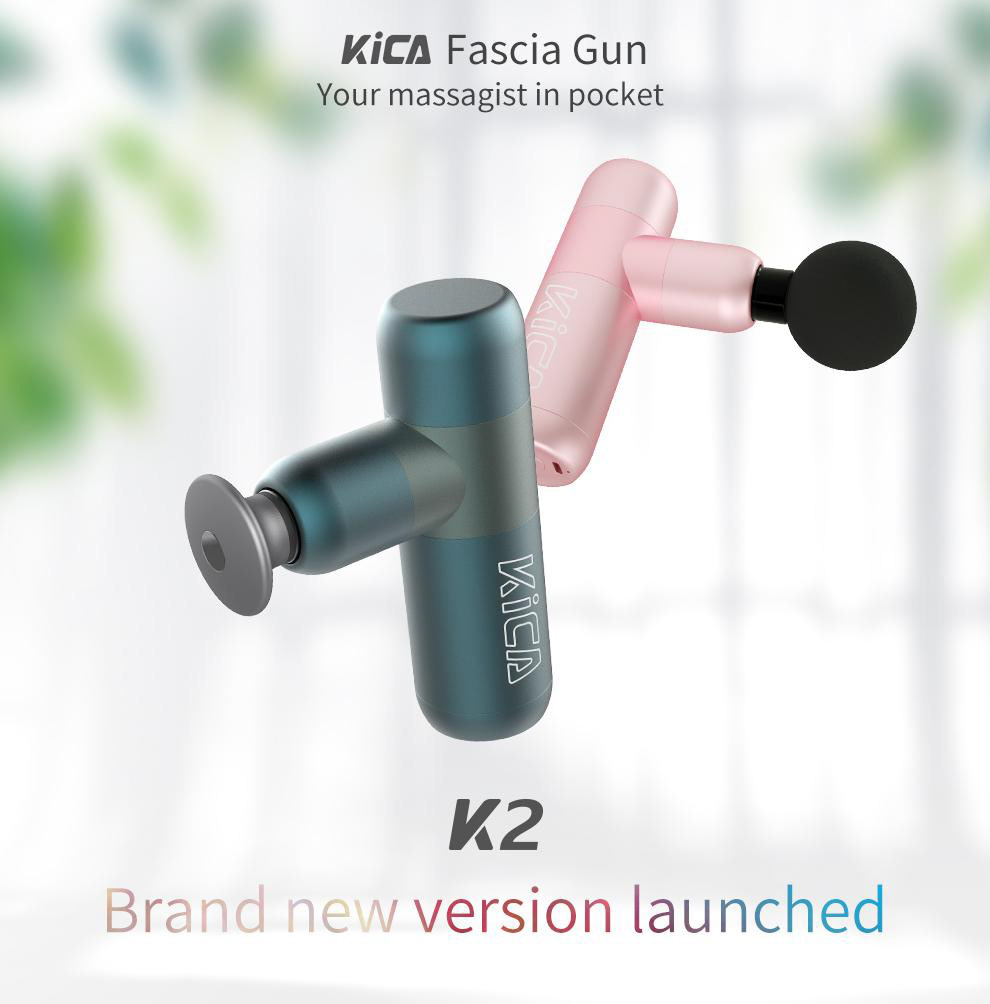 EFFECTIVE THERAPY - Massage gun deep tissue massage gun KICA provides a percussive therapy for workout recovery to relieve your muscle fatigue, soreness and pain or warm-up. Reducing muscle tightness and stiffness by percussion that increase liquid hyaluronic acid to keep from being solid, stimulate relative proprioceptor to release muscle stress. Muscle massage gun also encourages blood flow, decrease adhesion between fascia and muscles, improve range of motion and flexibility..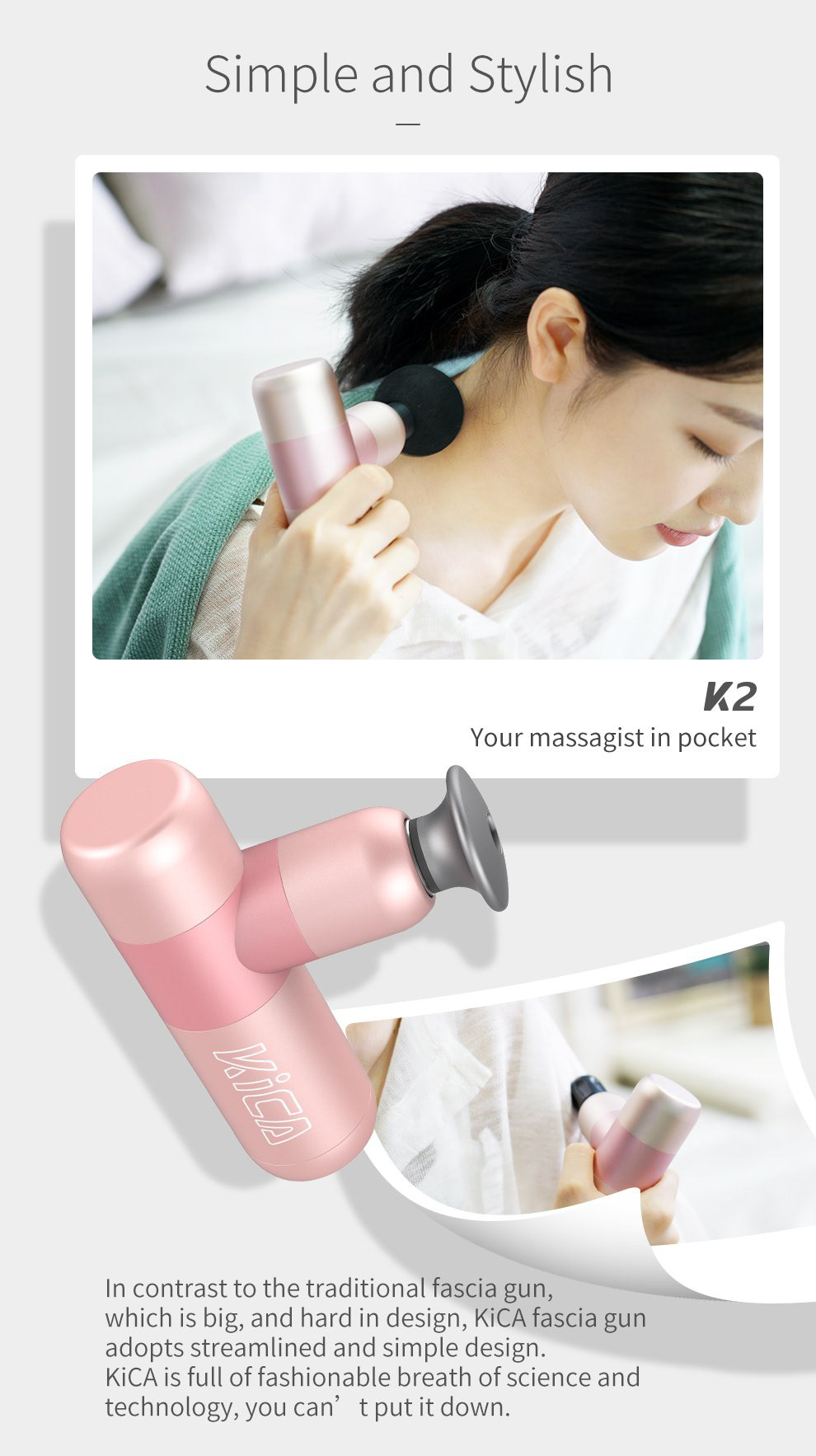 WIDE APPLICATION - Muscle Gun Massager Deep Tissue KICA is perfect for people from gym-goers, athletes, rock-climbers who want to restore body faster, promote muscle recovery after high-intensity workouts or exercise, sedentary office/manual worker who is / potentially with chronic pain, to professional like fitness instructor, physical therapist, chiropractor etc. It can also be used to warm-up before exercise for the younger and the elder.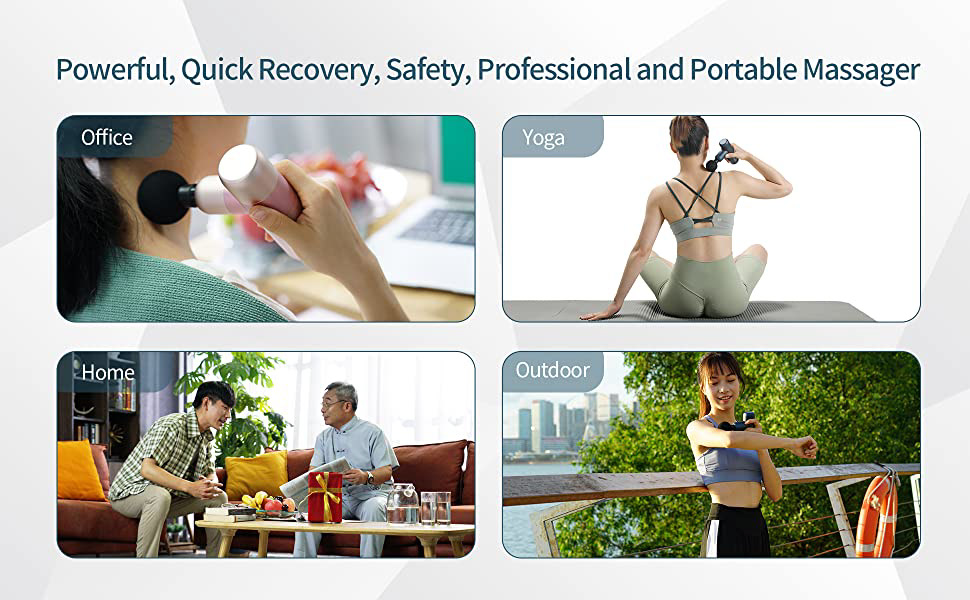 POWERFUL & LONG BATTERY LIFE - KICA deep massager gun is built in 2200mAh High-density rechargeable lithium battery, providing 11H no-load 1stlevel, 7H cylinder header 2nd level/ball head 3rd level battery life, taking 1.5H to be fully charged; Powerful brushless motor brings high power (Max:3800rpm) which can reach as deep as 6 millimeters into your soft tissue.
​​​​​​​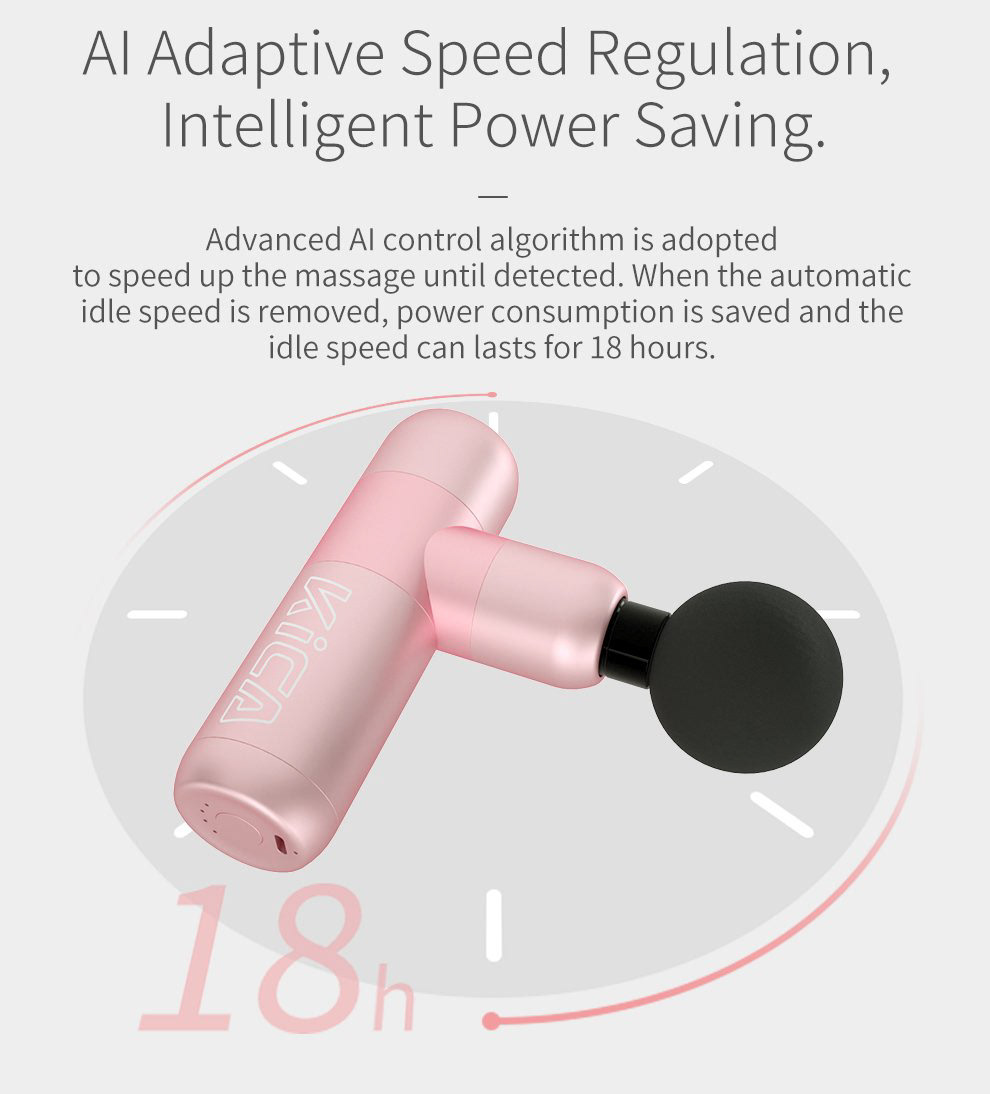 PRACTICAL & RELIABLE - 4 massager gun heads provide targeted treatment for every body muscle group. Ball Head: for a large muscle group like thigh, calf, waist, arm and hip; U Head: for the spine, neck and achilles tendon; Flat Head: for any parts of the body like back, waist etc. Cylindrical Head: for deep tissue like meridians, joints and acupoints etc; 4 scientific gradual level from muscle awakening, fascial relaxation ,deep massage to professional mode providing safety-protection.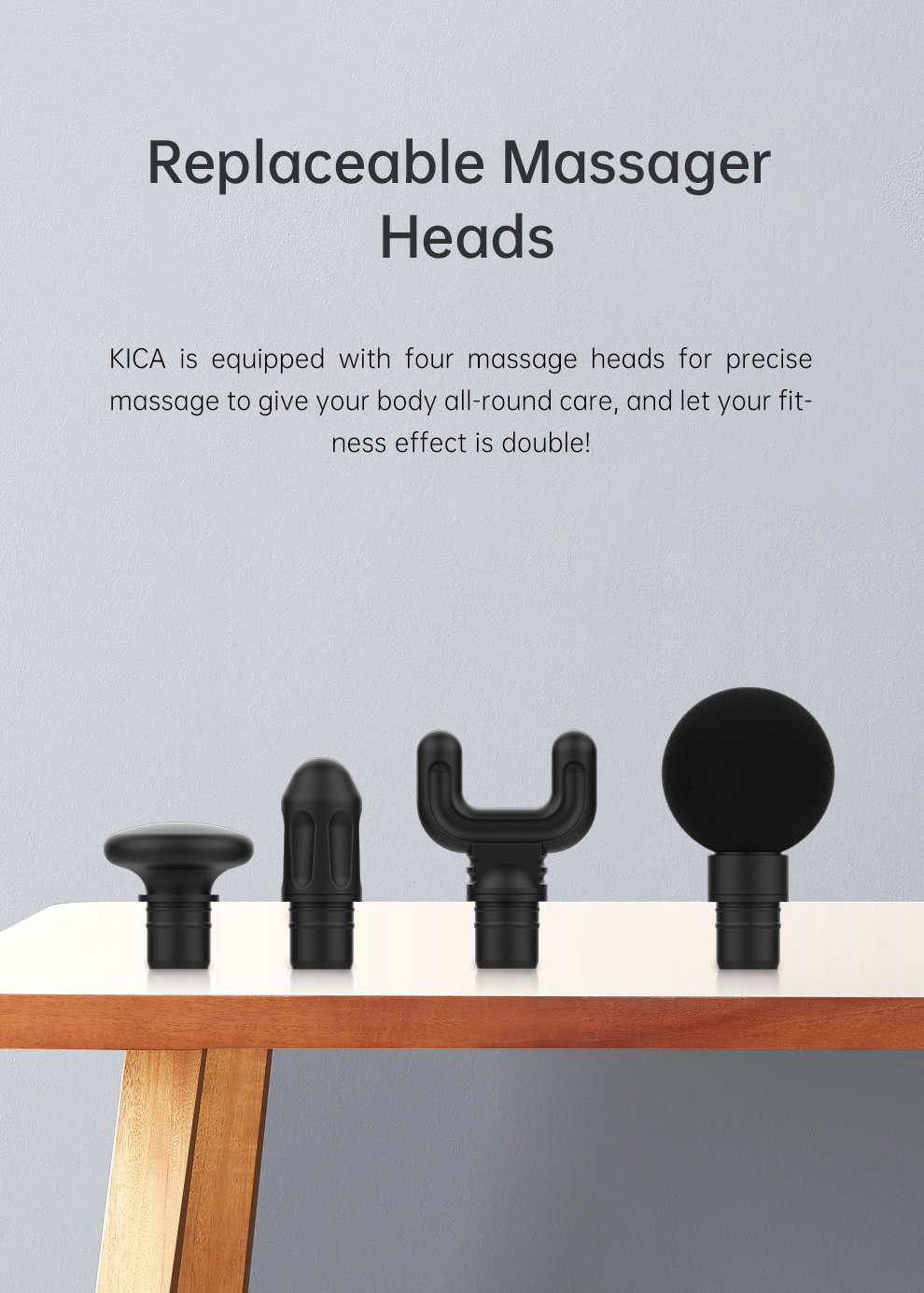 CREATIVE DESIGN - One button operating for power and mode adjusting for easy using; Suspended Installed Brushless Motor via silica gel design decrease noise effectively; Mini (similar to iPhone 8) and lightweight (only 1.09 lbs) handheld ergonomic aviation aluminum alloy design make it portable to carry and use anytime anywhere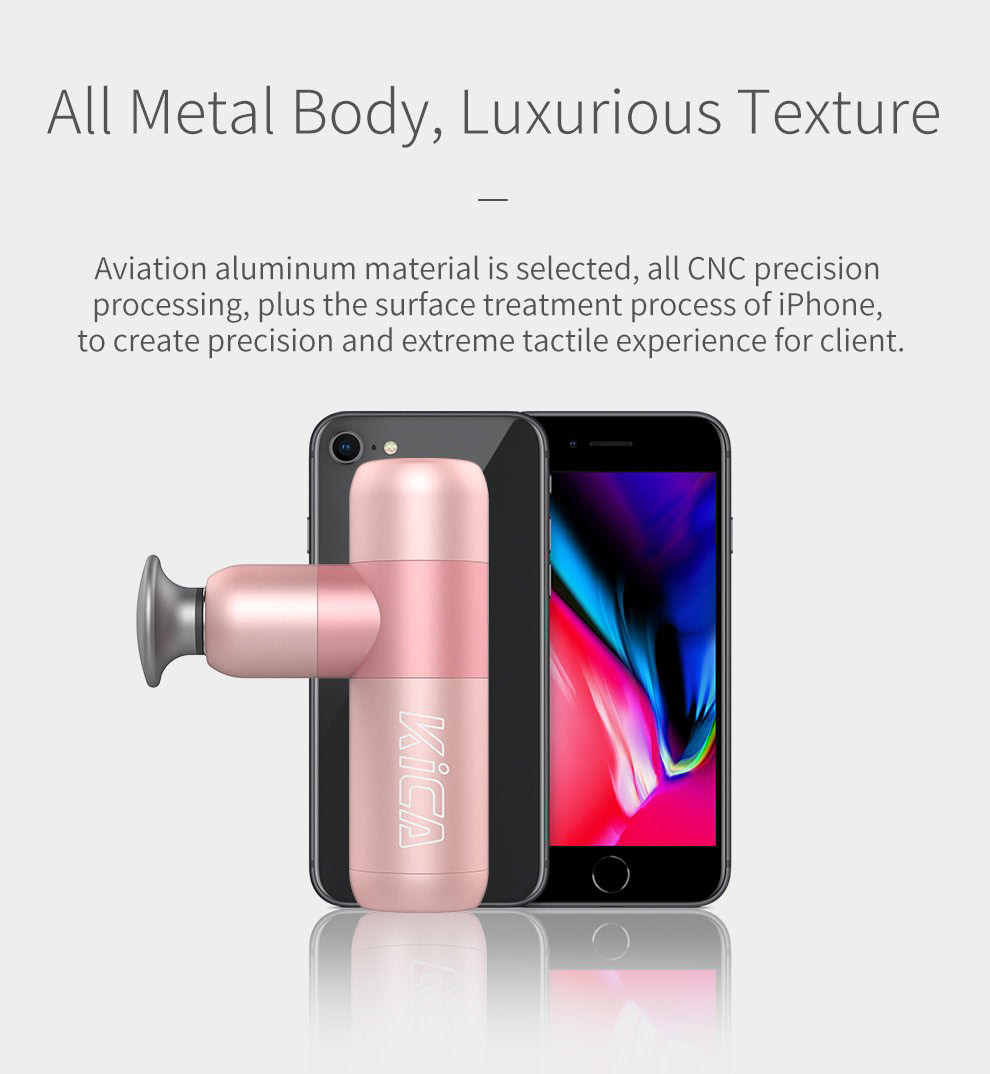 Poduct Name: Kika Vibration Percussion Device;
Main material: Aluminium Alloy;
Charging Port: Usb Type-C (5v/2a); 
Battery Capacity: 2200mah;
Product Dimensions: 14.4 x 4.4 x 9.5 cm;
Package dimensions: 18*16.5*7 cm;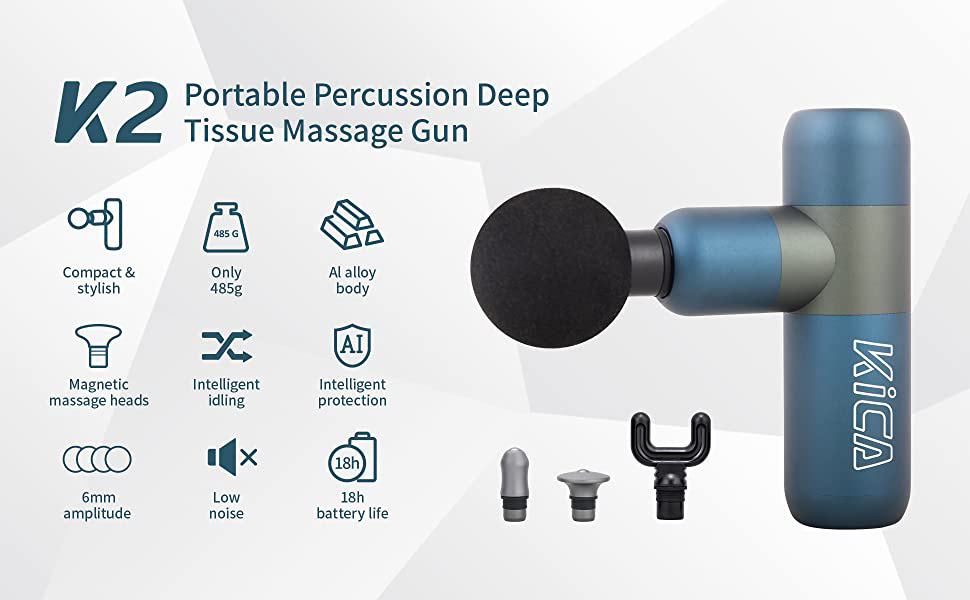 Fast Pain Relief & Scientifically 4-mode Adjusting
Multiple levels options, 1200 to 3200 percussion per minute, Meet needs of different groups of people, you can even choose physiotherapy mode, 1200~3200 RPM cycle switch, vibration fluctuation change, suitable for all kinds of scenes.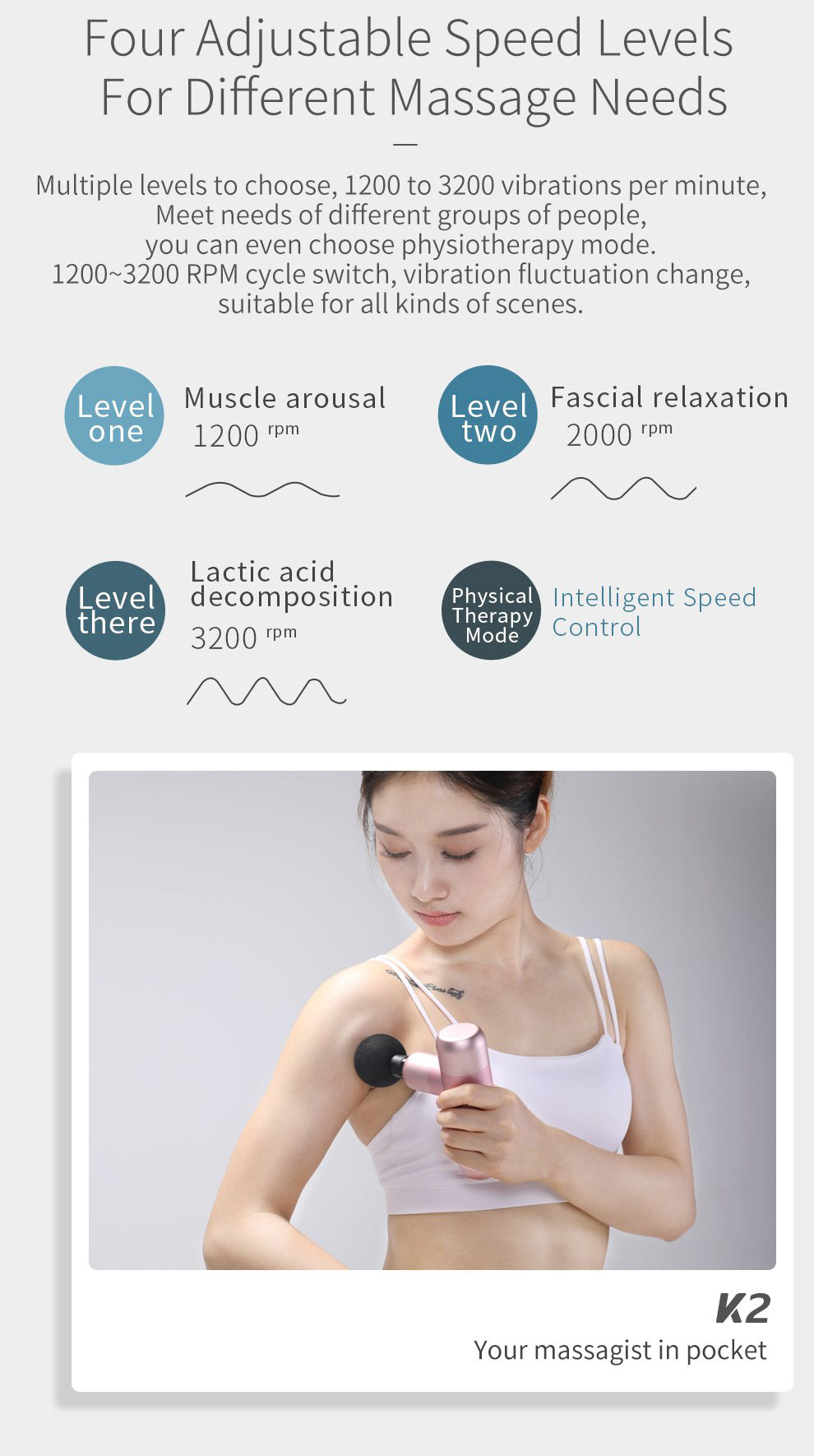 High Impact Motor Brushless
KICA2 portable massage gun adopts the latest brushless motor technology. While providing powerful massage power, compared with brush motors, brushless motors can greatly reduce noise and run smoother, and from a mechanical point of view, brushless motors It is almost a maintenance-free motor with extremely long service life.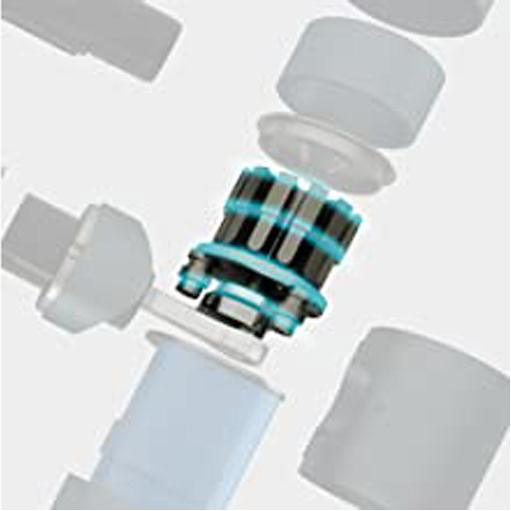 Powerful Deep Tissue Percussion
Deep tissue massage gun focus on the deep layers of muscle and connective tissue. When turned on, great power percussion for deep Tissue as if the volcanic eruption. 6mm stroke, and can resist strong pressing force, can percuss deep tissue for athlete, sports enthusiast, even bodybuilder.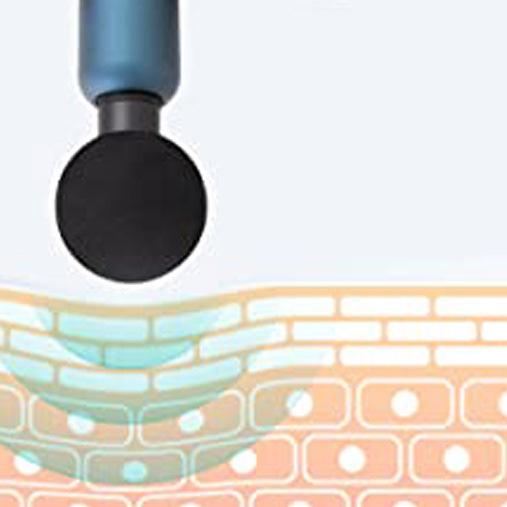 Smart Deceleration Function
The smart massage gun has smart deceleration function. The motor will automatically slow down without touching the body to save electricity and energy. When you press the massage head on your body, the massage gun will immediately reach the speed of the corresponding gear.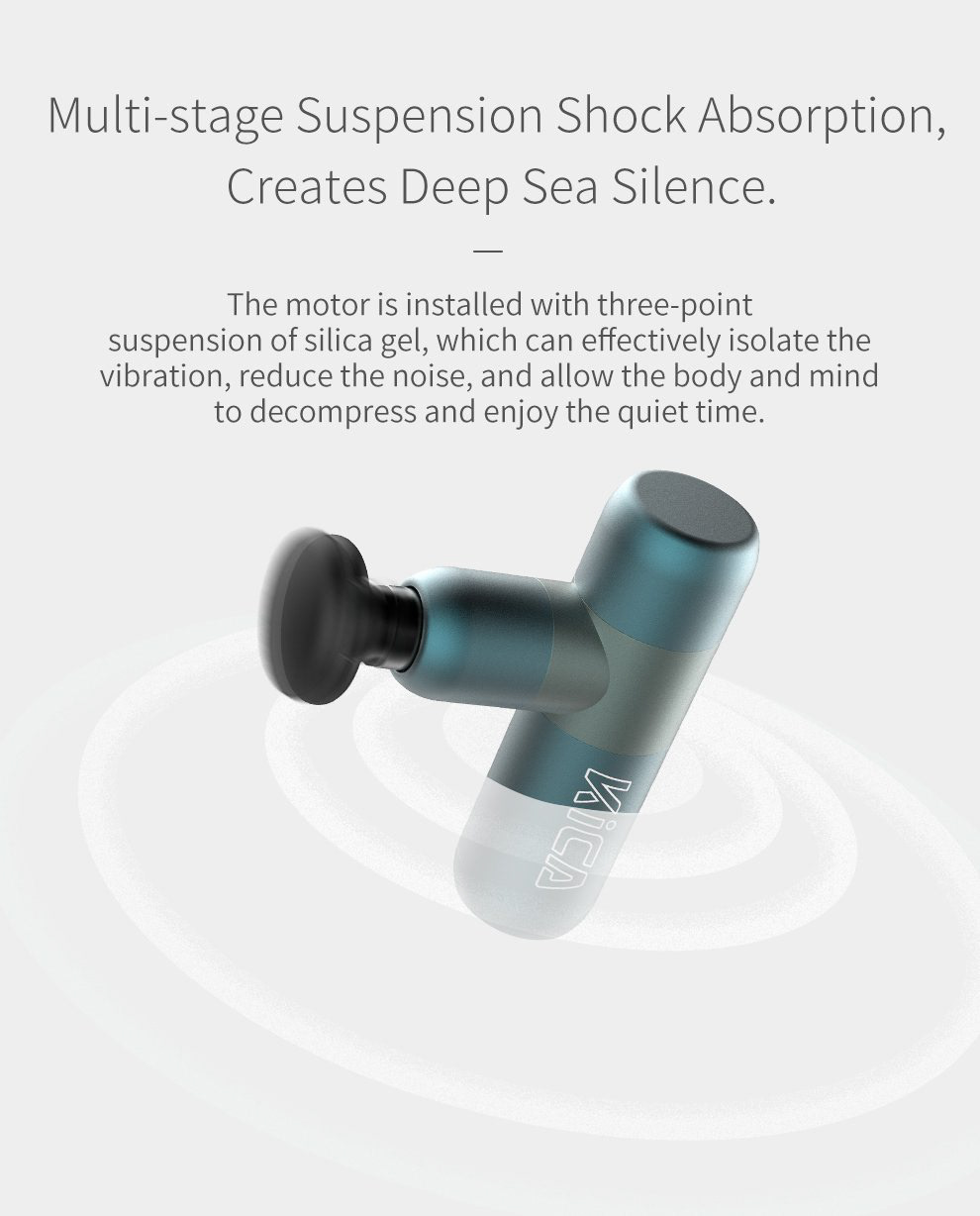 4 Headers for Whole Body Massaging
​​​​​​​
INTELLIGENT PROTECTION SAFETY FIRST
In order to avoid damage and bone due long time massage on the same part, Kika has intelligent protection, it will stop automatically after over 10 minutes continuous massage to ensure scientific protection and human health.
MASSAGE ON YOUR OWN TROUBLE NO ONE
The small short T-shaped design breaks the disadvantages of the heavy and big design of the traditional faisca gun, which is convenient for holding and pressing. You can easily massage any part by your self, so you don't have to bother others.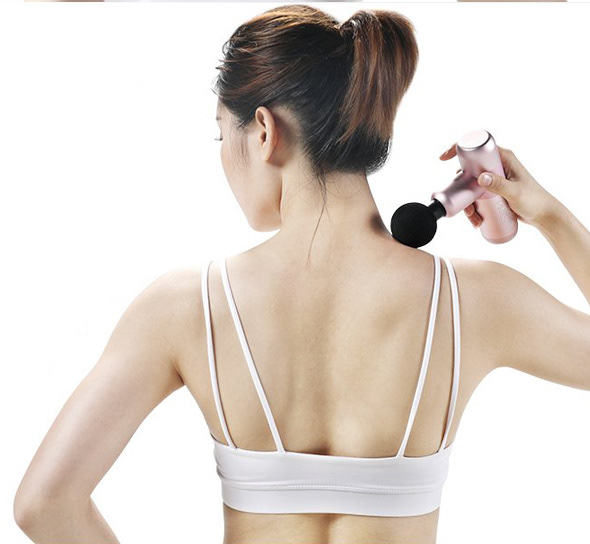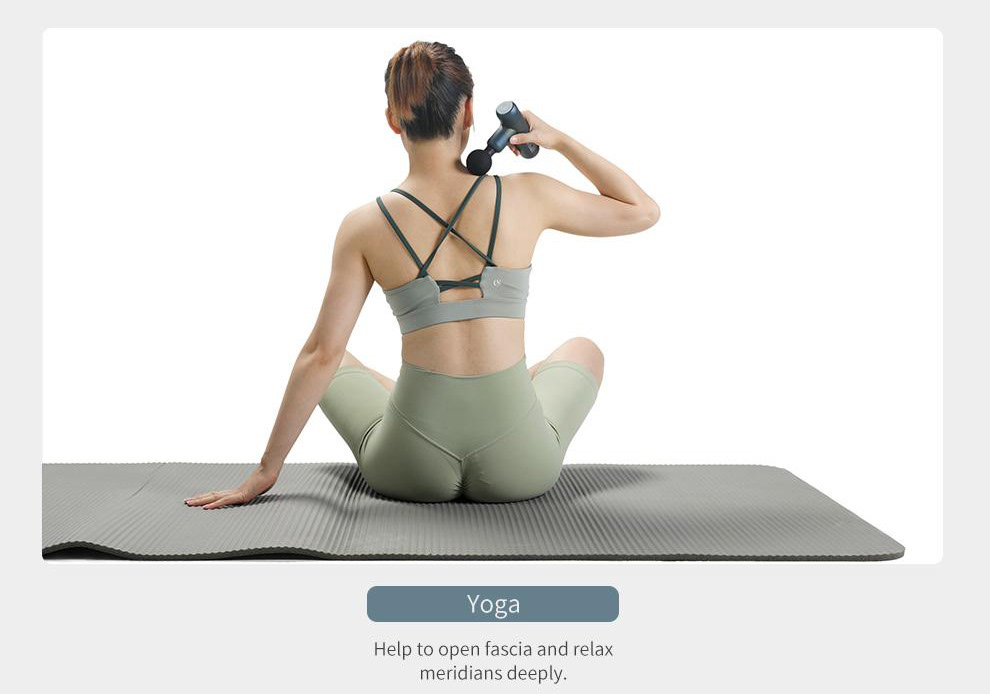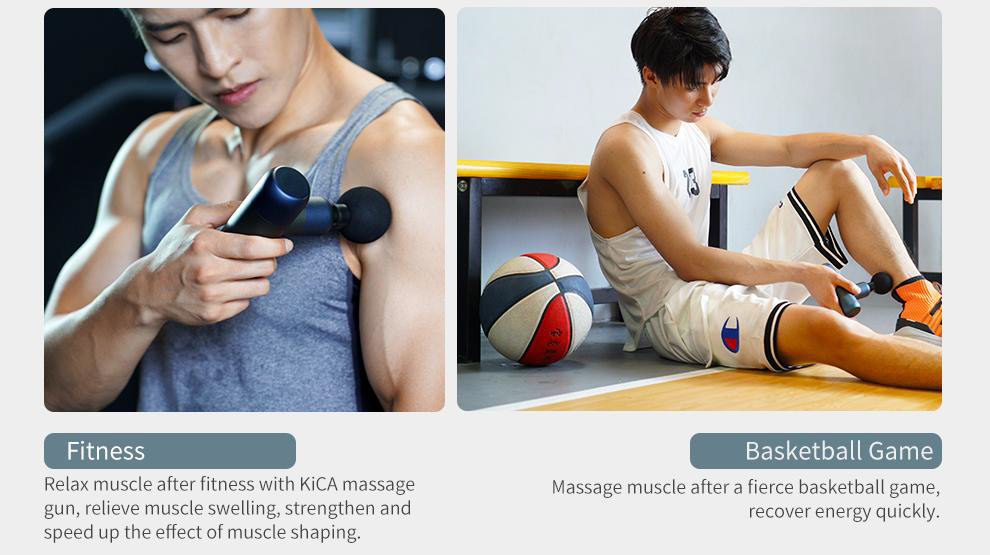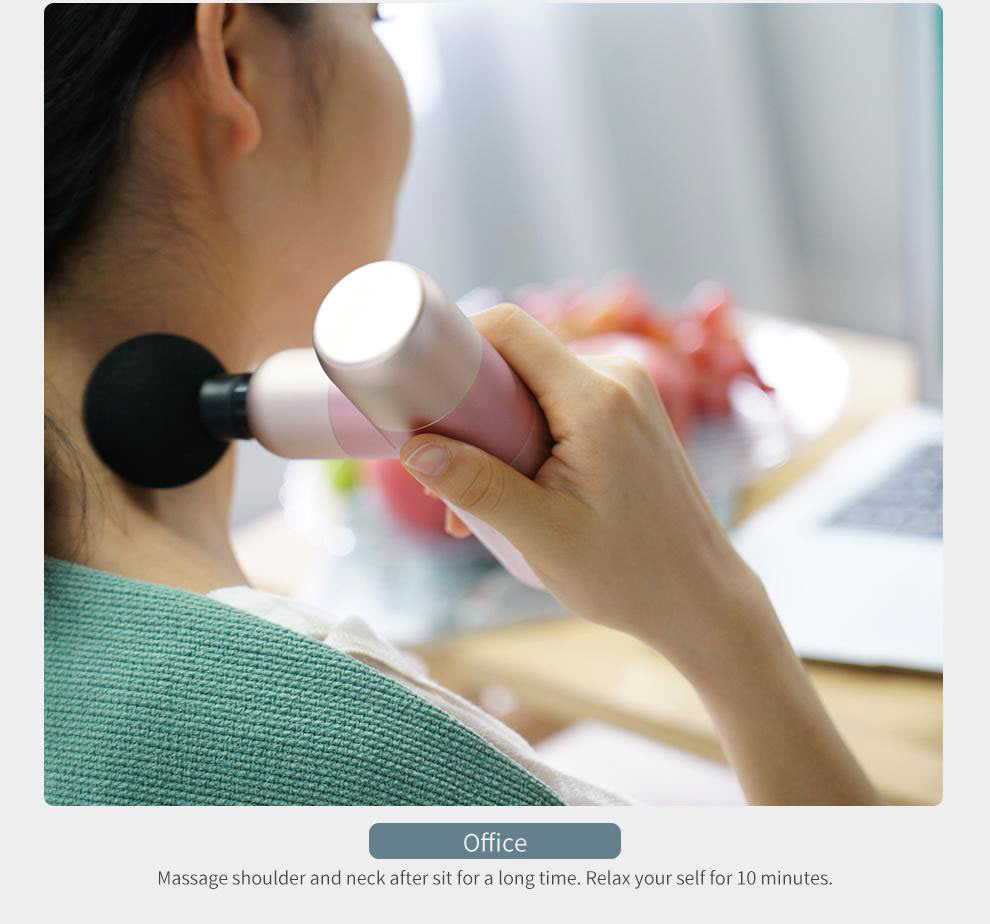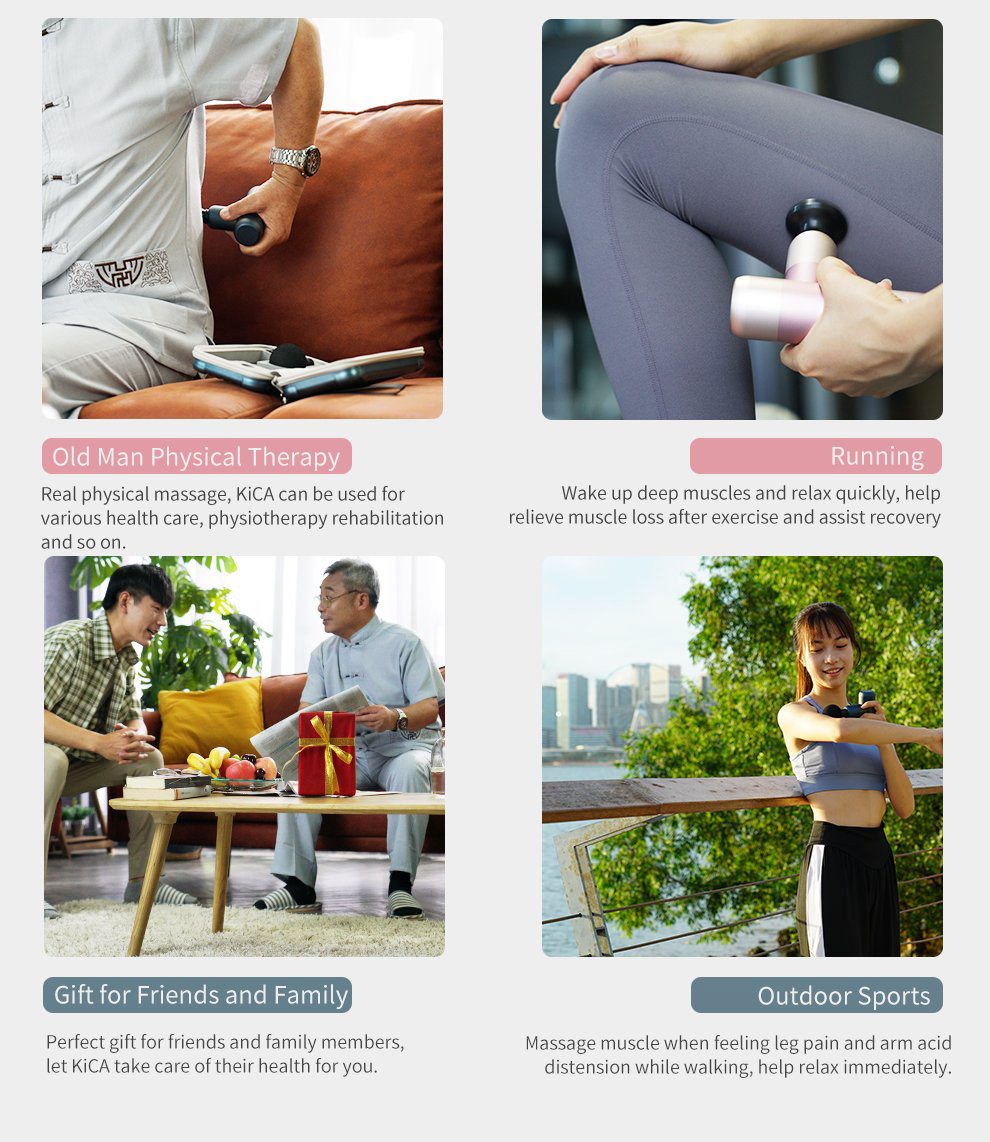 The FeiyuTech Kika Massage Gun  is an incredible rig for all who want to relax or massage the muscles before and after the phiscal exforce. You can find Kika in any amazon Feiyutech store, or you can buy in Feiyutech Webshop, this gun can be purchased by 100€.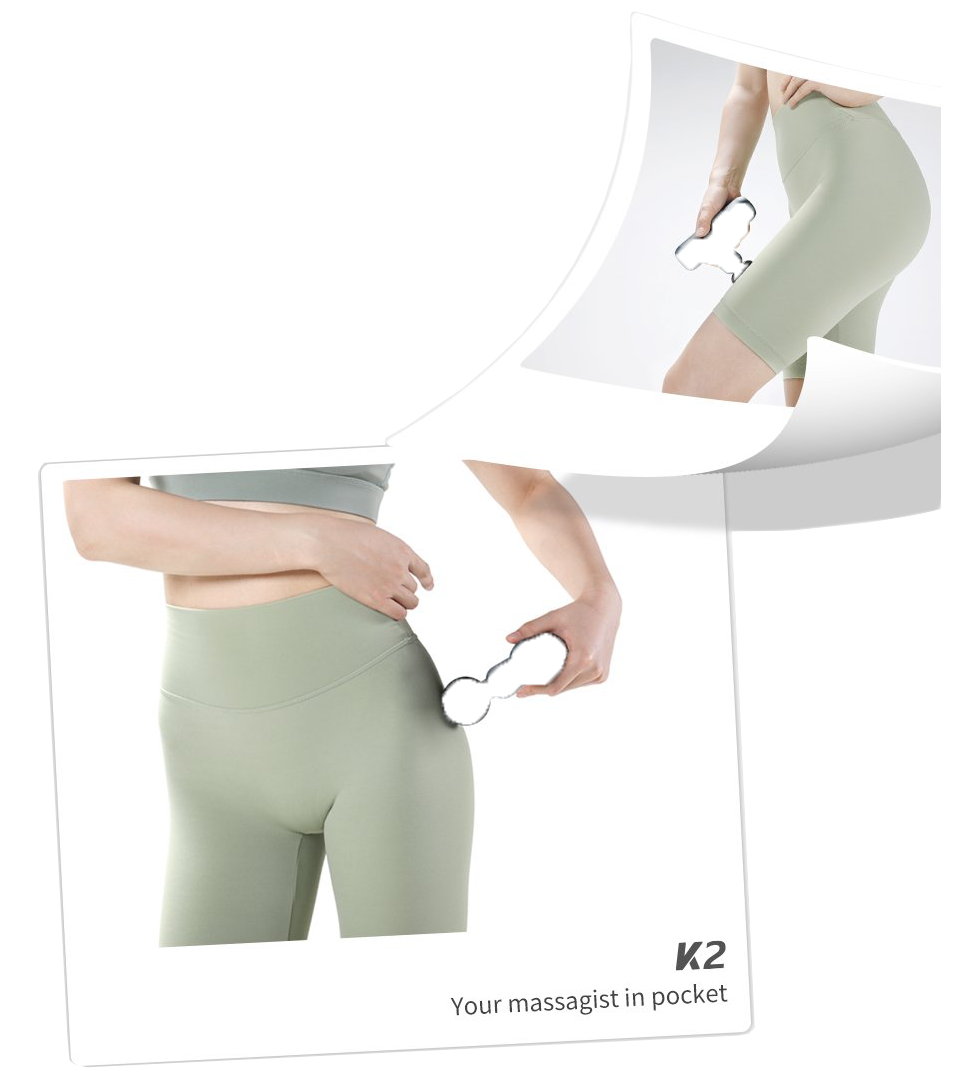 The Kika K2  is easily my new favorite company to use on my before and after my training sessions for it's great power and affordable price. 
This massage gun have 16-hour battery life, which is very good, and also a very fast charging time.
It has an excellent design that allows for self-massage, without the need to bother other people.
What can i tell you more, it will be for a long time an ally in sports, i confess that in the first approach i did not find much fun in doing a review of a product that was not of photography, but now i assure you that i do not regret one second of having accepted the challenge, and i advise all sports practitioners, or for those that suffer from back pain, or have a bad posture at work, to try this massage gun, i assure you that you will not regret.
- Powerful and Long Battery Life
WHAT I FEEL COULD BE IMPROVED
- Could have an app with examples of massages, or an informative brochure.