Leofoto LS-324C and Lh-40 PCL Review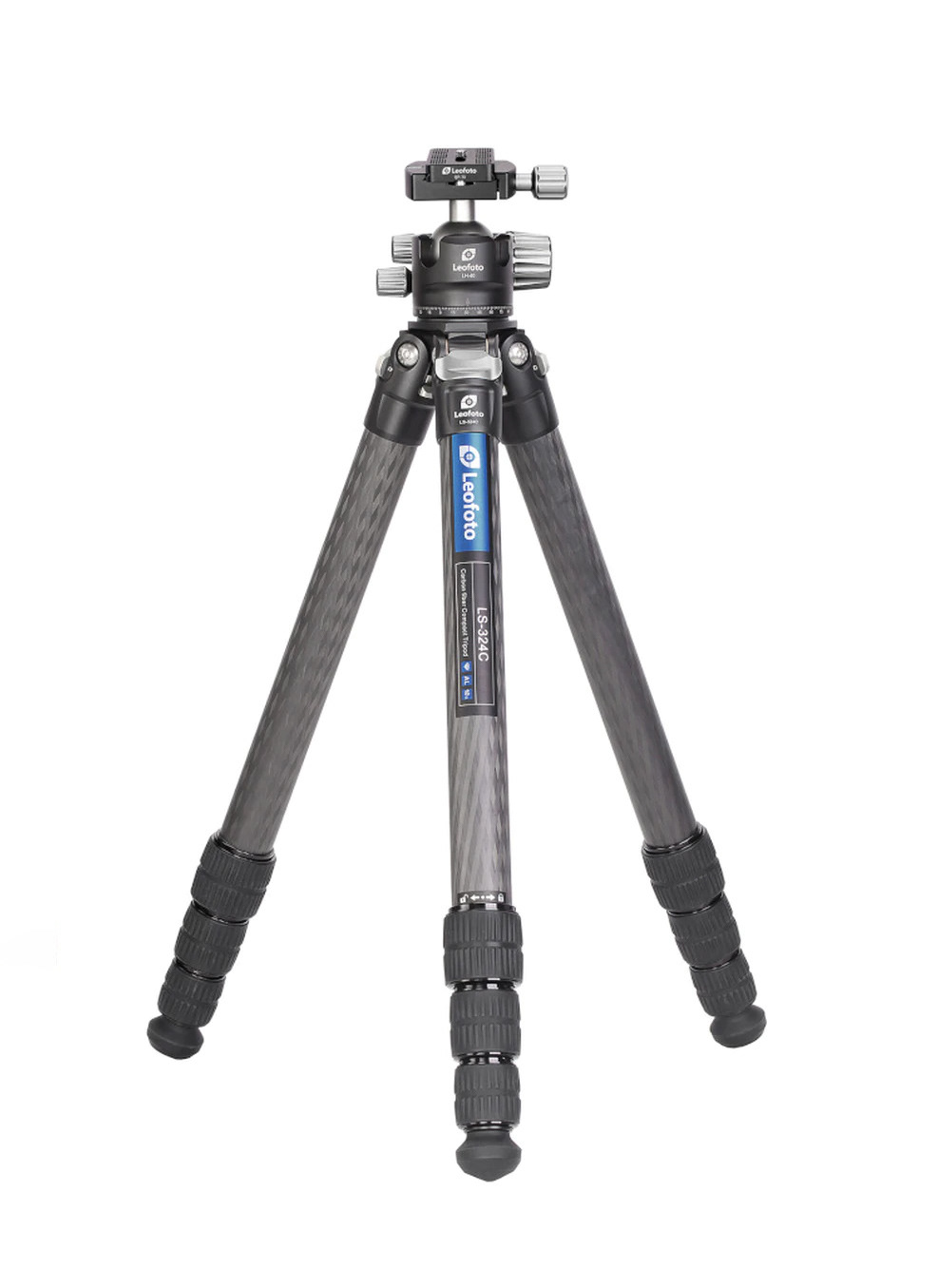 Hello my friends, this time I am here to talk you about a tripod and a brand called Leofoto, I have to thank the support of Leofoto Spain, especially  to the  Leofoto Spain Boss for the trust placed. I really hope to maintain this cooperation for many good years, because I'm following the work of Leofoto, and truly they have striven to be one of the biggest tripod manufacturers in the world. 
As a landscape and seascape photographer choosing a tripod to buy can be an overwhelming experience, one tripod must give a trust to the photographer, and for me expecially in nordic countries with strong winds and very bad weather conditions I need to have a solid and robust tripod. When we gone buy a tripod we must think in various factors, on one hand, a tripod is a very simple tool to keep our cameras steady when we use them in challenging light conditions. On the other hand, there are so many different variables that come into play when choosing a tripod: How tall should it be? How light should it be? How stable should it be? What kind of weight can it support? How much should I spend on a tripod? These are just some of the questions that might come up as you look into buying a new tripod, this can be an extremely frustrating experience, especially when there are so many variables to take into consideration such as budget, durability, design, weight, maximum height, minimum height and overall stability.
I personally use a tripod for one main reason – landscape and seascape photography. Shooting sunrises and sunsets can be quite challenging, especially when the light conditions are far from ideal. The use of a tripod for most types of photography is not necessary when shooting in daylight conditions. However,in Landscape and Seascape Photography we need a almost every time a tripod, as it allows them to keep the camera ISO as low as possible, which not only keeps the amount of noise in images to a minimum, but also provides the highest dynamic range the camera sensor can capture. In addition, a tripod can help in proper framing of a subject and allow to capture panoramic and HDR images. Lastly, there are situations where one must use a tripod in order to slow down and blur action, such as when photographing streams and waterfalls as shown in the image below. Therefore, if you are into landscape photography, a good tripod is a must-have tool in the field. I also made some night photography, cityscape and astrophotography, and in both, we make long exposure photography that force to use the tripod.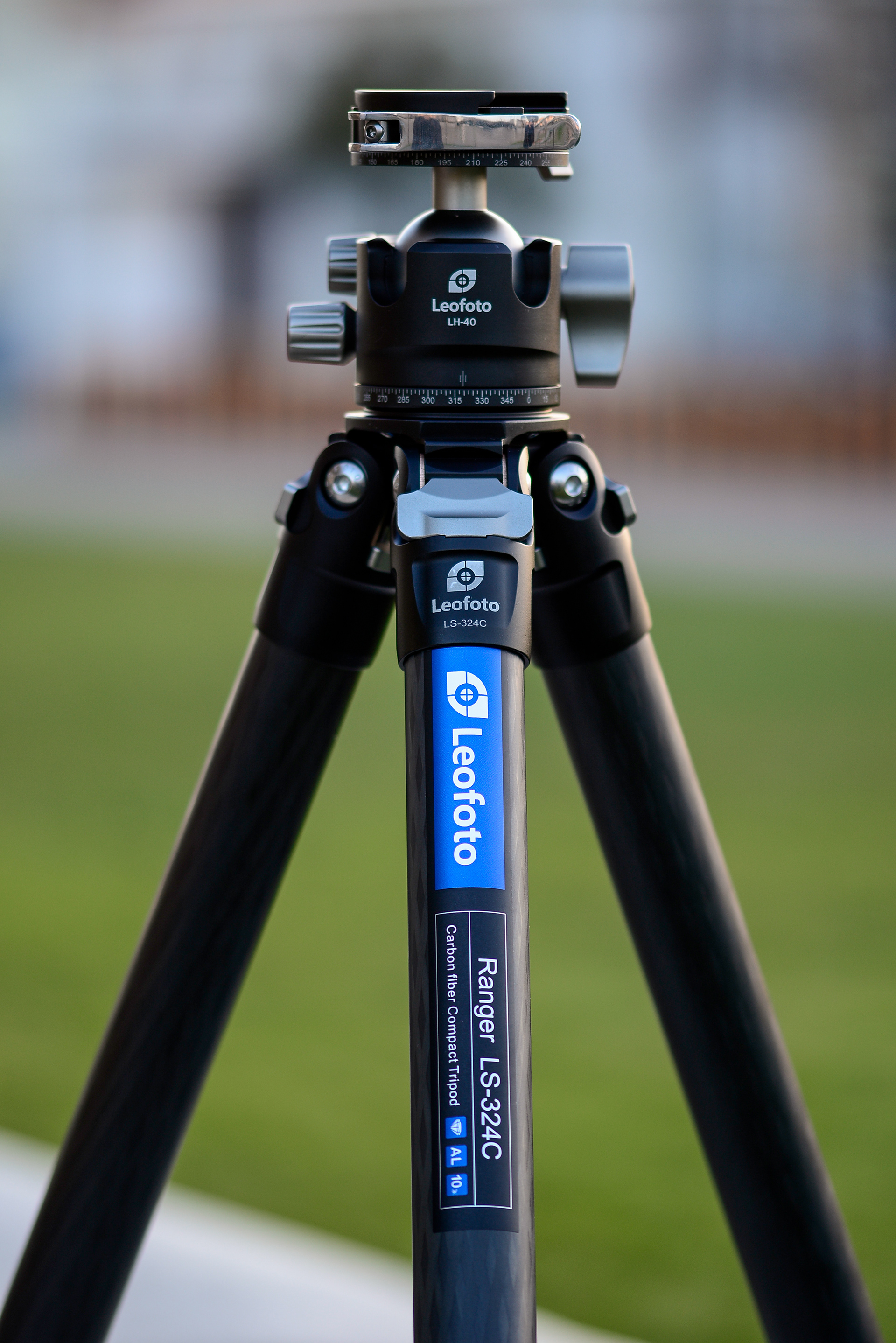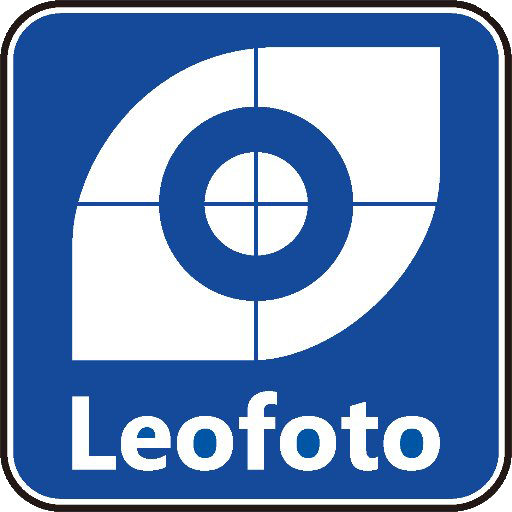 Zhongshan Laitu Photographic Equipment Co., Ltd was founded at the beginning of 2014. It is located in Zhongshan, beautiful Pearl River Delta area in China. Leofoto team has been designing and manufacturing series of camera support systems by comparing and studying the high-end photographic accessories made in China and abroad and combining different suggestions from professional photographers for over a decade. Leofoto has become China specialized photographic equipment producer in only 4 years.
They are a young company with hi-tech equipment and creativity, for many years, they have been supplying the whole world with high quality professional tripods, ball heads and other support accessories.
They have 1 assembly workshop with 4 assembling lines, 2 CNC machine centers(including 80sets of CNC precsion machines), high and low temperature testers, corrosion resistance testers and other high-precision devices.
They have more than 20 management employees and 130 dedicated workers.
Current production capacities can yield quotas of 1000 tripods per day. Besides, they highly automated production lines enable us to supply the best quality products at competitive prices.
Leofoto's high skilled management team ensures a solid compliance program, while maintaining the official trading standards. Leofoto's constant growth is due to their research & development team. They are the foundation stone of our business. At Leofoto, they always strive to provide the best quality products and service for photographers and videographers from all over the world..
Be dedicated and enthusiastic to meeting and leading user needs. They
 focus on photographic support system and will keep an eye on related industry, their mission is to help professional photographers to finish their works by supplying the most profession support systems. Meanwhile, they will combine our skills and customers' needs perfectly and assist their clients in promoting our brand in channels, forums, fairs etc to achieve the best commercial values of their brand. They will always believe in our clients and thank them for their recognition and support.
A tripod it's a big thing and it's not easy to make a pretty package but Leofoto putted a little bit of class in packing product. For me and for many people as we say here in Portugal, "we may have bitten off more, than you can chen". After opening we can find this inside the package:
1 -  A nylon case with the tripod user and maintenance manual
   1.1 - LS-324C carbon fiber tripod
   1.2 - Additional center column 
   1.3 - 3 Stainless steel spikes   
   1.4 - 3 Allen keys for precise adjustment of screws   
   1.5 -  Carabiner and 1/4 screw for counterweight hook
   1.7 - User maintenance manual, a quality certificate, and a wa
   1.8 - Tripod ball head LH-40PCL
   1.9 -  A removable shoe with Arca Swiss support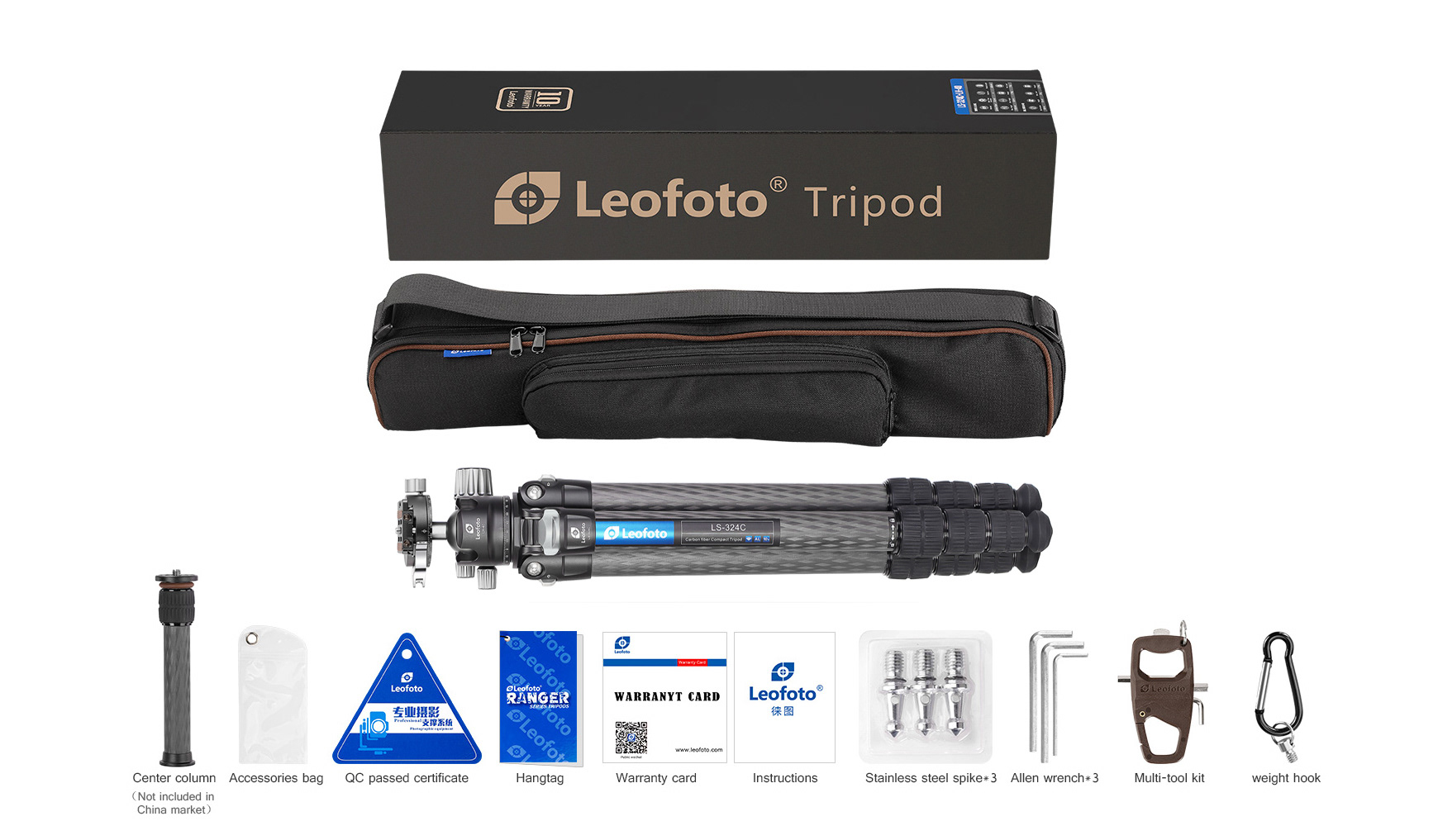 Leofoto,is struggling
 to keep improving, offers this Leofoto kit LS-324C + LH-40PCL with LH-40 ball joint with independent turntable and quick locking with simple rotation of the lever. 
It is made of 10x layers of carbon and 7075 aeronautical aluminum using CNC machines. Without central column for greater stability, with low profile spherical head LH-40PCL that includes rotator and locking / quick access lever. The ball joint offers maximum smoothness of movement and has friction control. The tripod has a minimum size of 48 cm without the spherical head that can be removed without problems for better transport in tight spaces. It can support a load of up to 15 kg and reach a maximum height of 130 cm, to which you must add the spherical head, as well as the camera that is placed on top.
The Leofoto Kit LS-324C + LH-40PCL tripod kit offers more versatility:
Its legs, made of carbon fiber, provide great resistance and robustness to the weight of 1383 grams, without spherical articulation. 
Ideal for outdoor sessions where long trips are required and weight is something to remember. 
It has a central column with two sections that can be placed at the base of the 3/8 tripod screw to obtain more height. 
The legs of the LS-324C tripod:
The closing of the thread of the legs is quick, with rubber of easy adherence and wrist lock of one turn. Each of the sections has independent movement and lock in three specific positions, with the possibility of shooting at ground level.
The leg tilt anchors are automatically repositioned by means of an internal spring system. At the end of the legs, it has rubber stops in the removable dimensioning with 3/8 screw.
It also includes a set of 3 short metal skewers. In addition, it allows the placement of other types of long TFS stainless steel skewers for mud or sand terrain, others the option of TFC skewers for hard terrain and stone terrain. 
New system to facilitate the cleaning of the sections, keeping it always on the first day. Side screw inlet on the tripod body for attaching accessories such as articulated arms, monitors and the like.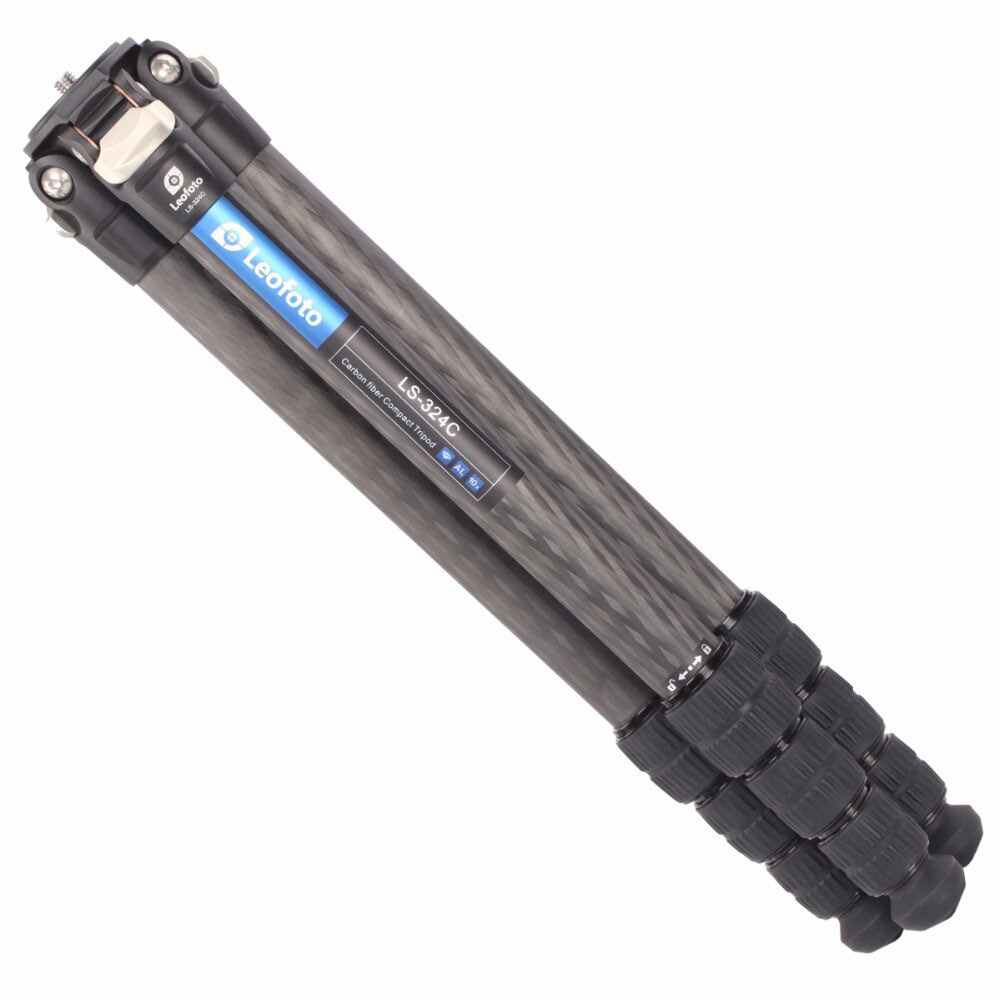 Leofoto LS-324C Tripod Review
TRIPOD DIMENSIONS, SPECS AND WEIGHT
There's a lot of tripods to choose, they come in a wide range of sizes and weights, as a landscape and seascape photographer I can say you that we can carry the lightest tripod all day, but when we have a heavy tripod it became a nightmare in a very short period of time. We usaly walk along time periods and that could become painful. Strength and rigidity are often the balancing factor between size and weight.
So, tripod selection involves finding a model that offers the right balance between dimensions and weight.
When I started getting into photography and decided to buy my first tripod, I was shocked to find that some tripod legs cost over a grand! How could I justify spending more money on a tripod than I had on my camera and kit lens? How could I justify spending so much money on a simple device which would just be used to hold my camera? I bought a cheap aluminium Manfrotto tripod, and then after few months i bougt a Manfrotto 3 ways millimetric ball Head.  when i started to travel to multiple European countries in different scenarios and seasons, becoming very experienced on the field, even in the most demanding environments, i quickly learnt the hard way that you get what you pay for, cheap tripods  just ruin your photos, and they can ruin your precious equipment too! After having a tripod stability in Iceland these year, I start to think that it was time to change  that would never give me trouble again.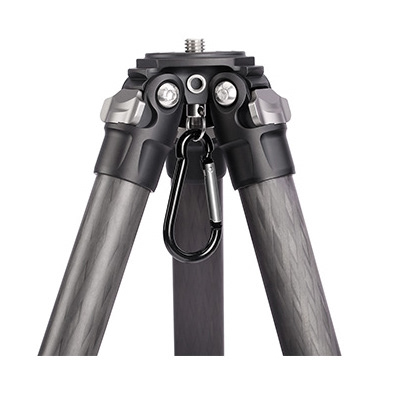 The Leofoto LS-324C's basic specs:
- Manufactured with CNC technology;
- Made by Carbon fiber head 10x and aluminum 7075;
- Legs with independent movement and lock in three predetermined positions;
- Diameter of tubes: 32/28/25/22 mm; 
- Maximum column height of 1305 mm;
- Minimum height of 78 mm;
- Central column placement option;
- The central column consists of 2 folded sections: 20.5 cm. Unplugged. 32.5 cm;
- The weight of the removable column included 144 grams;
- This tripod stand supports up to 15 Kg;
- Aperture and footing by means of oversized thread for better grip;
- Removable rubber tops with screw 3/8;
- Tripod diameter 96.5 mm;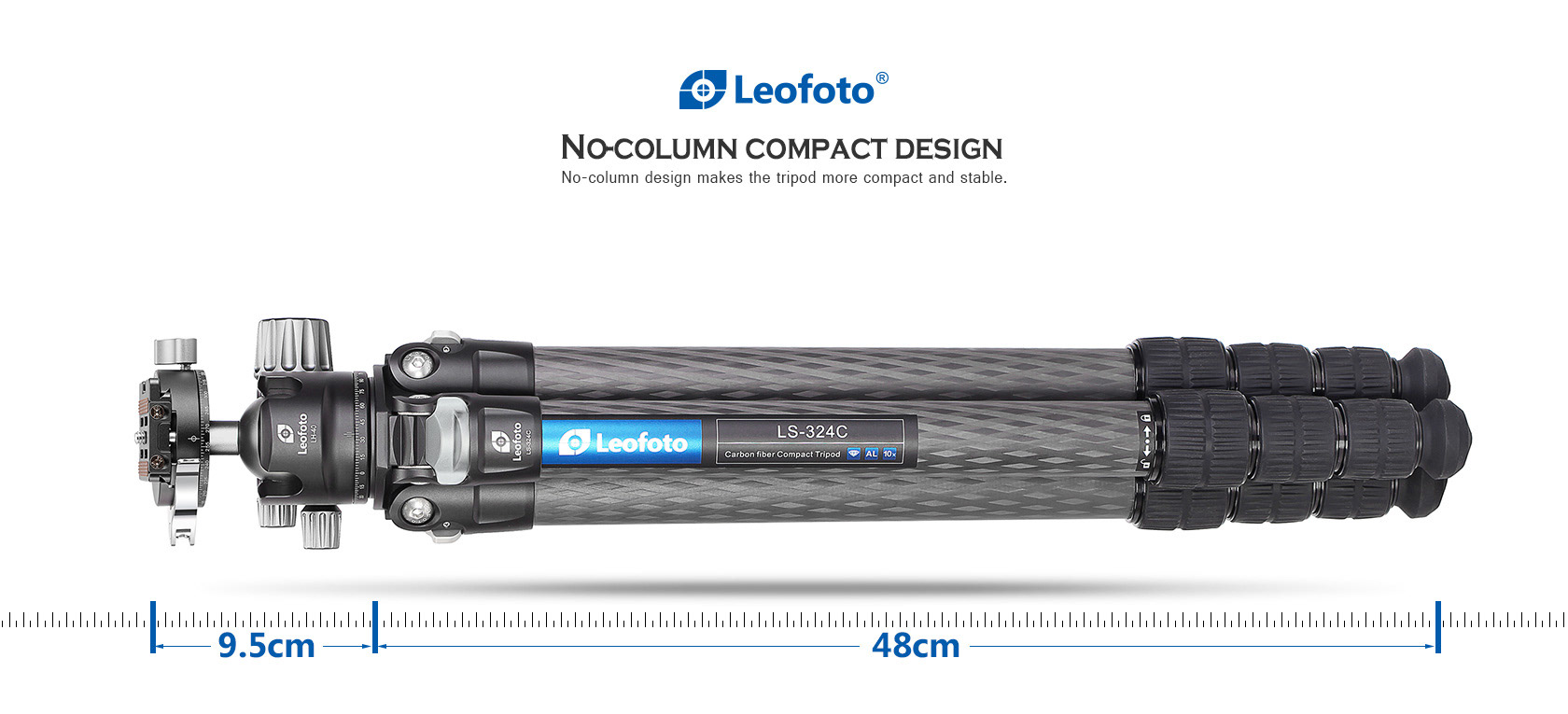 Leofoto it's about a half pound heavier than the more expensive brands but all other features were near equal. Included in the price was a modular center column, also of carbon fiber and aluminum construction, with a 32mm post diameter and 60mm base diameter, adding another 14″ in height, 3″ folded, and 1 lb to the weight.
Out of the box, it made for an intimidating presence. Fully extended, it was clearly as tall as advertised and the weight seemed about right. Looking more closely, all the details looked right. Tearing it down exposed finely machined parts all around and a carbon weave that didn't betray it's "10 layer" claim; the weave was consistent throughout with no waviness or warping of fibers and no pitting, cloudiness or inconsistencies in the resin. All of the aluminum bits are finely milled with no tooling marks. Parts that may have originally been cast were unpitted and finely machined to remove any casting seams. All cuts into them were obviously milled. The anodizing is consistent all around and all of the included optional hardware is of similar quality. No flashes, splinters or metal shavings anywhere. Most sharp edges and corners were also removed. Metal on metal contact points had proper bearings installed and showed evidence of lubrication as they glided through their movements smoothly.
BILD CONSTRUCTION AND MATERIALS
Words for what... The build quality of the LS-324C is excellent.  On most tripods at this price point the metal parts are cast, but in this case they are machined aluminum. 
Leofoto's build quality is a significant upgrade from the likes of Manfrotto and Induro, so I highly doubt that you would be disappointed upon removing it from the box.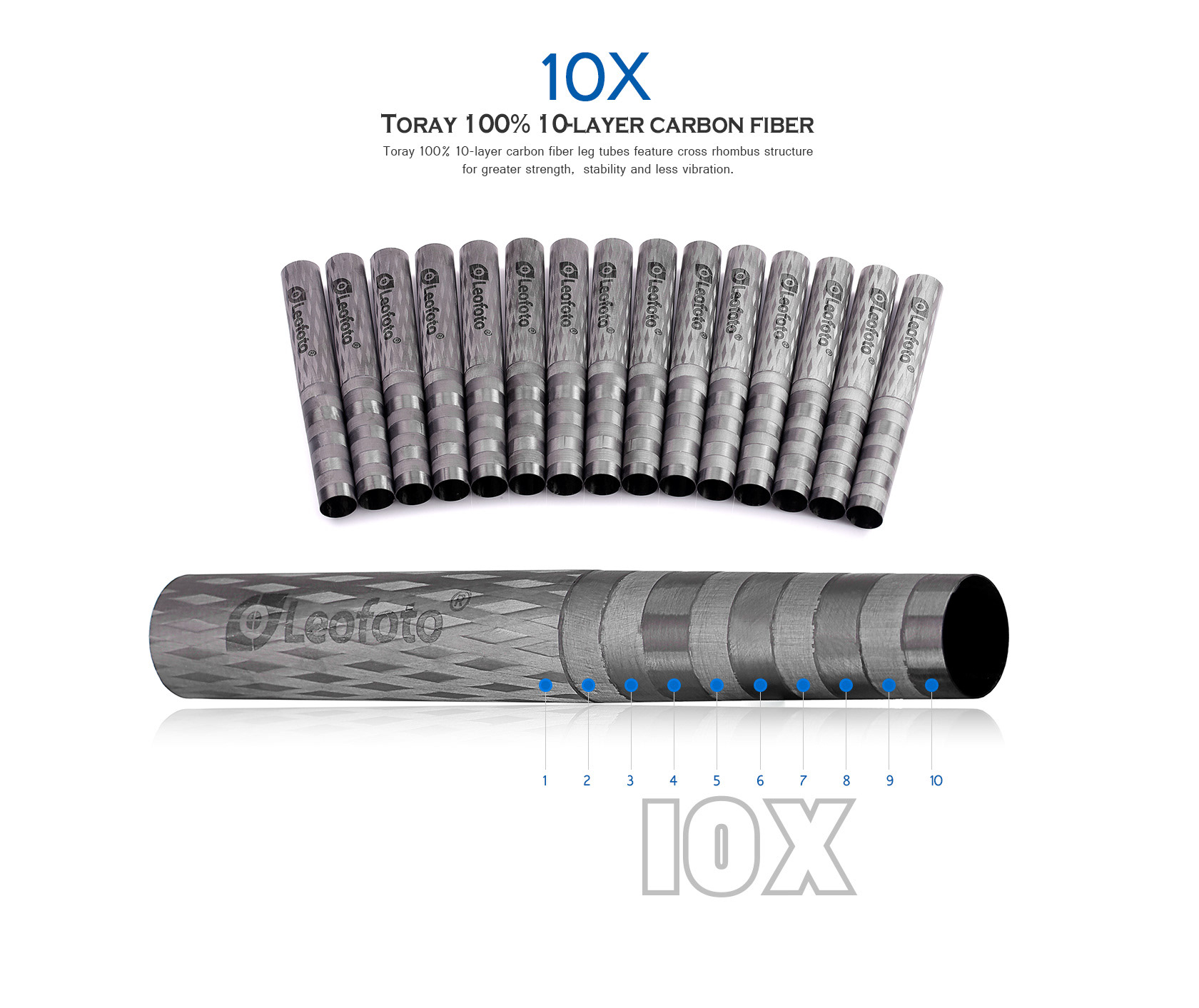 The performance of a carbon fiber tripod hinges on the quality of the carbon fiber tubing used.  In the case of the LS-324C, it appears to use the same mid-range carbon fiber as the rest of the Leofoto lineup.  Judging by the test results, it is some of the best carbon fiber coming out of the Chinese manufacturers.  The layup, modulus of the fibers, and resin ratio are all more important.  As the end user, you shouldn't have to pay attention to these things, as the only thing we ultimately care about is the strength and stiffness that the tubes cane provide.  As we will see in the test results section, these metrics are very good.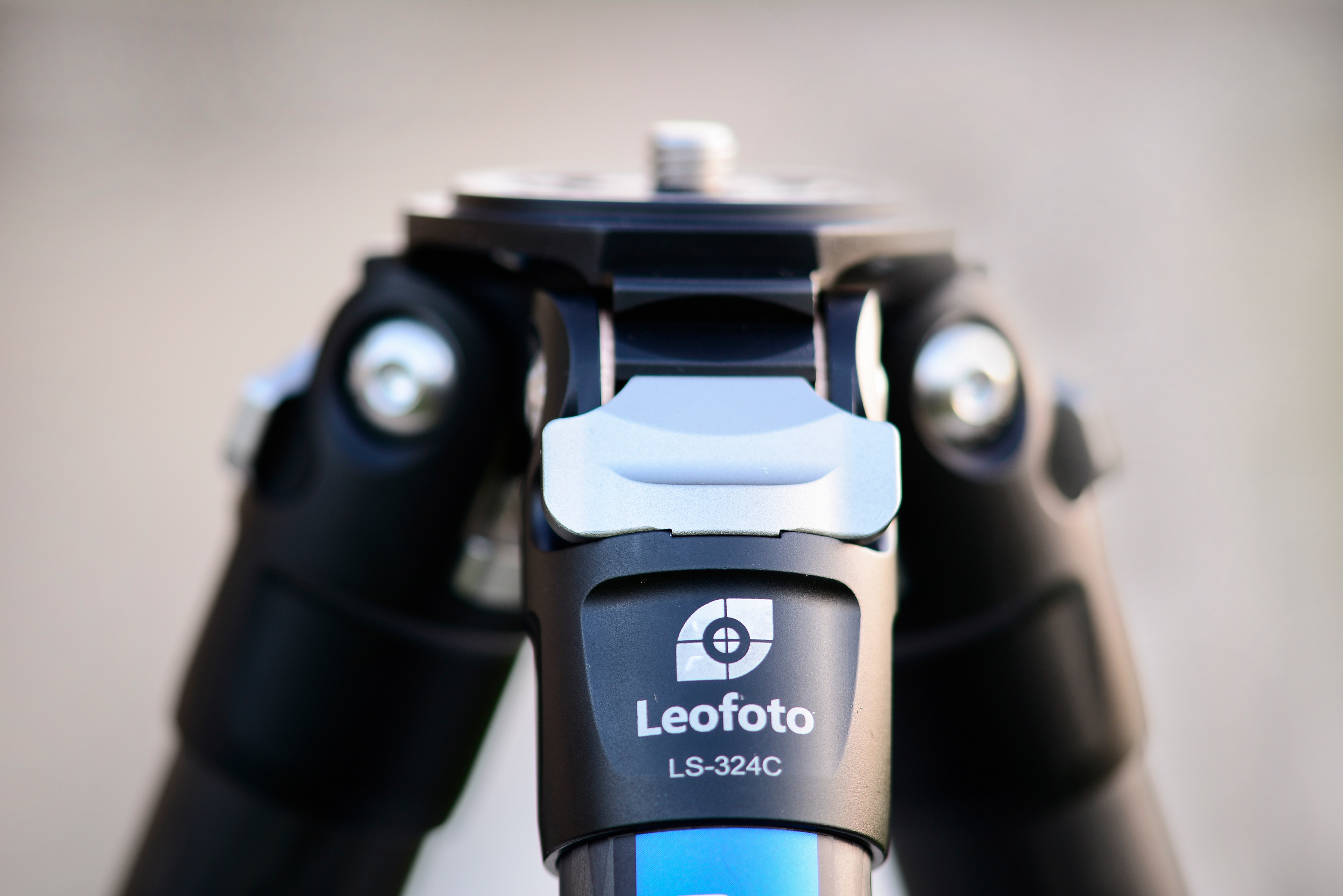 Starting at the top of the tripod, we have the part that holds everything together. In addition to "chassis", this part is referred to as the "apex", "main casting", "spreader", "spider", "collar" and likely more terms I am not remembering at the moment. The chassis' size and strength are keys for the overall strength and rigidity of the tripod. Skimp here and nothing else matters.
Chassis is solidly-constructed of corrosion resistant, anodized CNC-machined aluminum.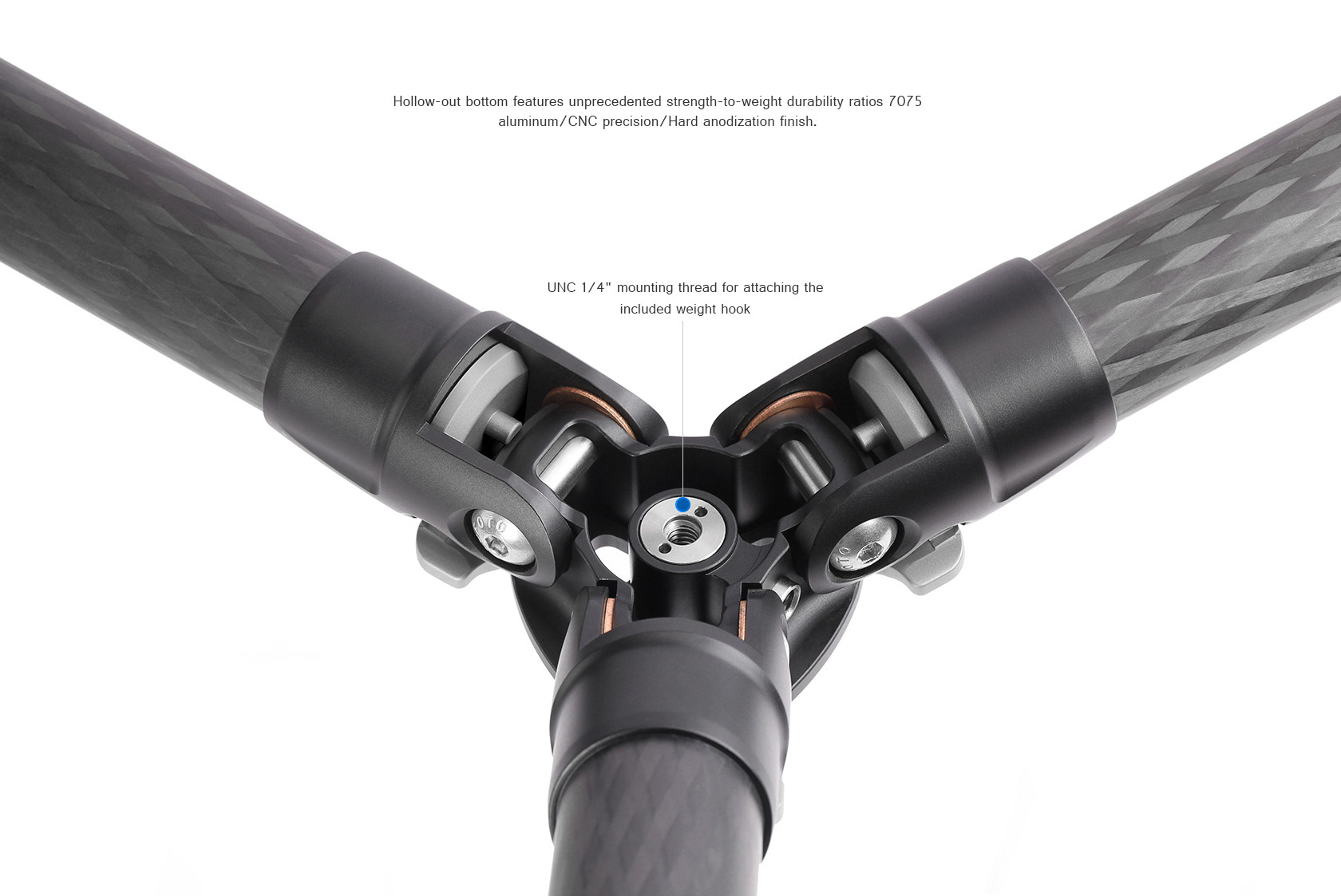 Especially when using a ball-style head (usually my primary tripod head choice), the level of the tripod is often not important. But, there are times when I need the tripod's top plate to be completely level.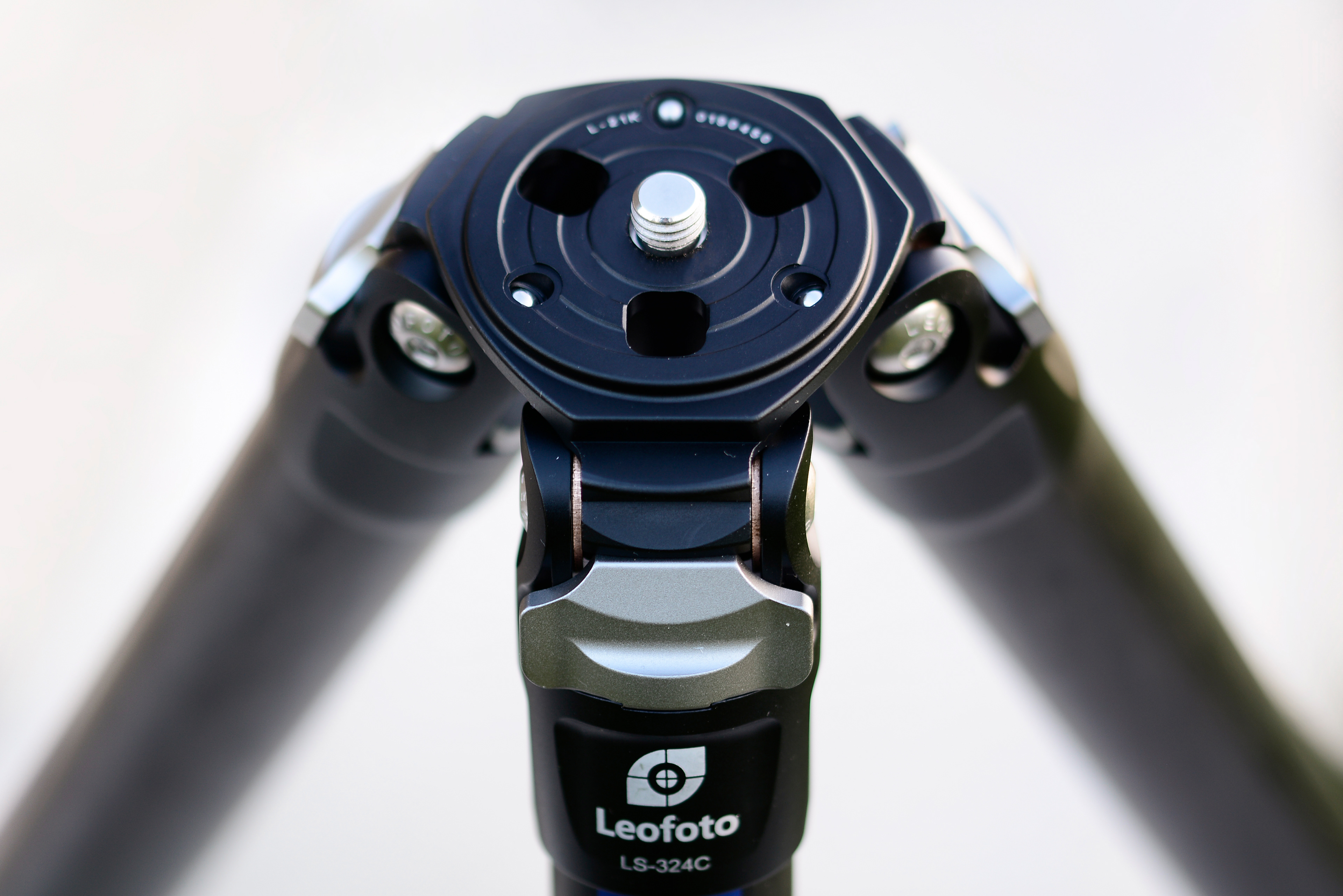 The apex is split one one side and a bolt clamps the apex around the top plate.  There is also a detent pin to prevent the top plate from accidentally falling off.  The downside is that the LS-324C takes 55mm diameter plates.  This isn't a common size and so you will be stuck buying Leofoto accessories for this tripod, such as the custom center column for this model.
Like the apex, the legs are one of the most important part of a tripod.
Perhaps the primary consideration for tripod legs is what they are constructed of, with aluminum and carbon fiber being the two most common options. "Should I get an aluminum or carbon fiber tripod?" is a common question.
First, what are the advantages of a carbon fiber tripod? Carbon fiber models are typically lighter than equally-weight-rated aluminum models and that is often a primary consideration for photographers. A huge carbon fiber advantage is its ability to better dampen vibrations. Carbon fiber does not transfer heat as easily as aluminum and if using the tripod in cold temperatures, you will appreciate holding a carbon fiber model over an aluminum one.
What are the advantages of an aluminum tripod? Aluminum is a great material and its primary advantage in tripod leg form is low cost. Aluminum generally has a lower friction coefficient than carbon fiber, making it slide more easily for height adjustment.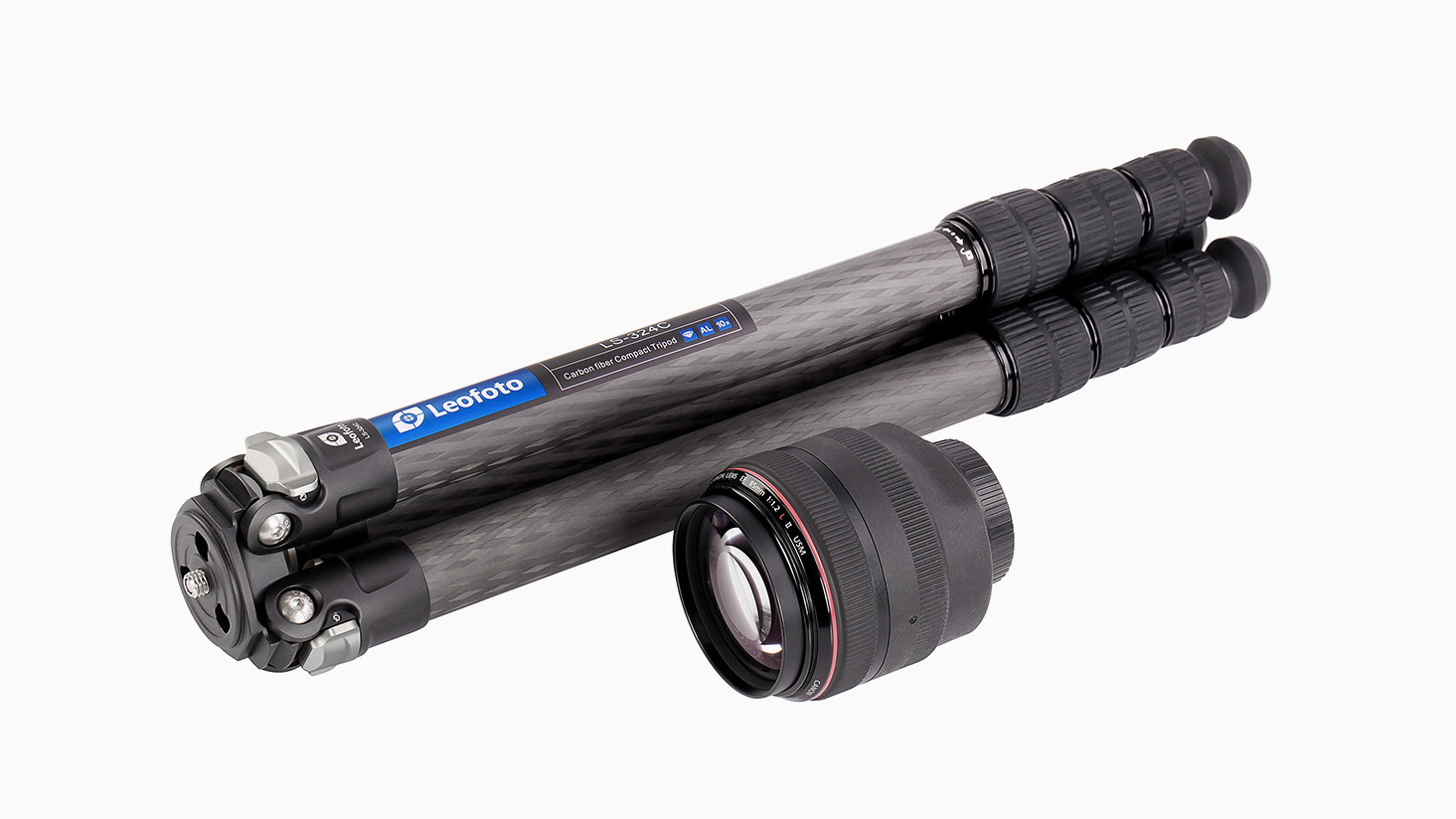 Another important aspect to tripod selection is leg section length along with the number of sections per leg. Roughly, the number of leg sections times the length of the sections (minus some overlap plus the chassis height along with the leg angle set) determines the maximum height of the tripod. The length of the leg sections is also a strong factor in a tripod's retracted length.
Because there is one leg lock on each leg section joint, tripods with more leg sections have more locks and for that reason, they generally cost modestly more. Increasing the number of leg sections also slightly increases the setup and take-down time. With each leg section having a smaller diameter than the one above it, tripods with more leg sections generally have a narrower lower leg section than the equivalent tripod with fewer leg sections.
General purpose tripods are most frequently offered in 3- or 4-leg-section models and I generally choose 4-section legs for my primary tripods. Four leg sections give me a relatively-compact retracted size that is especially appreciated when traveling with a maximum height that works well for me. With quality-constructed tripod models, I don't find the stability of the thinner lower leg section to be an issue.
​​​​​​​Most tripods have multiple legs sections, allowing them to be set to various heights or retracted compactly. This means that leg section locks are needed and the first choice to be made is often between lever or flip-locks and twist locks. I've used both and strongly prefer the twist locks.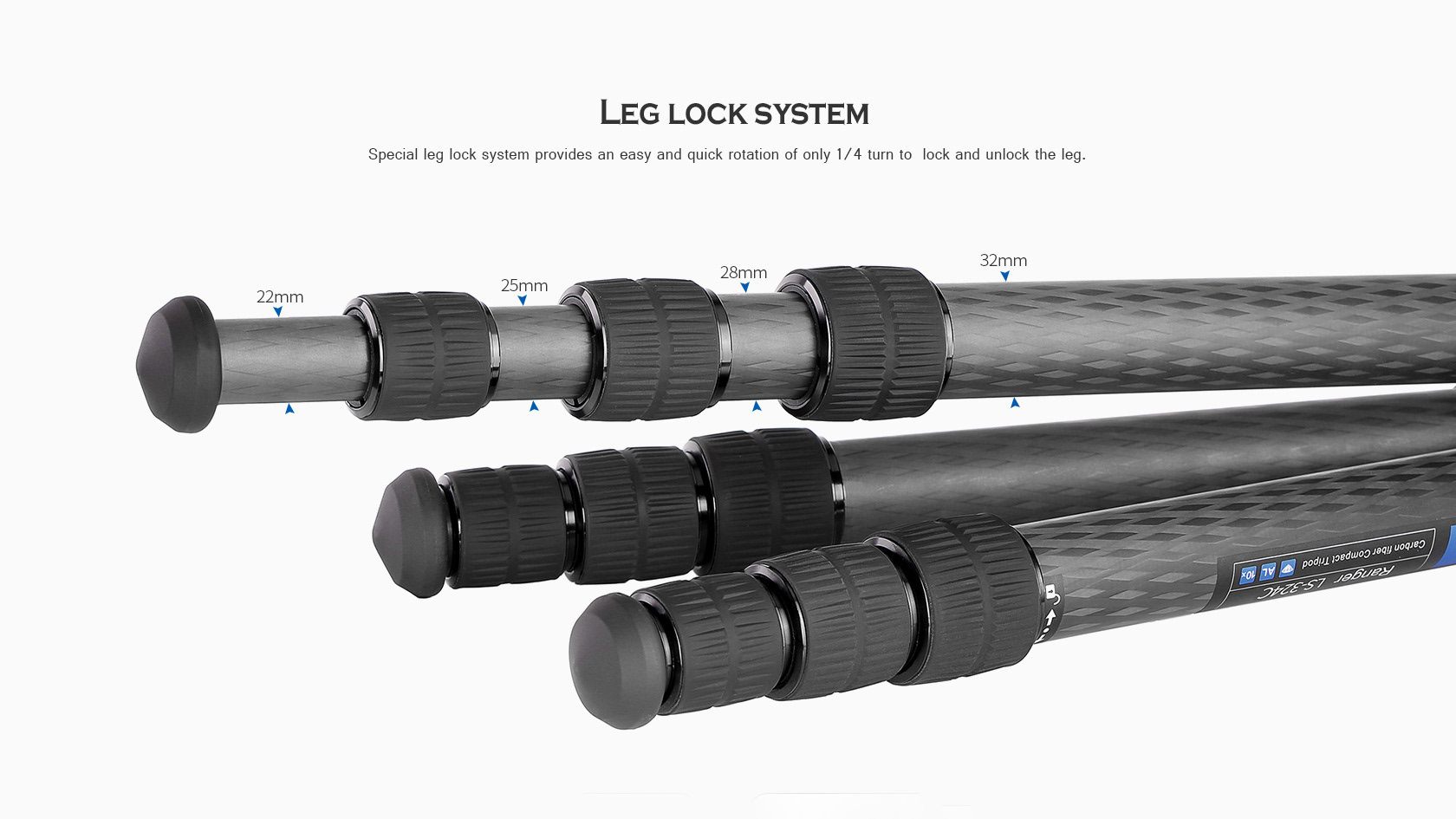 The LS-324C features standard twist style leg locks.  The metal locks have rubberized sleeves for grip and comfort.  The rubber grips and the underlying twist locks are oversized compared to the direct competitors.  This isn't necessarily a good or bad thing, but it does make operating the tripod a little bit slower.  It is more difficult to grab and open all of the locks at once. The feel is fine, but not top notch.  The threading is finer than the best feeling locks, causing the locking action to feel a little mushy and slow.  I'm not really complaining here, the locks work just fine, but they aren't perfect.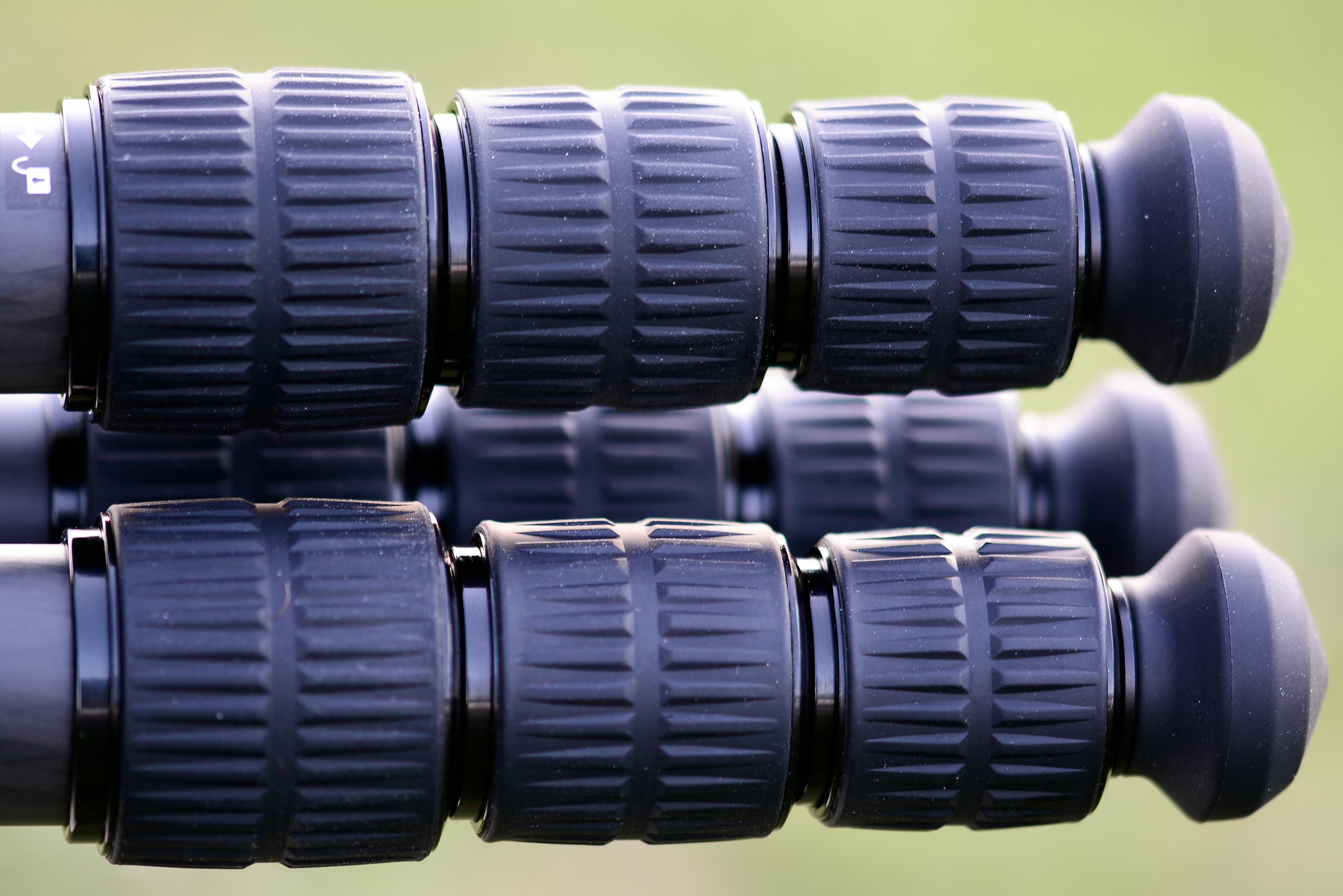 If you gona use thetripod on a completely flat surface, typically a floor, you want a tripod model with independent leg spread that allows the tripod legs to open at various angles, accommodating whatever terrain you may encounter. Models featuring independent leg spread have angle stops around the leg pivot axles and this seemingly basic design feature plays an important role in the tripod's functionality. One of the primary design observations to make is how strongly the leg angle locks transition into the stops provided on the chassis. Is the stop a weak little tab that protrudes from the chassis? This type of design invites failure and it must be considered that this failure may mean your camera and lens hitting the ground.
​​​​​​​​​​​​​​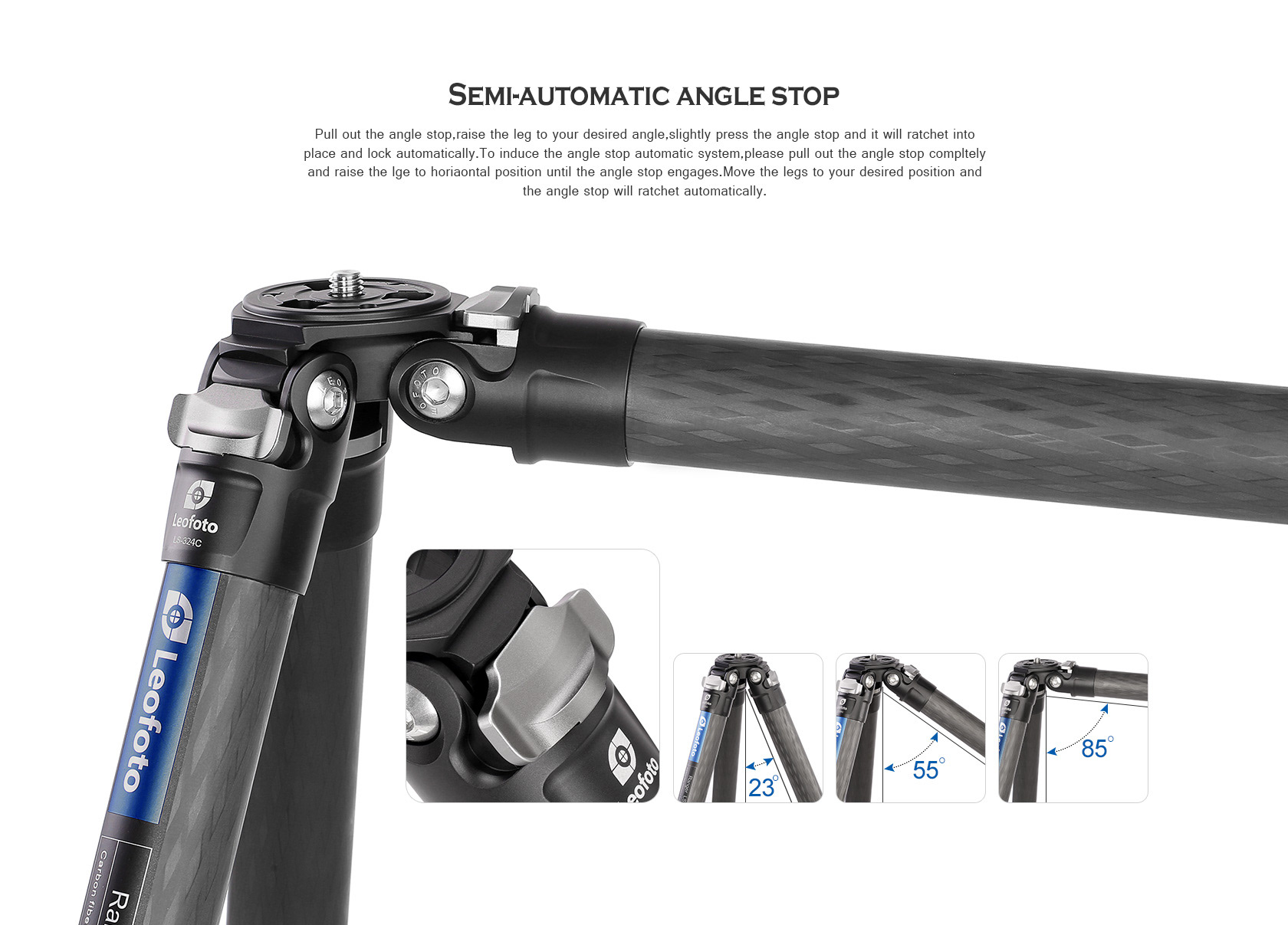 The feet on the LS-324C are replaceable and take the standard 3/8-16 thread.  Included in the box are a set of rubber feet and a set of spiked feet.  This is nice given how much some other companies charge for a set of spiked feet.  The spikes in this case are fairly short and stubby though.  This is fine for shooting soft dirt, but won't be quite as useful in sand or snow as the true longer spikes.  Again, I have mixed feelings about this approach.  Most users won't feel the need to ever use the spikes, and so they will collect dust.  For those who really need spikes, they will want good long ones to bite into a soft surface.  I wish that Leofoto had simply omitted the short stubby ones from the box and dropped the price a couple bucks.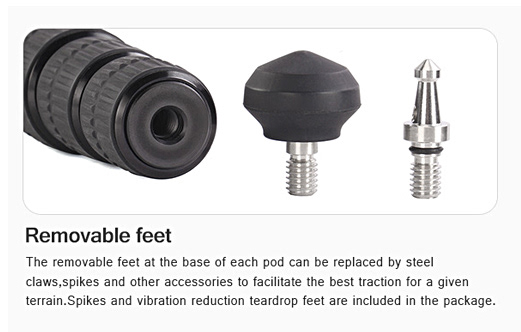 Buy right the first time and spend your time photographing. Using a high quality model will potentially greatly increase your image quality and it will be a pleasure to use and carry with you. I do not remember talking to a single photographer that wished they would have purchased a lower-grade model.
This tripod can be purchased separately from the ballhead,  can be purchased at Leofoto.es for 299€, and can be purchased in a kit tripod and ballhead, in  Leofoto.es for 445€. 
In this cases if you have a valid European VAT you can purchase in 
Spain without the taxes.

Otherwise buy directly
through store in Portugal here.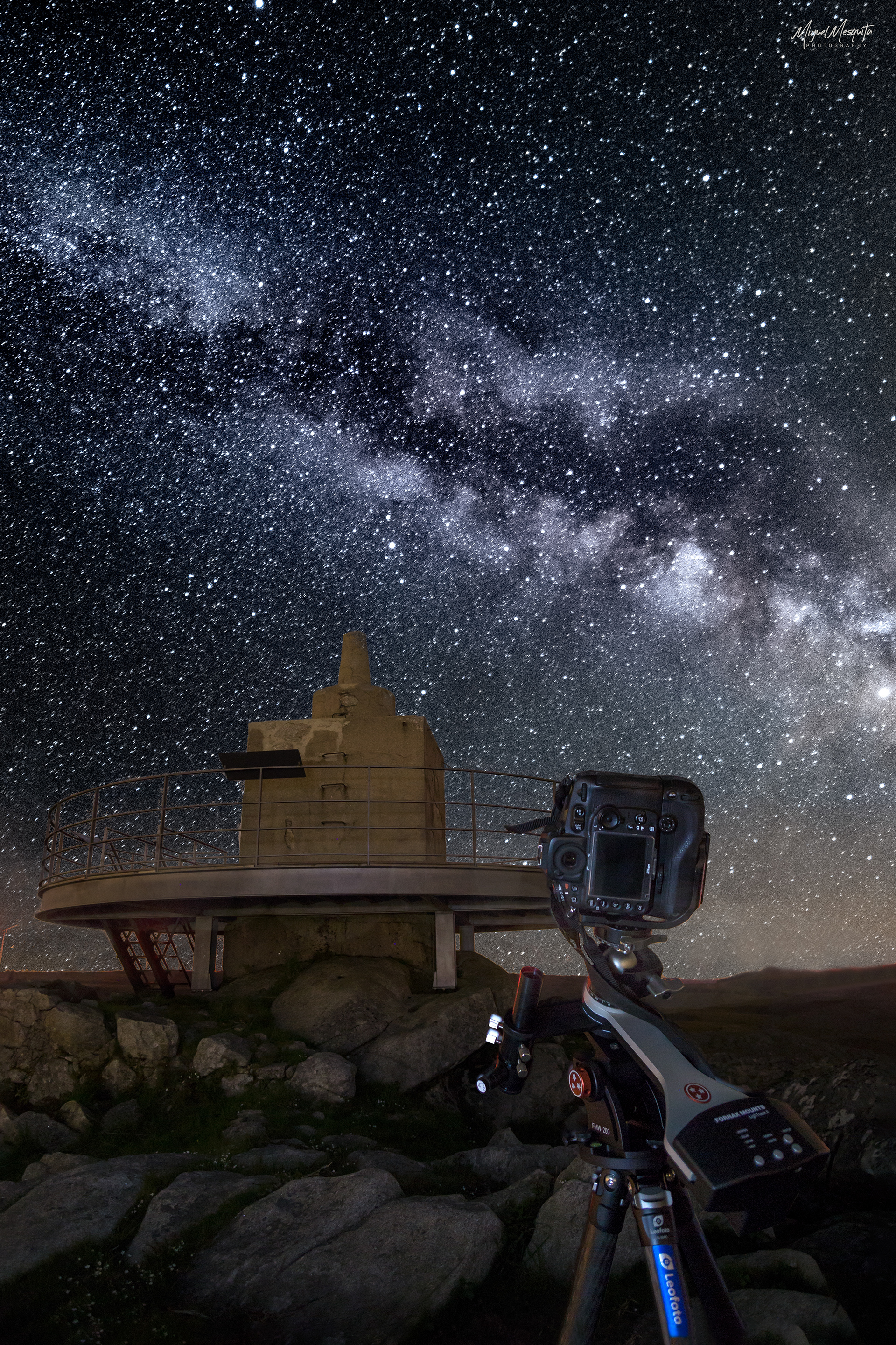 ___________________________________________________________________________
LH-40PCL Ballhead Review​​​​​​​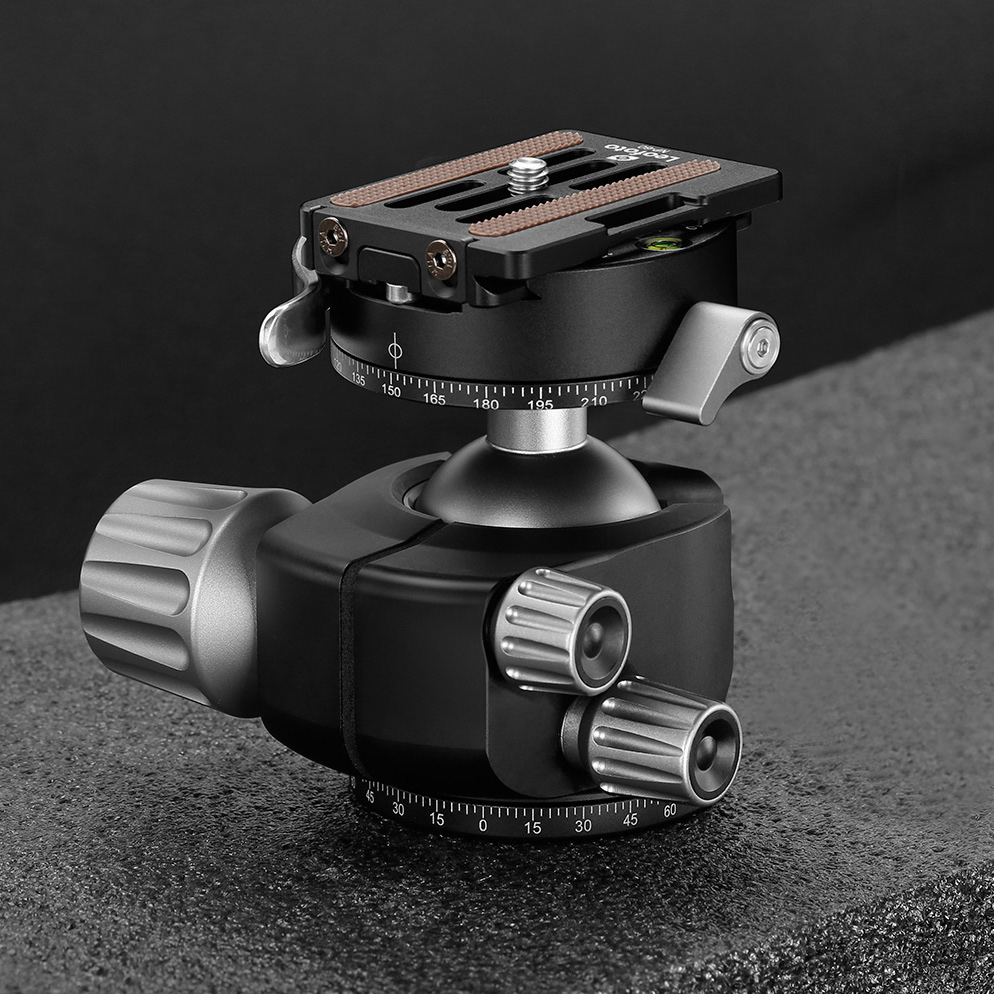 A solid ballhead is something that every good photographer should have in their kit. Us I told you before I started to have difficult problems in my photo trips with strong winds and that helped me to understand the importance of a good ballhead. Just like buying a tripod, if you buy the right ballhead it will last a lifetime because unlike today's cameras and lenses, technology of modern ballheads is relatively simple and changes very little. Instead it all comes down to manufacturing quality and machining accuracy to produce a perfect, solid platform for your camera.
Everything about getting a ballhead seems to push you up to a higher price bracket. It started with the cheapest option (and not very cheap at that); the Manfrotto 3ways milimetric head. During my last trip to Iceland, I had very difficulty to stabilise the photos, i had very strong winds tempest. 
​​​​​​​​​​​​​​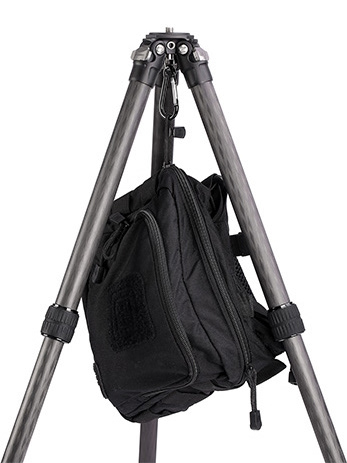 Overview and Specifications
- Leofoto LH-40PCL with a ball 40 mm in diameter.
- Three locking controls for maximum weight control placed on top.
- NP-60 removable aluminum shoe, Swiss Swiss type.
- Bubble level indicator
- Two position quick lock lever
- 360º panoramic rotator with independent locking
- 90 mm height
- Supports a weight of 30 Kg
- Weight of 560 grams.
- 57 mm pan base
- The base with 3/8 screw entry
This is a very compact ball head model with some serious weight shaving compared to the LH-55, weighing in at 60% as much as the larger head. as wide at the minimum primary diameter and those numbers do not seem as differentiating as they appear in real life (hopefully the comparison image makes that difference clear for you).
Recommended for any telephoto lenses, including super telephoto lenses:
600mm F/4, 800mm F/5.6, 200-400mm F/4, 500mm F/4, 400mm F/2.8, 300mm F/2.8, 100-400mm F/5.6, 50-500mm F/6.3, etc.
For the delicate operation of the head it is highly important to carefully balance out the mounted equipment!
​​​​​​​
The clamp can only capture 60 mm or longer plates.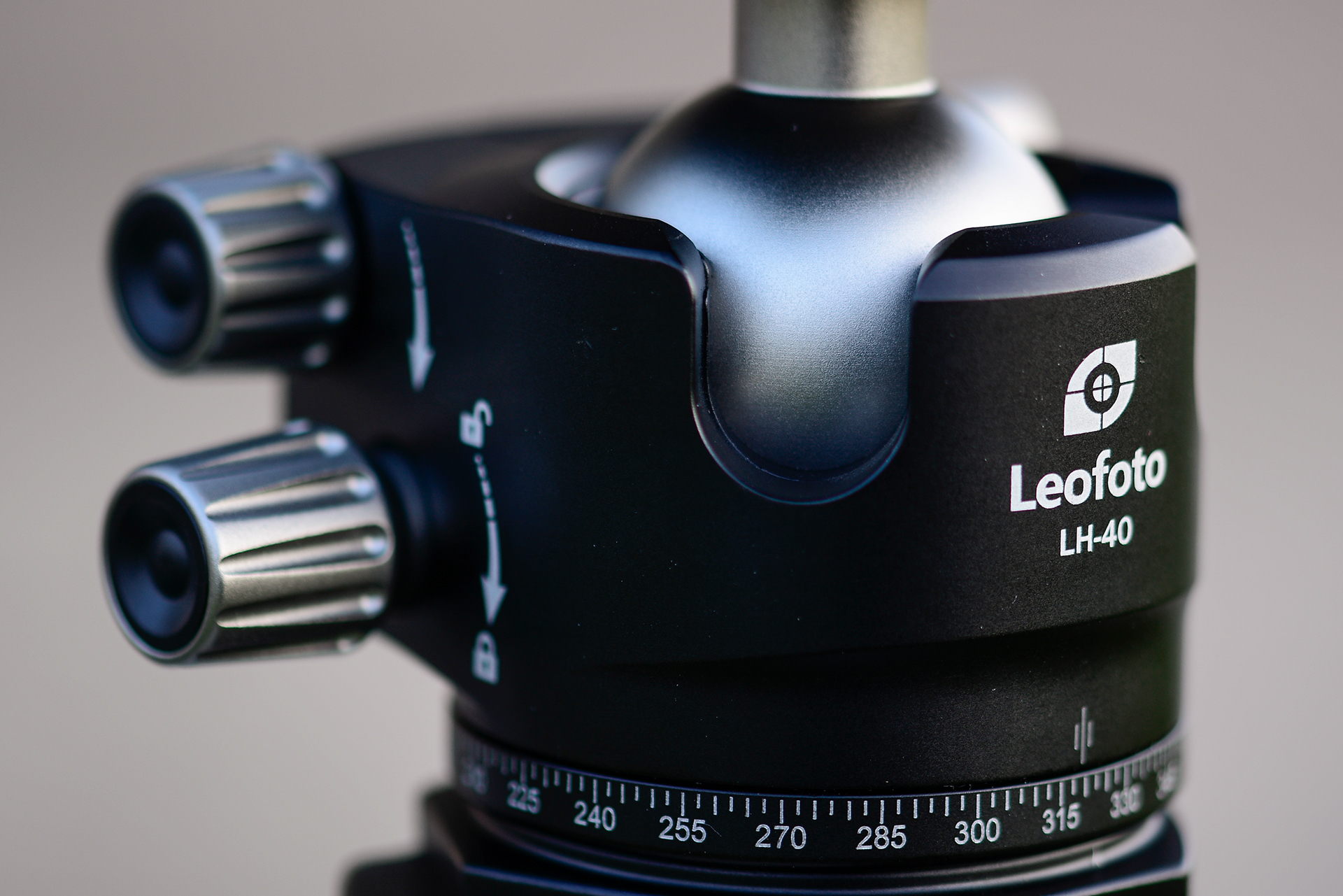 This ballhead chassis is very-strongly and precisely CNC-machined from aircraft aluminum. 
The ball lock knob is the part that  you will spend plenty of time with it in your hand. These knobs are generally rounded or in a lever configuration. In this ball head is not round but a machineted in a lever knob. 
While round knobs are generally easier to roll with fingers, they cannot be made large enough on a compact head. The extra length is needed to comfortably provide the torque necessary to lock a ball tightly and this head gets the lever.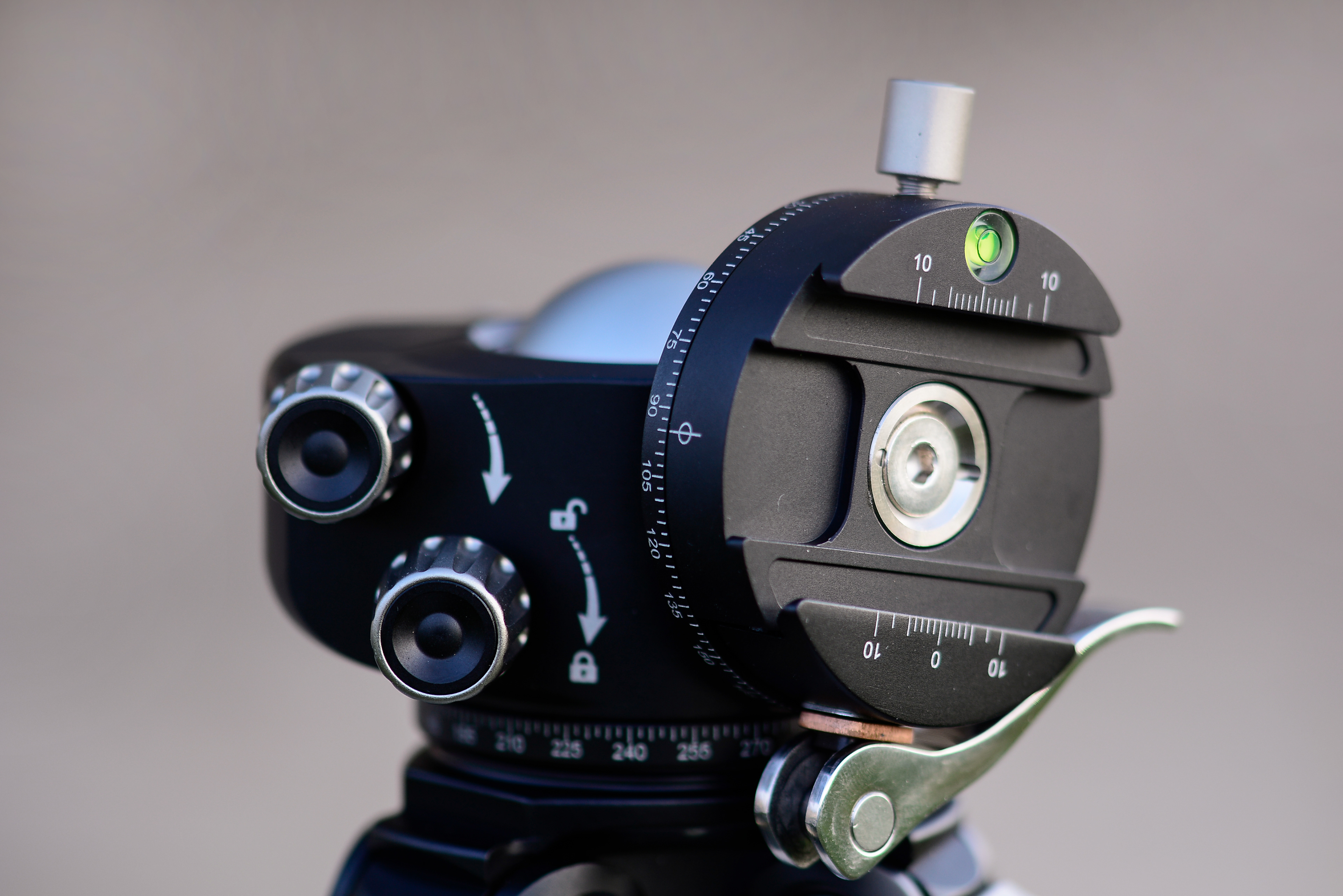 Ball Tension Control Knob
When we talk in mid larger size ballheads models the Ball tension control knobs are a common. 
A tapered, rounded design makes the knob easy to roll in the fingers.
As alluded to, I typically find that the ball tension should be comfortably-tight for the least amount of ball movement on lockdown. The movement is most-readily seen in longer focal length lenses and these larger lenses are typically more usable under stronger tension than smaller ones. So, that issue mostly works itself out naturally.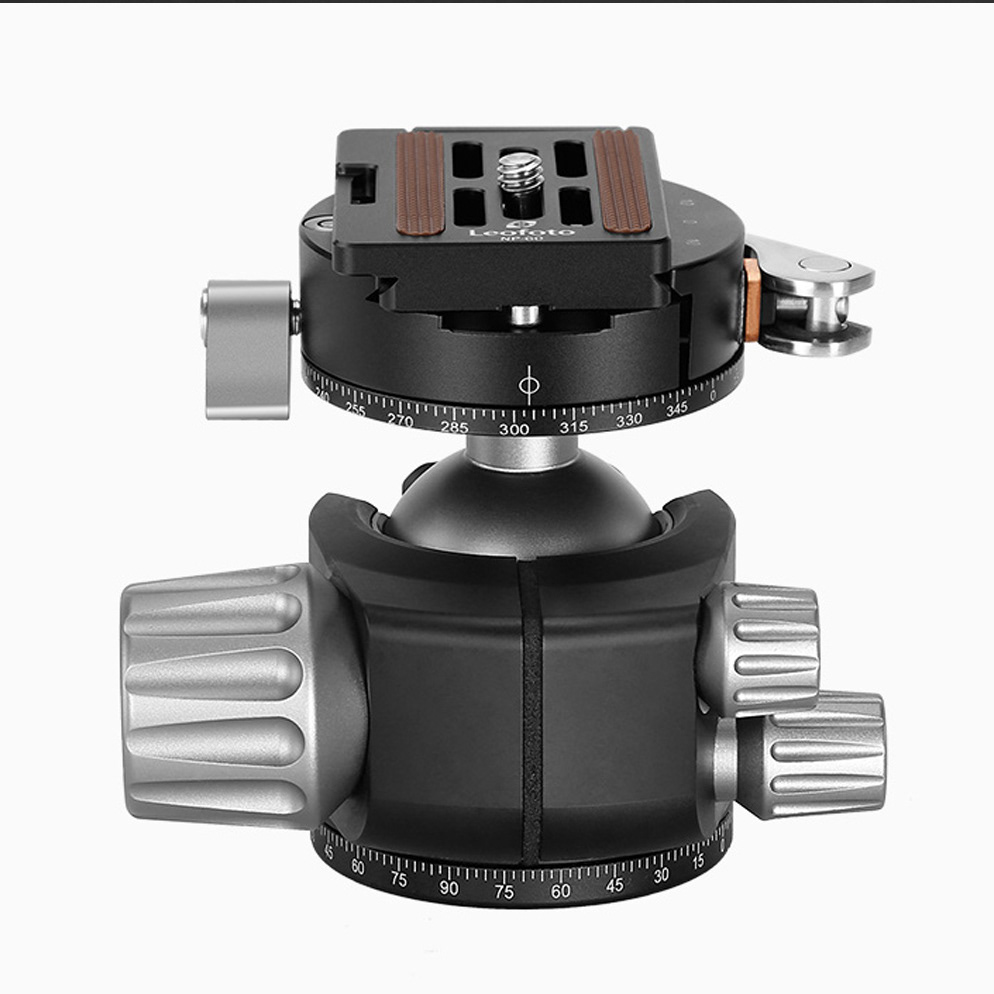 Dual Drop Notches and Low Height Profile Ballheah    
Ergonomic large main locking knob gives easy handling. Low height proffile gives better reliability. Preisely machined ball makes the movementsilky smooth. Dualdrop - nothes allow you easy change from andscape mode to portrait mode or other angle shots. Laser-engraved scale on the panning base for easy and precise control during panorama shooting.
The front-positioned drop notch is most common and shooting upward means that the ball lock knob is going to feel like it is on the wrong side of the head for most photographers. If not using an L-plate or lens-plate-equipped lens, visualize the camera and main knob positions when the camera is in vertical orientation to assess the design of a ball head. 
​​​​​​​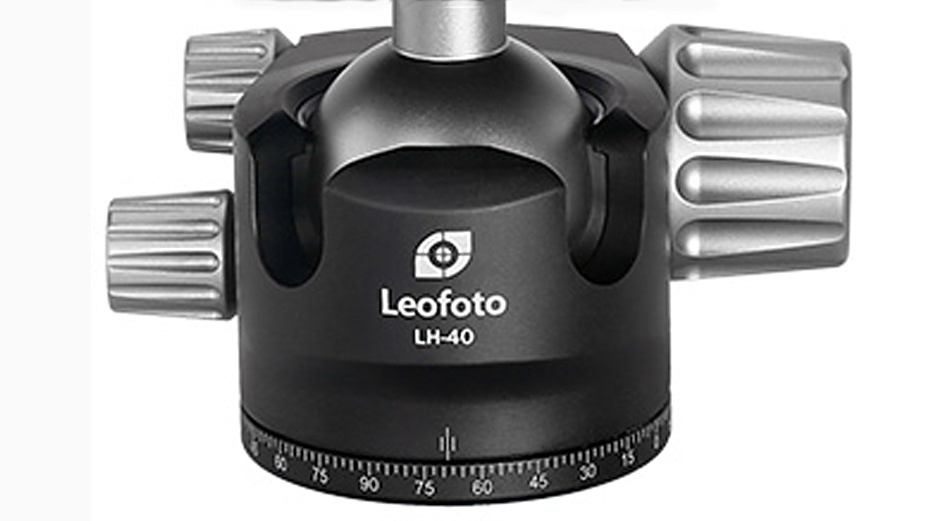 Now a days almost good tripod ball heads are equipped with a panning base, and the LH-40PCL remains the  tradition, but with improvements, they assembed a clamp panning at the top of the ball, allowing the head to be rotated regardless of the position of ball adjustment keeping the tripod leveled without a level base.
Both the base and the upper clamp include the orientation of the ball lock button for comfortable use, for panorama capture and to simply move the object's frame from side to side.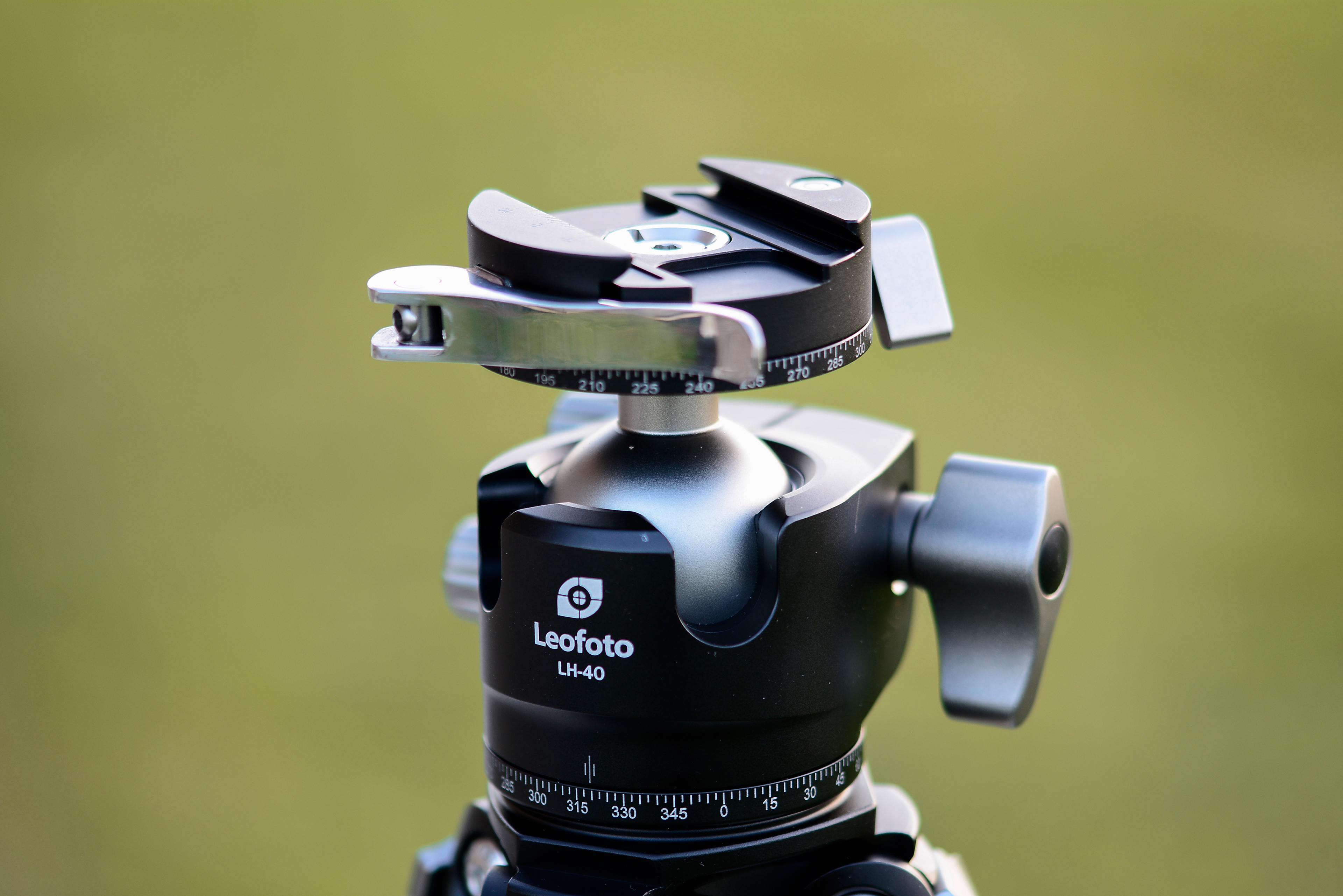 The Leofoto LH-40 Ball Head's panning base measures 57 mm. 
Another common feature on the panning base is an index. Indexed bases are most frequently used for precision panorama captures and this head has this feature with marks laser-engraved at 2.5 degree intervals.
What I think is missing in this part is
stop knob to give audible and tactile clicks every 15˚
.
Ball heads minimally require threads on the ball stem and ideally have a quick release clamp for convenient camera mounting. The LH-40PCL clampis compatible with the highly-desriable Arca-Swiss standard.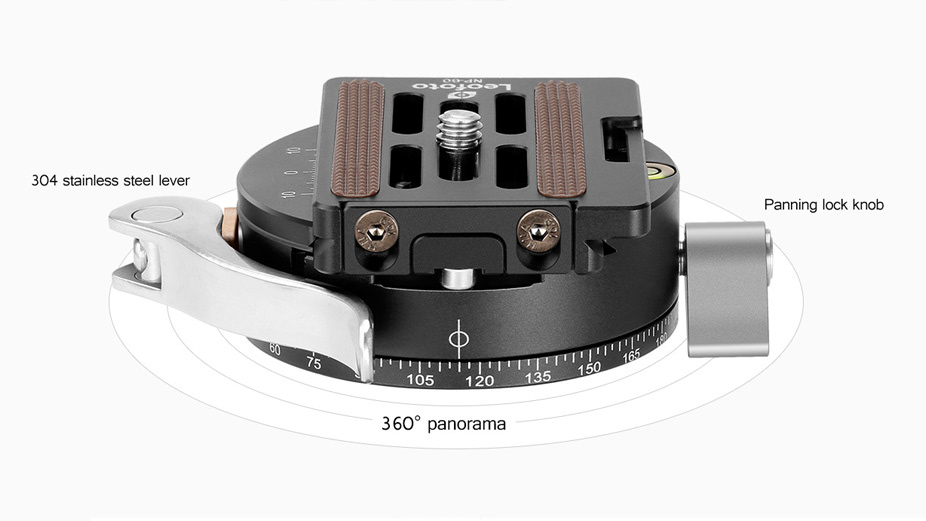 Also of high importance is how the clamp's locking mechanism works. This head is available with a lever-release or screw-knob clamp. The screw-knob is a large CNC-machined aluminum design that works great. 
​​​​​​​
Not all ballheads behave in the same way on mild days and on days with negative temperatures, sometimes the operation of the ball head is negatively impacted by very low temperatures.
Leofoto did exhaustive tests to make the material behave in the same way with the various meteorological conditions, they submitted the material to negative temperatures to make sure it would work the same way
Gear Capacity Recommendations
Generally, ball head manufacturers provide load capacity specs for their heads and expect you to figure out what gear will play nicely together with their respective heads. While that can work, I'm generally not comfortable using weights approaching max load capacity with vibrations and load manageability being primary issues.
C
an be easily assembled 
600mm F/4, 800mm F/5.6, 200-400mm F/4, 500mm F/4, 400mm F/2.8, 300mm F/2.8, 100-400mm F/5.6, 50-500mm F/6.3,
Leofoto can be  purchased for its value and great performance and also for the great looks, i think for the quality they offer in this ballhead, is not expensive, you can buy this ballhead in Spain in Leofoto.es  for 249€ , or the kit of Tripod and Ballhead 429€. 
 Those who understand and appreciate the value of quality buy Leofoto products without hesitation.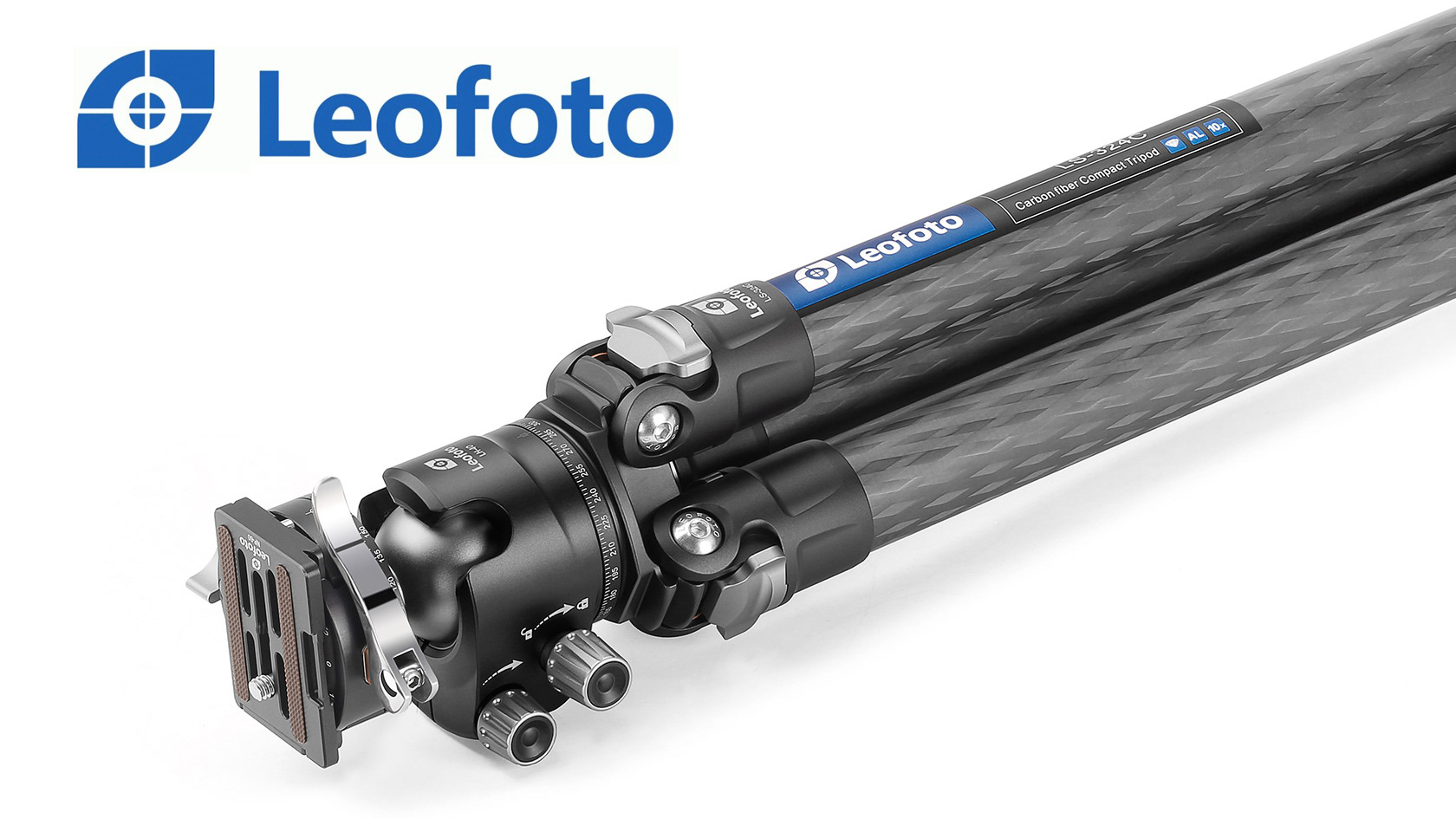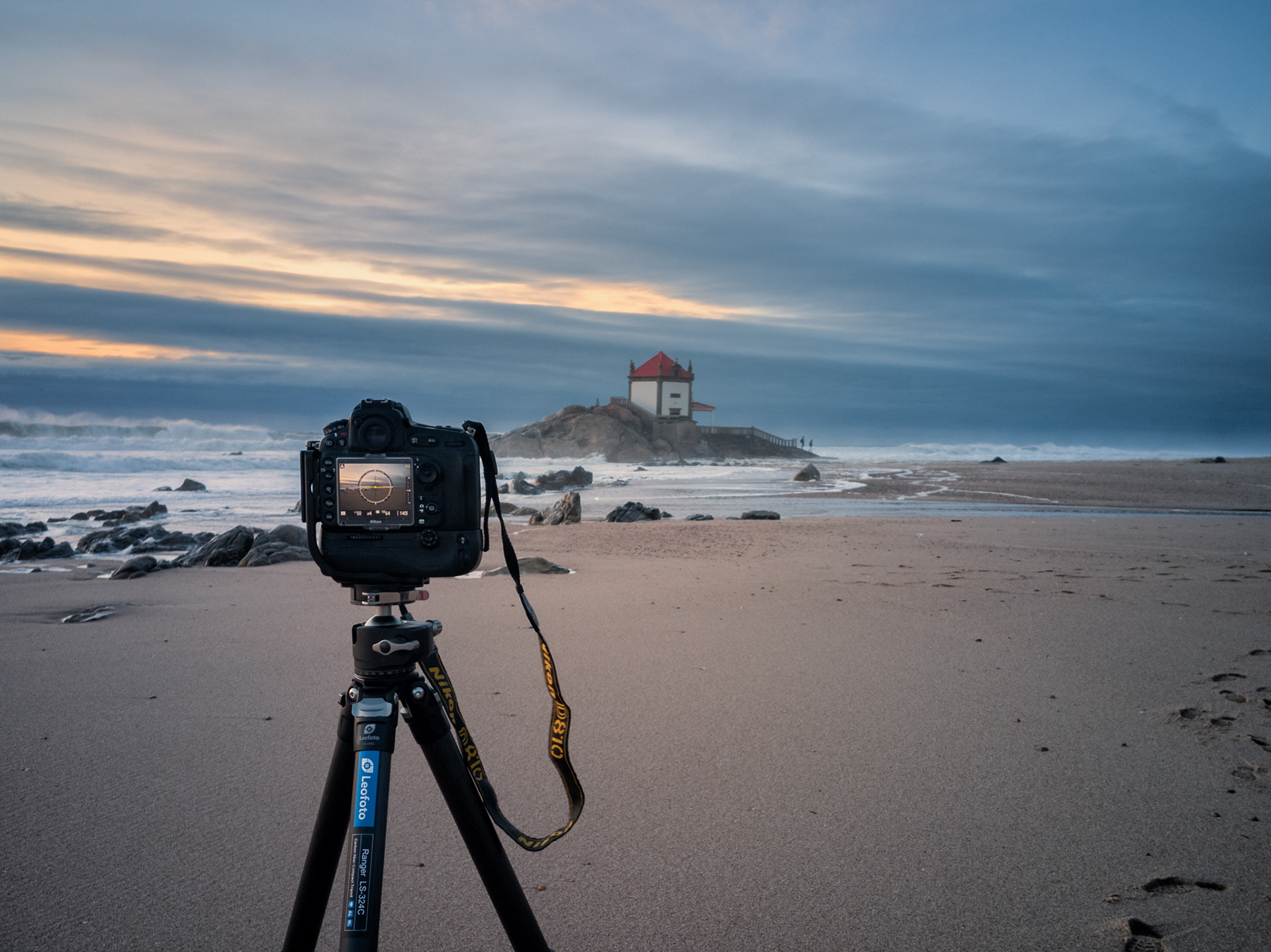 This is a very robust set, a good carbon tripe, 1.5kg in height, with the 32mm thickest leg.
based on my photographic experience and with the photographic travel experience this is a tripe for exhaustive use, for everyday life, it is a light, small tripe that can easily travel in a handbag. In my opinion if you are going to shoot for places like Iceland, Norway, Canada, it may not be an advisable tripod, since they are countries with very adverse weather conditions, then I advise the purchase of Leofoto mountain tripods.
The Ballhead, is a very complete head, also very robust, withstands a lot of weight without any type of problem, easily withstands the weather of the most complicated countries.
Both the tripod and the ballhead have been tested and work perfectly in minus temperatures.
I can say more, I really like this set, and I can tell you that it will be my photography company for a long time.
-Made of carbon fiber, which becomes a resistant and durable tripod
-There's an incredible amount of controls that allow the user to dial in the perfect camera position
-The controls are smooth and glides around with ease! 
-The Top Clamp with Panning Base, easy to make panoramas.
What I Feel Could Be Improved
- Could come equipped with a hand grip on one of the legs
- The spiked feets could have a rubber cover, to avoid taking off
- Could have a stop knob to give audible and tactile clicks every 15˚