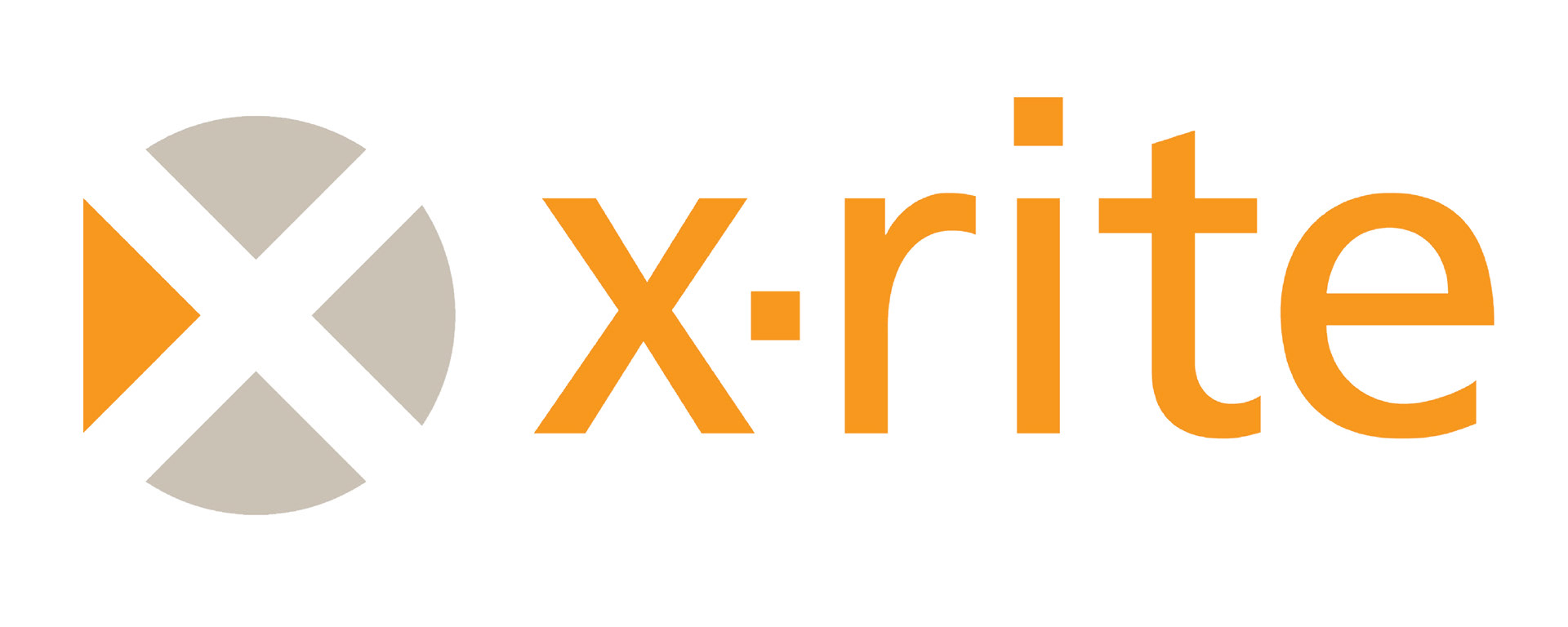 X - Rite i1  Display Pro Review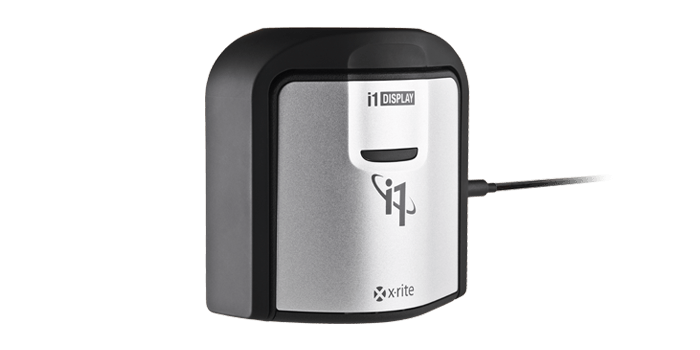 Hello, Microgamma sent me this liitle and beautifull device to make a  test, and you ask me: " what's that Miguel" , and awnser to you, this is the i1 Display Pro from X-Rite i1 Display colorimeter, the parent company of Pantone. 
A properly calibrated computer display can make your workflow much more efficient and your photos display better on other devices or when you print them. It helps with consistency across devices.
After all, if we are the only ones who can see our photos on our screen, surely, after a careful post-production we'll be able to assert that the visual result is consistent with what we wanted to get. Moreover, if someone came to rescue us, upon their arrival they would see the image on our screen and couldn't say anything about the colors that they would see. They could just express a totally personal judgment regarding their liking of the photo.
Unfortunately, That is not so linear, ewe put the same photos in diferents screens ad i can see the differences in colours , the result would leave us with a sour taste in our mouth.
Over the years, the most brilliant minds have studied this problem in order to bring up to our days all the visualization devices that we now know, including the screen through which you are reading these lines. They have created standards, conventions and ways of representing color…an almost infinite series of techniques to represent something that, as a matter of fact, exists only in the chemistry of our brain.
There's only a little problem: in spite of all of the above, because of the different technologies used in displays, because of the graphic cards used in our computers and, more simply, because of the physics of materials, two identical displays, if left alone, will display colors in a slightly different way.
Don't you believe it? Take your smartphone, your tablet, and your laptop with the screen open and connect it to a display where you then duplicate your desktop. Now let's open the same image on all those displays. It's amusing, no? Taking one display as the reference, in the best possible case one screen will display the same image just cooler or warmer, in others the blue of the sea will look a little more greenish, and in others the snow will look more violet.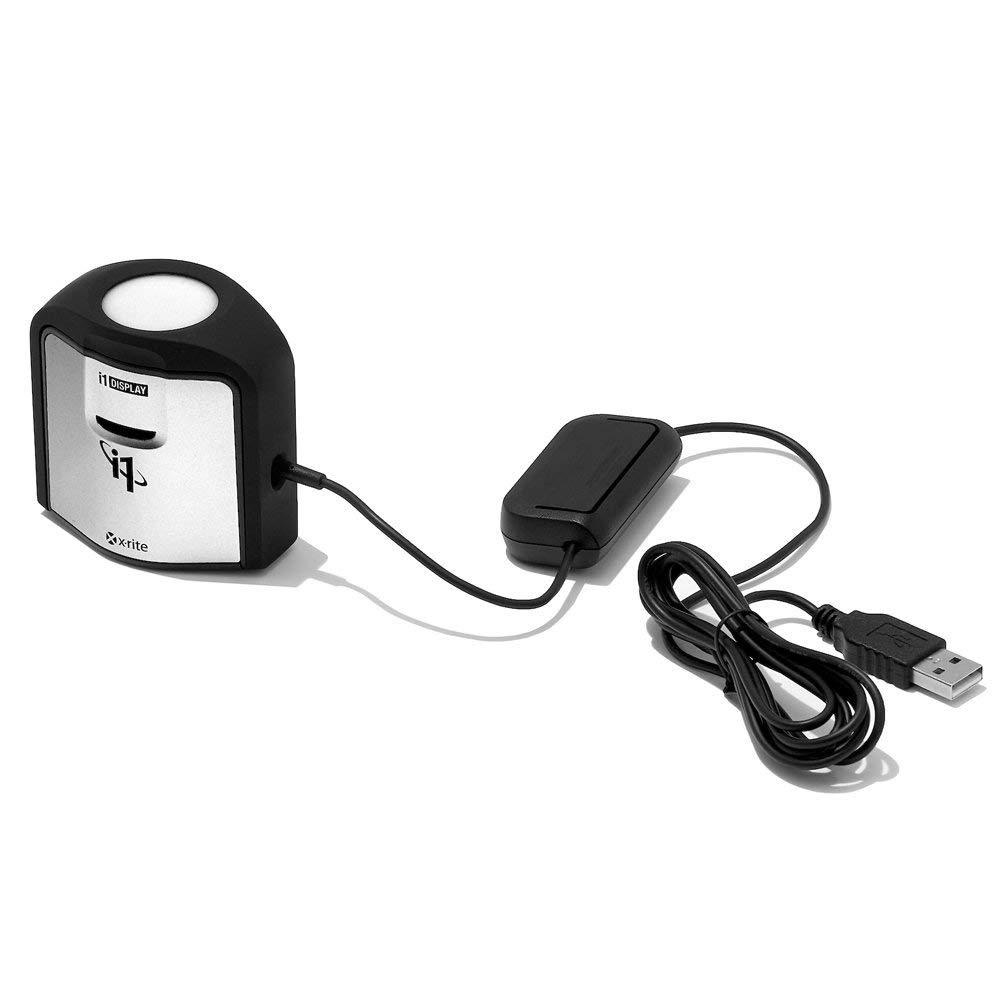 In July 2011, X-Rite launched the replacement for the famous Eye One Display II, the i1 Display Pro and its new i1Profiler software. Everything was new: the colorimeter with (organic) glass filter like the new Colormunki Display and the software. In 2019 and at 200€, it is no longer the most expensive sensor on the market since the release of the newData Color Spyder X and the new 
i1 Display Pro 
 version released in October 2019. This new i1Display Pro PLUS model is just a version of the i1Display Pro capable of calibrating particularly bright monitors.
To this, the i1Display Pro adds countless adjustment possibilities and benefits from the latest technological advances to ideally calibrate all screens on the market, even the latest wide-range LCD tiles or laptop or iMac screens and perform all possible quality controls. So we have to deal with the ultimate refinements in hardware and software. On the other hand, this software is not intended for beginners because even in "basic" calibration mode, there are many options and will not always talk to novices. For them, X-Rite has just released the new i1 Display Studio which replaces the ColorMunki Display.
Founded in 1958, X-Rite was created by data-driven color scientists, for professionals looking to improve color in their supply chain. As a business that drives innovation through continuous improvement, X-Rite Pantone has been – and will continue to be – a company that takes pride in the quality solutions and services that we've built our business upon. X-Rite

 was introduced in 1968 and is the basis of the company name. In 1975, it introduced its first 

densitometer

 for photographic printing use.

 The firm went public in 1986, and in 1987 moved into a new headquarters and production facility in Grandville, Michigan. By 1990, the firm shifted emphasis to the field of color measurement. In 1966 it purchased H. Miller Graphic Arts of England; in 2006 it purchased Amazys, owners of Gretag–Macbeth and thereby the Munsell products; in 2007 it acquired Pantone, Inc.
"Here at X-Rite, we reognize that great color portays great quality. And our business, success hinges on the consistent and accurate production of this color by blending that art and science of color, we help your business achive the highest level of color integrity so your product - and your customer's product - comes out ahead."
The X-Rite came with a delicated box, beautifull design. After opening we can find this inside the package:
- X-Rite i1 Display colorimeter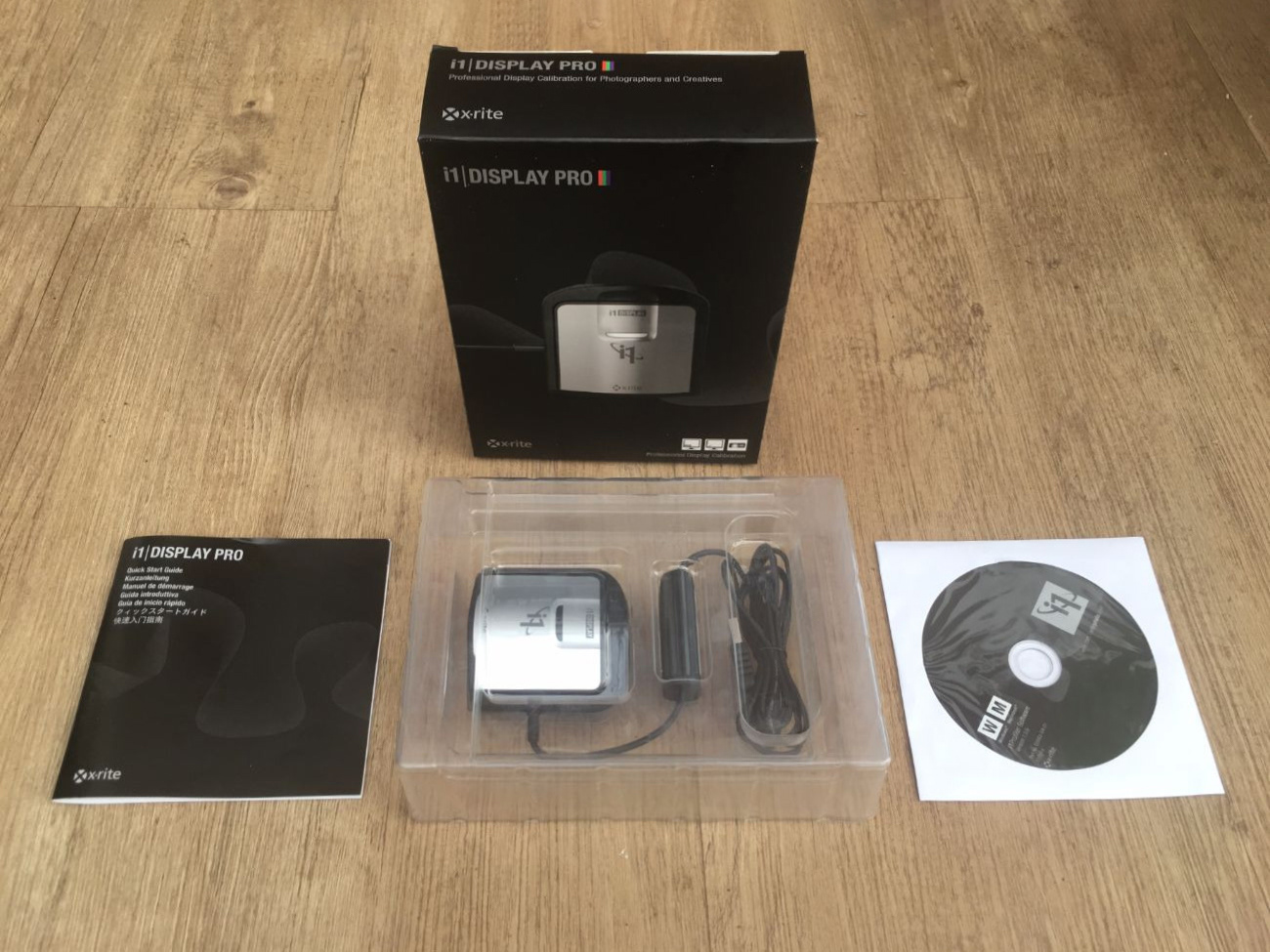 The i1Display Pro by X-Rite is a system composed of two essential parts: a probe to read the screen and a software that allows the transmission of the signals for the probe to the screen, and creates the suitable ICC profile based on the readings of the probe.
This calibrator is in the medium-high range and it comes with very interesting features, including:
- Possibility to calibrate monitors equipped with any technology, projectors and mobile devices such as iPhone, iPad and various Android smartphones
- The possibility of continuous measuring of ambient light for automatic profile correction
- Contrast measuring and correction based on the reflection on the screen
- Checking consistency among multiple monitors
- White balance measuring and correction
- Monitor uniformity measuring
-Automatic Display Control (ADC)
The key new hardware features are listed by X-rite as:
- New spectral calibration architecture
X-rite lists new functionality as:
- Ambient Light Measurement – automatically determine the optimum display
- Ambient Light Smart Control – automatically monitor changes in ambient light conditions
- Flare Correct – compensate for flare light (or glare) falling on surface of display
- Intelligent Iterative Profiling, – an adaptive technology that produces optimised results for maximum colour accuracy
- Automatic Display Control (ADC) technology automates the adjustment of your display's hardware (brightness/back-light, contrast, and colour temperature) eliminating manual adjustments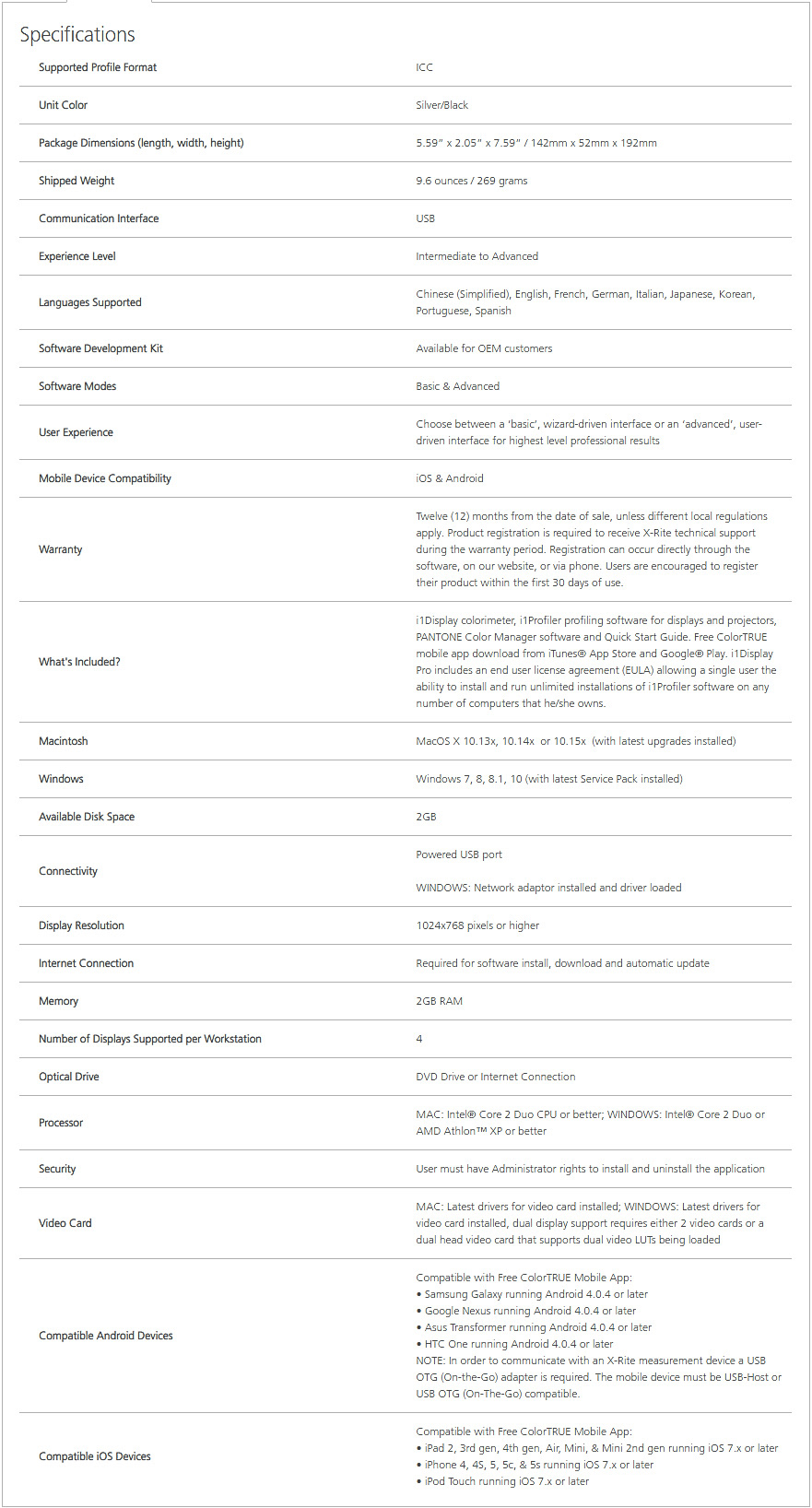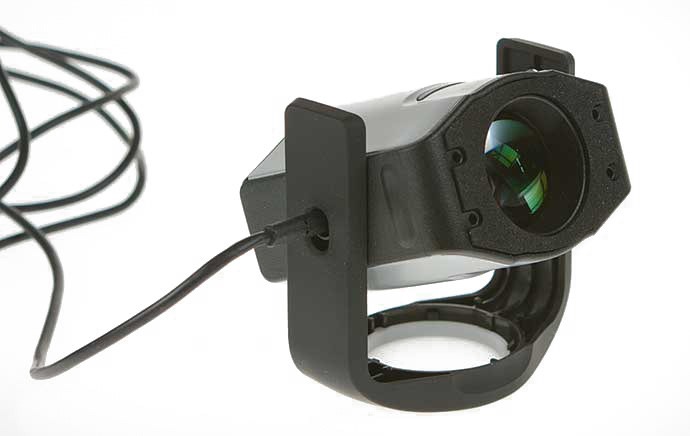 ​​​​​​​
Software requirements
- Mac OS X 10.5.8 or 10.6 [with latest upgrades installed]
- 2GB of available hard disk space
- Monitor resolution of 1024 x 600 pixels or higher
- Dual display support requires either 2 video cards or a dual head video card that supports dual video LUTs being loaded
- DVD drive or high speed internet connection to download the software
- Internet connection for software updates
- User must have administrator rights to install, uninstall the application
- Intel Pentium 4 or AMD Athlon XP or better CPU
- Windows XP 32 bit or 64-bit, Windows Vista 32 or 64-bit, Windows 7 32 or 64-bit
- Latest service packs installed
- 2GB of available hard disk space
- Monitor resolution of 1024 x 600 pixels or higher
- Dual display support requires either 2 video cards or a dual head video card that supports dual video LUTs being loaded
- Network adaptor installed and driver loaded
- DVD drive or high speed internet connection to download the software
- Internet connection required for software updates
- User must have administrator rights to install, uninstall the application
Installation and use of X-Rite
i
1Display Pro
An installer disk is included in the box.
In my computer i don't have a DVD drive, so i went make the download od the lastest version of software
 directly from X-Rite's website.
When you fire up the i1 Profiler software you'll get the main menu where you choose what devices you want to calibrate and whether to run in basic or advanced mode. 
I tried the i1 Display Pro on a Dell Monitor on desktop machine.
If you already know the new i1 Profiler software, then there is nothing new here. You are effectively using a different measuring device to run the same software that you would be using with an i1 Pro spectrophotometer.
​​​​​​​
If you've an i1 Display Pro device plugged in, then i1 Profiler shows that the monitor/projector profiling parts of the software are enabled.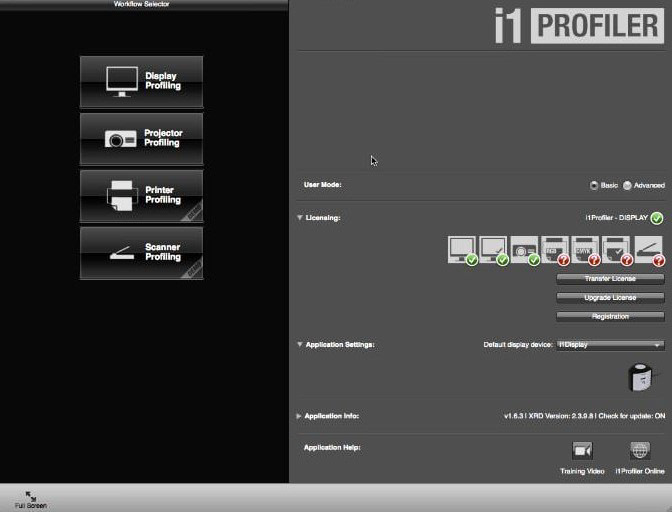 I'll cover some of the basic aspects of display profiling here, t
he majority of users should be comfortable with the basic/default setting for their monitors.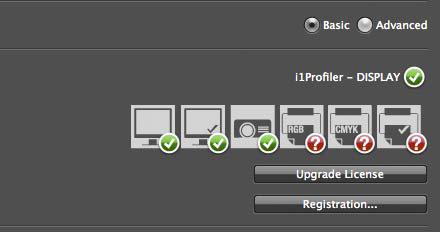 The only aspect I'd normally alter, is to use a reduced luminance of 100 cd/m2 for my desktop screens.
This lower luminance can help get better shadow detail in the prints, since having your monitor too bright is the most common cause of prints coming out too dark.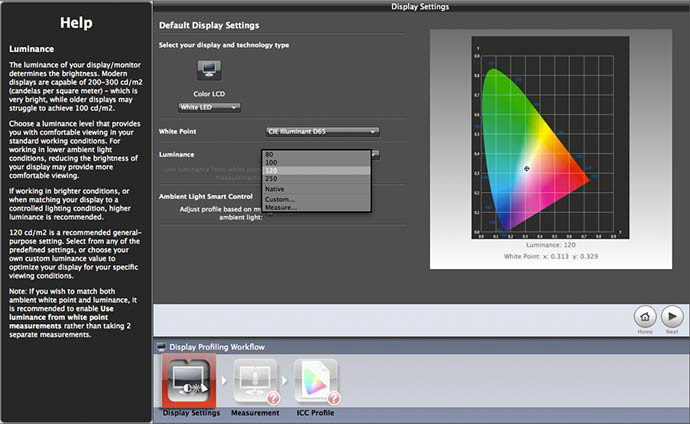 The device will measure a number of colours on your screen, and can set screen brightness automatically if the feature (ADC) is available.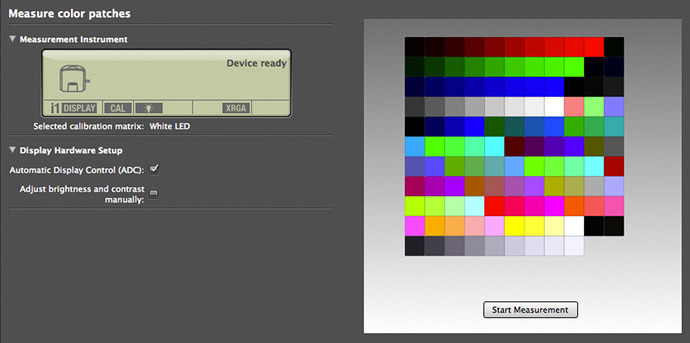 Once you follow the process through, it's time to begin the actual measuring. The first step is to measure the ambient light. For that, you leave the colorimeter on the desk with the semi-opaque circle pointed up.
The next steps involve measuring the output from the display itself. For that, you rotate the colorimeter's cradle to expose the sensor and lay it flat against the screen. You may have to tilt the screen back a bit so that gravity holds it flush against the surface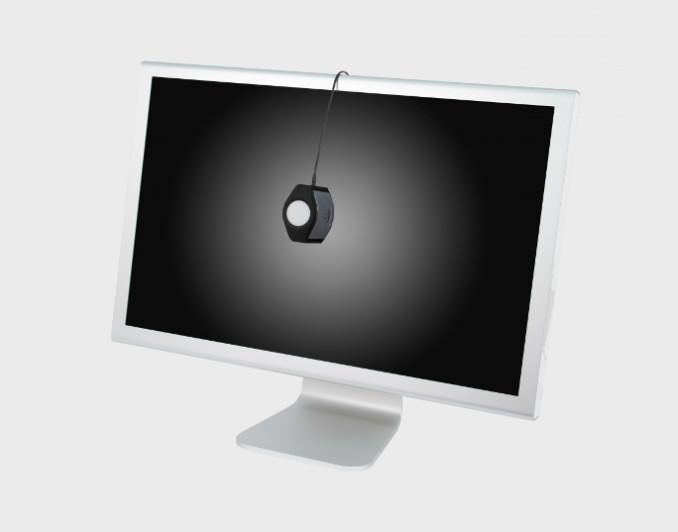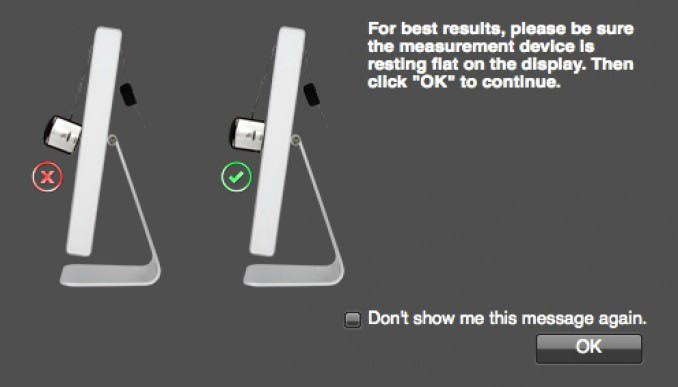 In general, I'd always suggest carrying out calibration in dimmed lighting, so as to minimise any interference with the measurements (particularly since the detector covers quite a lot of the device's screen 'footprint'.
Then sit back for a few minutes while the software does its thing. You'll see it cycle through colors and tones as it outputs values it knows and then compares what the colorimeter sees with the values that the software expects.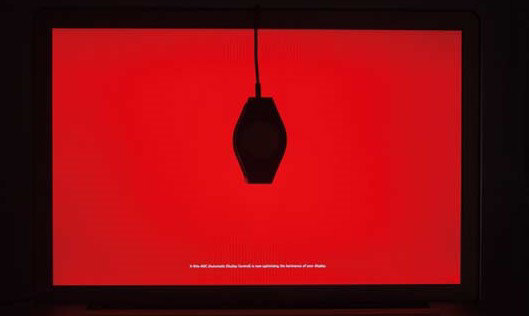 The whole screen flashes different colours during the measurement process, which takes a few minutes.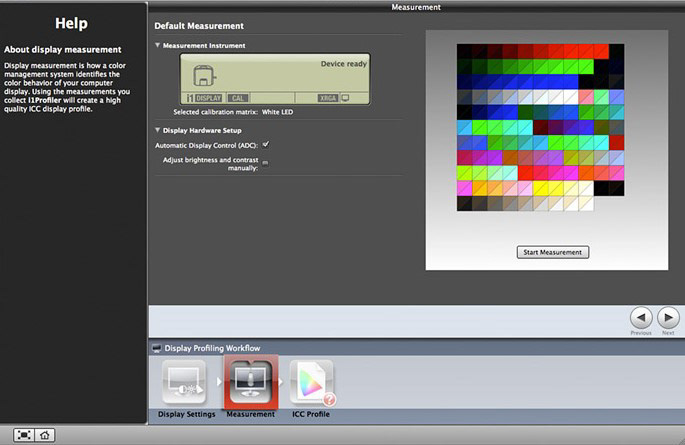 Once the measurement process is done, the next panel is about where to save the profile that's been generated, how often to remind you to do recalibration, and whether to use the constant ambient light monitoring option.
You can Save the Profile , the new profile will be automatically applied. There's an option to compare profiles with previously generated ones, but I couldn't get it to work with profiles generated by other devices.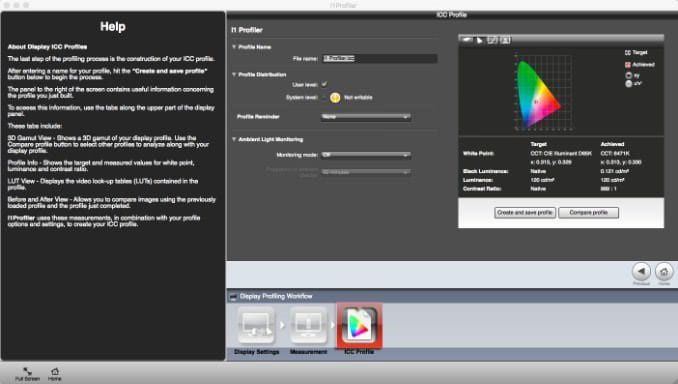 You can also see before/after comparisons that show the new profile compared with what you were using before. There are several built-in images you can use, or you can set your own custom image.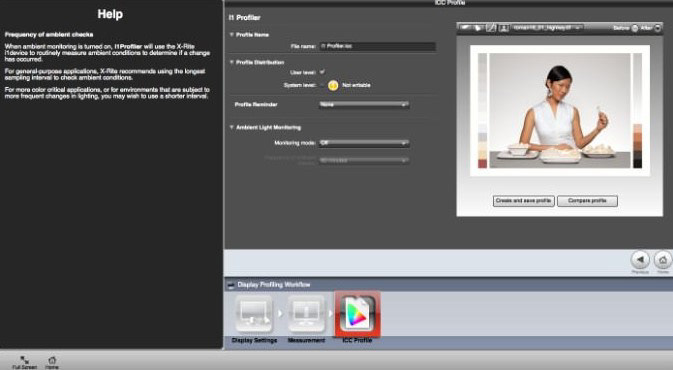 This X-Rite i1 Display Pro Advanced Mode tutorial will take you through the Advanced user mode and explain all the different options that you get offered – when to use them, when not to use them and how to use them.
However, before you start make sure your monitor has been on for at least half an hour, that it's clean and that the ambient light in the room is low, or that there is no strong light falling on the screen. Also familiarise yourself with the controls on your monitor.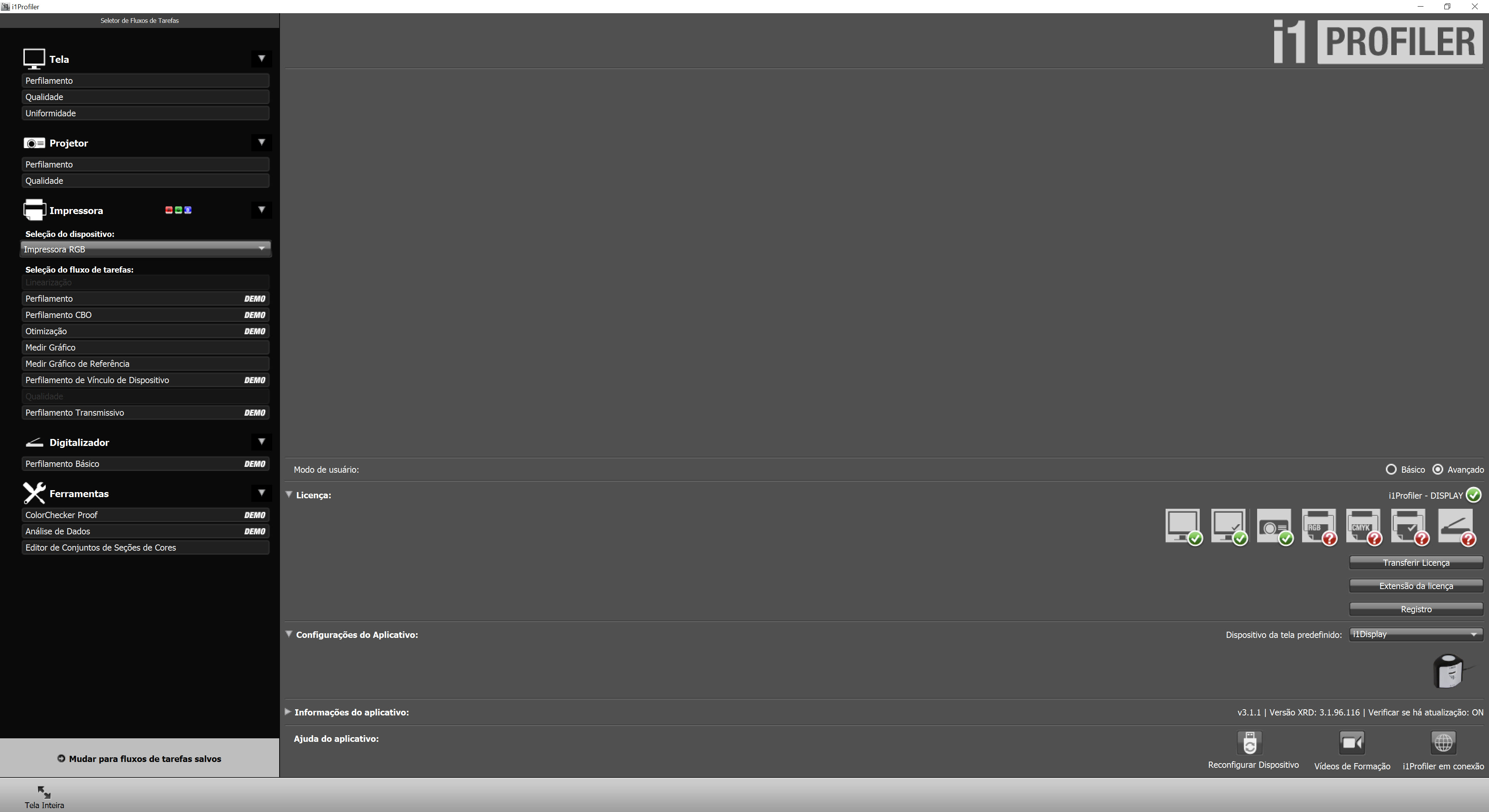 - Calibration with i1Profiler step by step
The i1Profiler software allows you to characterize a screen or projector from its main window in two user modes: "Basic" and "Advanced". Depending on the mode chosen, there will be more or less options. I will make the clarification whenever necessary but I will make this tutorial with the Advanced Mode.
A - First tab: Screen settings / default settings
We will calibrate our monitor and for that we will click on the "Characterization" button in the menu on the top left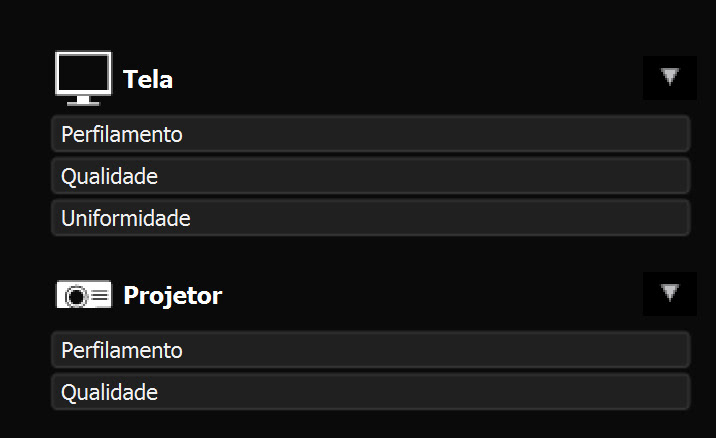 When you click on "Characterization" a new window opens below where you will choose the screen to calibrate if you have several screens and many default settings.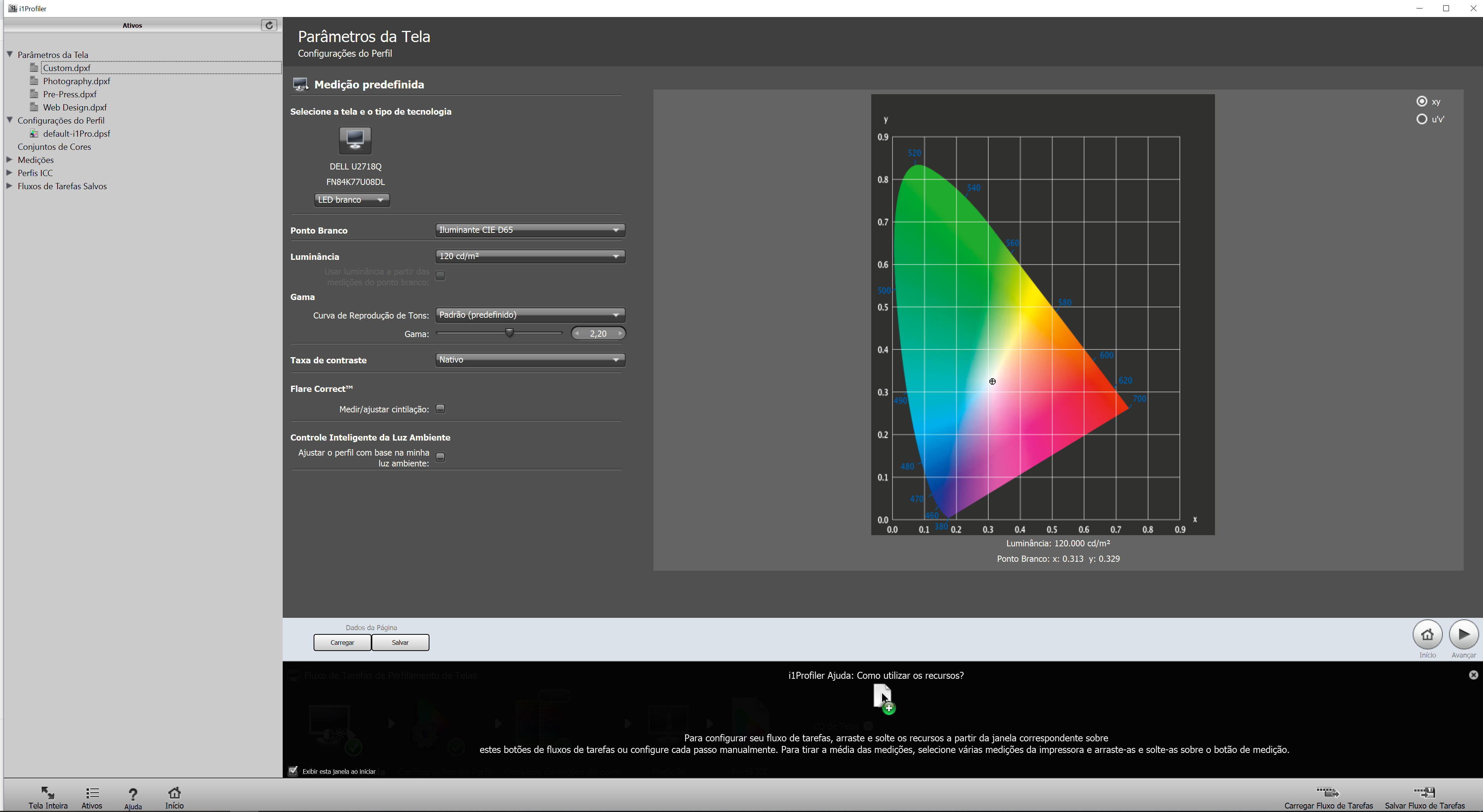 With Advanced user mode check on the home page of i1 Profiler click on Profiling under Display to start the process of calibrating and profiling your monitor.
Technology Type: The i1 Display Pro colorimeter can compensate for different LCD backlight technologies such as CCFL, Wide Gamut CCFL, White LED, RGB LED, Projectors and more. If you know what type of backlight your display uses then select it accordingly. If you don't know then start with White LED and make your first profile. If you are not happy with the result then try the other technology types. Most LCD screens now use white LED backlights, however some with wider colour gamuts use GB LEDs (green and blue) and a few even use RGB LEDs. The choice does matter as it improves the accuracy of the measurements and gives you a more accurate calibration and profile.
The White Point or colour temperature of the screen can be set to one of the CIE D (daylight) standards. You can also choose a white point based on a colour temperature, x,y co-ordinates or a measured value from view-booth or other viewing light, your ambient lighting or even a piece of paper in a view-booth. D65 will suit most users. If you get a slight colour cast or colour banding after calibrating then try Native.
Luminance can be set some predetermined presets, a custom value, or Native to leave luminance as set on the screen, or again you can measure viewing or ambient light. 120 is a good starting point for most users, those trying to match print to screen may want to go a little lower to 100 – it's worth experimenting until you get a value you are happy with.
Gamma: This should be set to 2.2 in most cases. You can also choose sRGB if that's the RGB working space profile that you use, and actually Lightroom users may also want to try sRGB because the working space profile that lightroom uses in the Develop module has the sRGB tone curve (and the colour gamut of ProPhoto RGB). Matching the gamma curve here to that of your RGB working space will maximise the smoothness of colour gradations.
Contrast Ratio should usually be left at Native. It is function of the ratio of the darkest black to lightest white, however you can enter a value and this may help when matching one screen to another. You can also choose a black point or load the contrast ratio from a printer profile, but that would very much tie the monitor profile to one particular printer and paper combination.
Flare Correct compensates for light falling directly on the display. The best thing is not to have any light falling directly on your monitor. I would leave this unchecked.
Ambient Light Smart Control measures the ambient lighting and then adjusts contrast, tone response and saturation of the display based on the ambient light. Again it is much better to control ambient light than to try to compensate for it varying. The best environment for image editing is quite dim. I would recommend not using this feature either.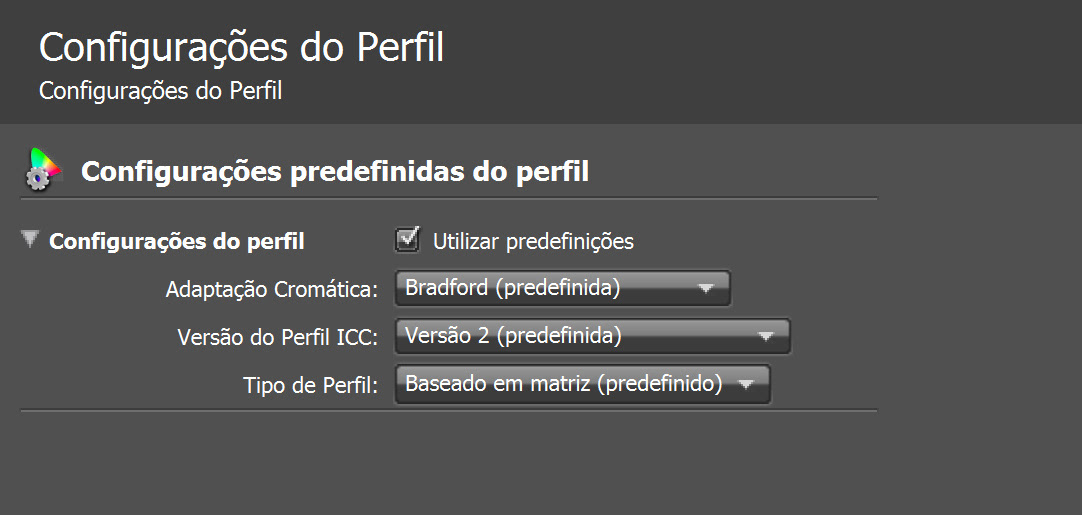 ICC Profile Version: This refers to the International Color Consortium specification used to create your monitor profile. Version 4 is the most recent but Version 2 is compatible with a wider range of applications. You only see the benefit of using version 4 if all the profiles in your workflow are version 4 and you will find that most working spaces and printer profiles are version 2. So it's best to this set to version 2.
Chromatic Adaption: This refers to the mathematical method for adapting between one white point and another when certain tables in your profile are calculated. Bradford is the method the ICC recommend.
Profile Type: Table based profiles are generally more accurate than matrix ones, but some older software will not support table based profiles. Use Table based if you can.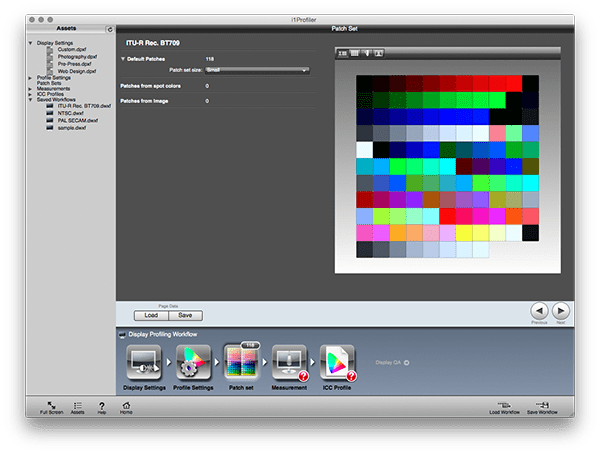 i1 Profiler uses the 'Small' set of 118 colour values or patches to create a profile by defualt, but you can increase this by using the Medium or Large options. You can also add in more colours loaded from Pantone Color Manager software, a CxF file or an image. You can access these features by clicking on icons above the colour patches. Adding more patches won't necessarily increase profile accuracy and will increase measurement time. I almost always use 'Small' and have not seen any benefit to doing more.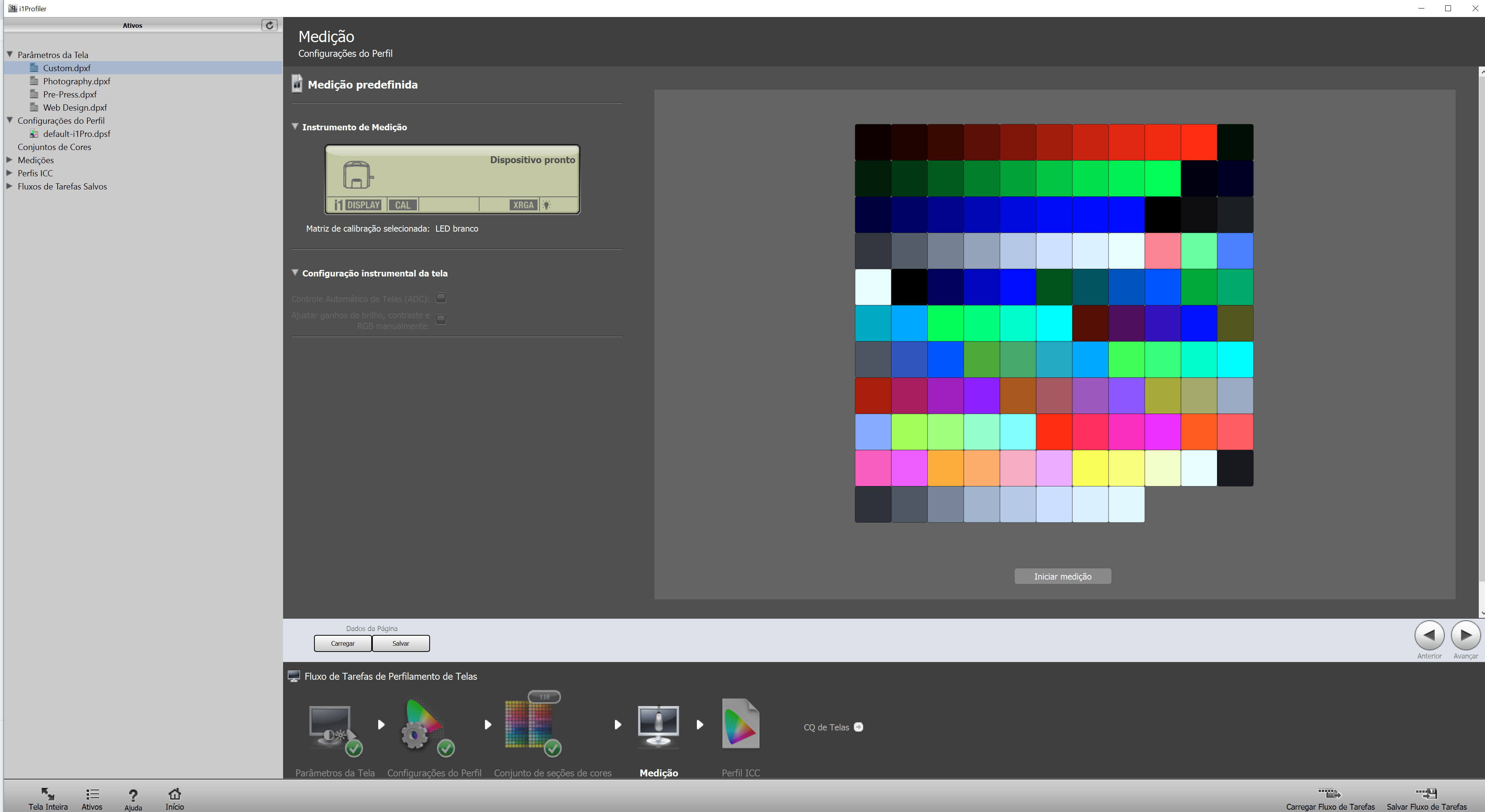 Automatic Display Control (ADC): Automatic Display Control allows the i1 Profiler software to take control of your monitor and adjust it to the desired luminance, contrast and white point targets whilst measuring. I have found it to be a little unreliable as it does depend on support from the monitor hardware. It can work well with some Apple displays where there is only a brightness adjustment but generally I prefer to uncheck this and use the manual option instead. That way you can be in full control.
Adjust brightness, contrast and RGB gains manually: Check this box to adjust the screen manually, but make sure you know what controls your monitor has and how to use them
Click Start Measurement when you are ready. The software will ask you what controls your monitor has, and ask you to rotate the diffuser head on the i1 Display Pro and place it on the screen ready for measurement, just follow the instructions.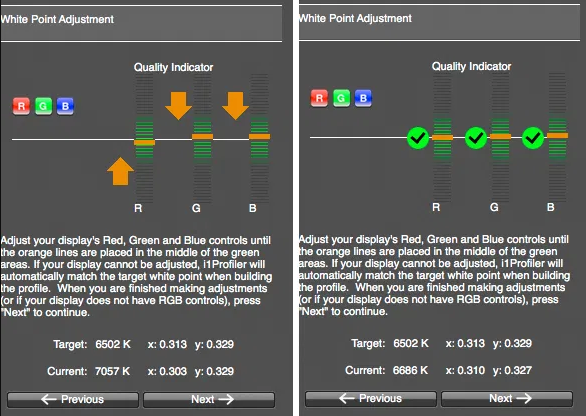 The software will do a contrast test that almost all monitors pass and then go onto measuring the white point of the screen. It will display a few tones and then bring up the White Point Adjustment window. A graphic will show you if the red, green, or blue values on your screen need adjusting. You are trying to get all three to have a green tick. The arrows indicate which way each colour needs to be adjusted. I normally start by using a Kelvin value adjustment on the monitor to get close and then switch to adjusting the individual RGB gain values, starting with the red. Remember these are not real gain values like they were in the days of CRT monitors but just look up tables in the monitor firmware. They are signal adjustments not real hardware adjustments, but on a good quality monitor they will get the screen to a certain white point better than adjusting the graphics card look up table will. Always pause for a second or two after making each change to allow the measurement to refresh. Once I have three green ticks I usually carry on until I get the Target and Current value as close to the target as I can. Once you've hit the target click Next to carry on. The software will then to a similar check for the screen brightness. Once you have achieved the correct level of brightness you can click next again and the software will start displaying the 118 colours to further check the calibration and measure the colour performance of the display.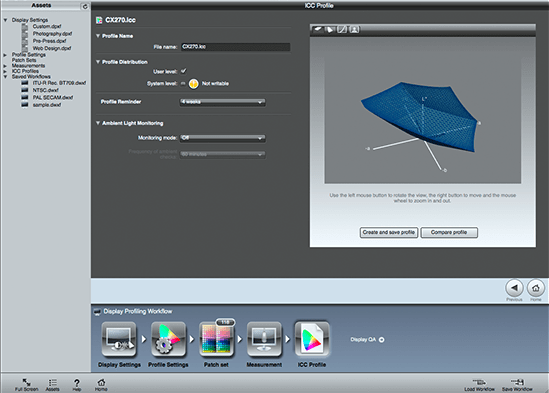 Give the profile an appropriate descriptive name, including perhaps the options that you used. Depending on your operating system you may get the option of saving the profile at the user or system level. You can choose to get the software to remind you to recalibrate after a certain amount of time. I'd recommend setting the reminder to 4 weeks. Leave the Monitoring mode off. Click Create and save profile.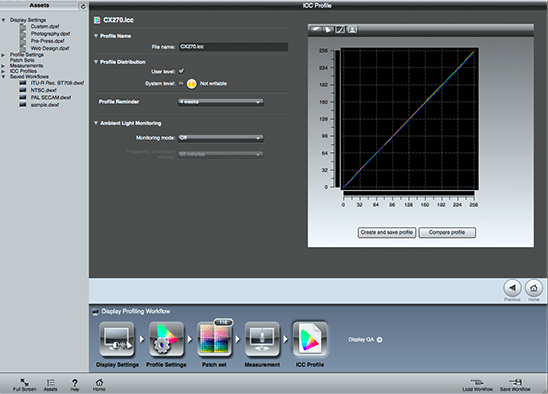 Gamut, LUT and Before and After Comparison
Once the profile has been created you will see a graph of the colour gamut of the monitor. This can be rotated and zoomed in or out of, you can also load other profiles for comparison. If you click on the line graph symbol above the gamut you will see the corrections made in the graphics card Look Up Table. If you have adjusted the RGB and luminance of the monitor correctly you should see nice straight 45 degree lines all on top of each other. If the lines are separated or curved then corrections are being done in the 8-bit look up table of the graphics cards. On some displays, such as iMacs, this is all you can do to hit a given colour temperature target but on screens with good RGB controls you should be able to do better.
Clicking the image symbol allows a visual before and after comparison that shows the effect of your calibration. As most changes may have been made to the monitor hardware the before/after switch will often not show much. All it is doing to turning the graphics card LUT on and off. It does give you a chance to evaluate the profile with an image though. A range of default images can be used or you can load your own custom image from the menu. Click on the arrow next to Display QA to access further tests to judge the accuracy of your profile.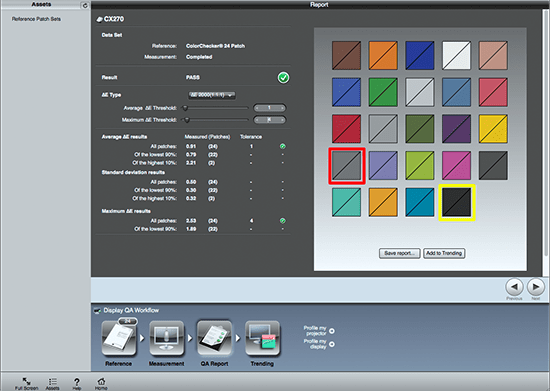 Patch Set Type can be set to Standard to load one of the default patch sets. i1 Profiler will then evaluate how accurate your monitor is against those reference values. The patches from the ColourChecker, IT8 charts, and FOGRA media wedge are all included in the selection of industry standard targets. Alternatively under Patch Set Type you can select Spot to load colours from Pantone Color Manager or Image to load colours from an image.
Click Start Measurement to start evaluating the accuracy of your monitor. The software will display various colours and use the i1 Display Pro to measure them. It will then compare the predicted colours with the actual measured colours.
After measuring you can see a summary of the results. By default the tolerances are very high so you'd almost always get a pass. Delta E is measurement of colour difference. The higher the numbers the more different the colours. It's difficult to say exactly what tolerances you should be aiming for but generally you should get an average delta E of less than 1 or perhaps a touch more, and a max of less than 4 on most good screens.
Reports can be saved or added to the Trending data. The trending graph shows the average delta E figure achieved after each QA report where you've clicked to add the data to the trend. It can be a useful guide to how a monitor alters over time, but you have to be careful to use the same profiling options and settings otherwise the comparisons won't mean very much.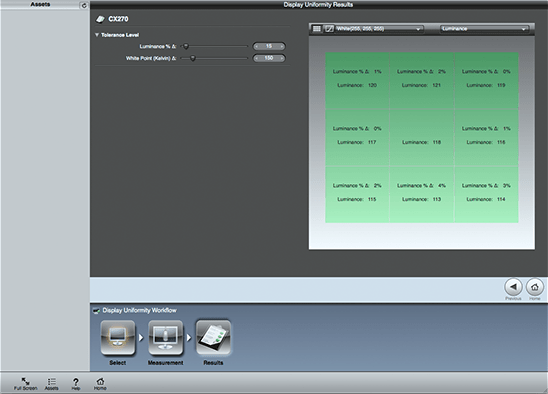 Calibrating and profiling your display with the i1 Display Pro will have no direct effect on the uniformity of colour and luminance of your monitor but the i1 Profiler software does have a module for checking the uniformity, and this could be useful for evaluating a screen you've just bought or judging how well one has aged. All screens have some uniformity variation so don't expect each of the nine points measured to match exactly. The default tolerances are quite high so you may want to reduce them. Unfortunately screen uniformity can't be fixed so if a poor report backs up what you see visually it may be time to buy a new monitor.
- Monitor calibrator with support for multiple monitor systems and projectors.
- Uses i1 Profiler software for calibration and profile creation.
- Also comes with PANTONE Color Manager software
- Manufacturer details: X-rite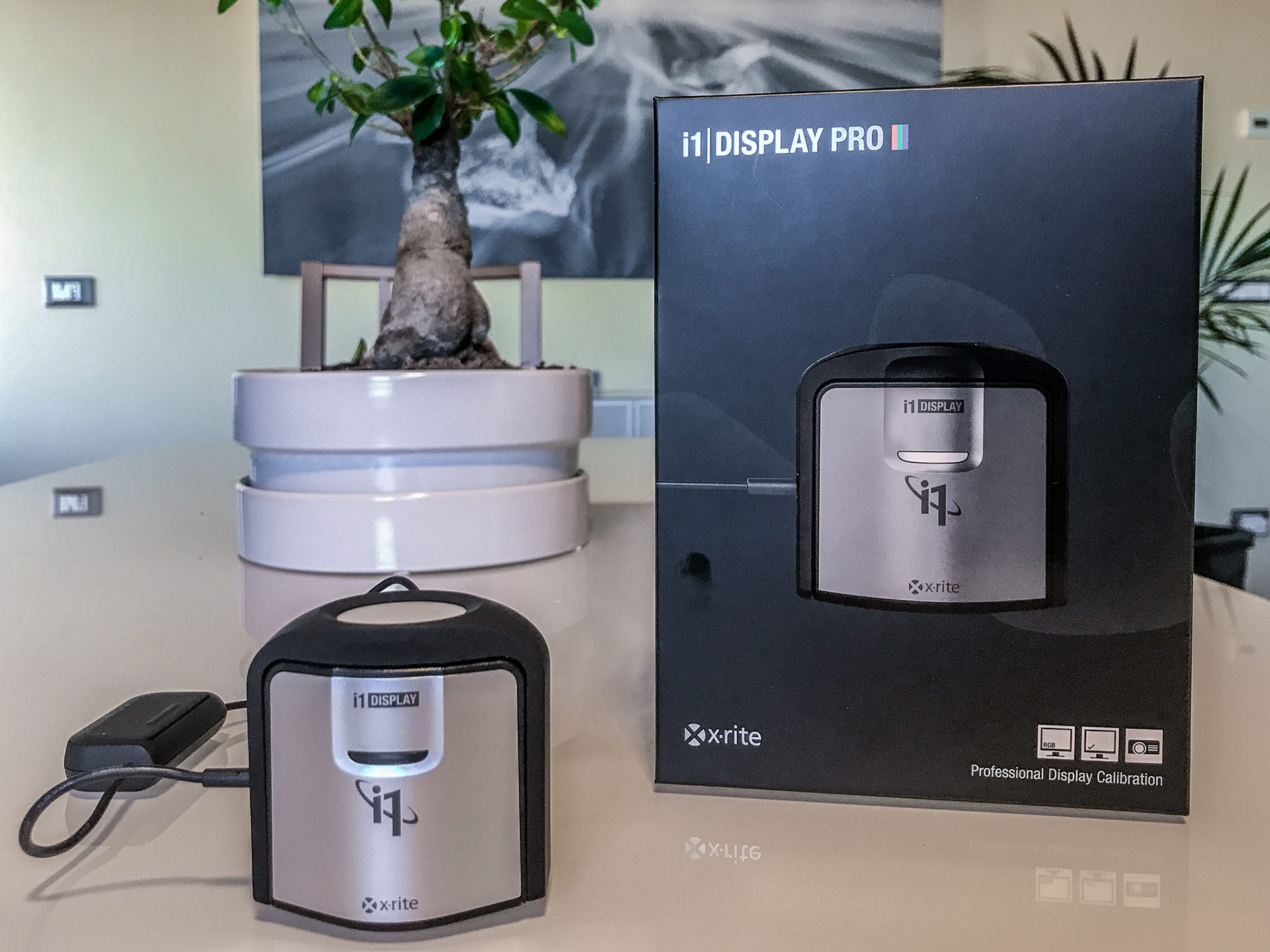 In the age of sharing, Color Management represents more and more a fundamental process in the workflow of every photographer.
Advances in monitor technologies are covered by this new device (along with the option of updating aspects the device for future display technologies) As a monitor calibrator, it works quickly and effectively, and profiles compare favourably with devices many times as expensive.
In conclusion, I can't really find a good reason why i1Display Pro by X-Rite shouldn't be part of workflow!
X-Rite with i1Display Pro has made available to photographers (and not only to them) a highly professional tool at an affordable price, which will allow us to avoid the frustration of seeing our image represented in a wrong way, and will also let us save all that time and money that we would spend printing blindly.
- Beautiful grey neutralization
- Compatible with 4K displays
WHAT I FEEL COULD BE IMPROVED
- Whether you choose advanced or basic mode, the quality of the profile will be the same
- Software could be more user-friendly